This article first appeared in The Edge Financial Daily, on October 8, 2018.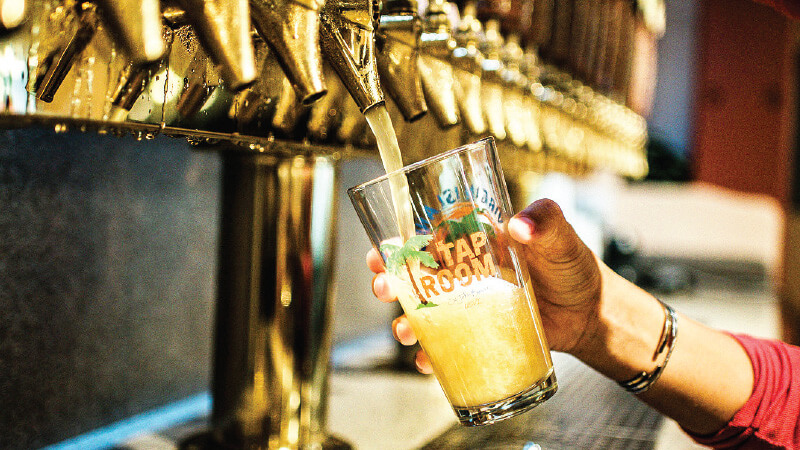 During Hurricane Irma, what was supposed to be a staff meeting of 15 turned into a community gathering of 100 people at the Tap Room searching for friends and information.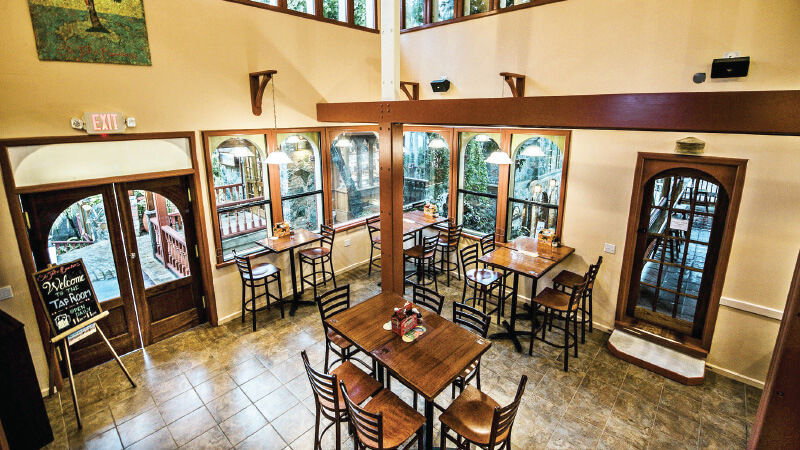 The Tap Room 2.0, ready for thirsty customers.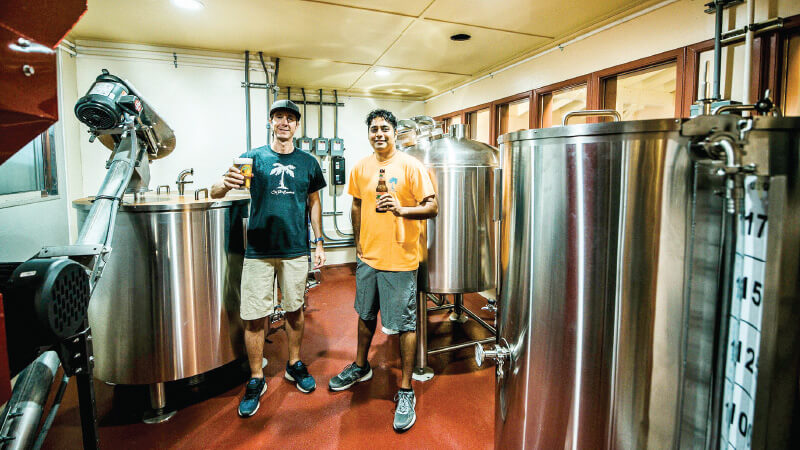 Chipman (left) and Vyas.
TAP Room owners Kevin Chipman and Chirag Vyas met as dormmates at the University of Vermont. In 2001 Chipman visited St John, the smallest island in the US Virgin Islands at less than 20 square miles (51.8 sq km). "I remember sitting at this bar and thinking, I could live here," he said. Chipman persuaded a buddy to join him: Vyas, known to his friends as "Cheech". They bought one-way tickets and arranged to live on a sailboat for US$250 (RM1,038) a month. "We thought, 'This will be cool! We'll be partying on a boat in the Caribbean!'" Vyas said.
The sailboat had no electricity, running water, or working bathroom. They worked as bartenders and busboys, storing dinner on a block of ice and eating by flashlight. They enjoyed their simple, sunny life but missed some aspects of their frosty college days, most notably the craft beer. They ordered a US$50 brewing kit and spent two years playing with recipes and giving away samples. When their tangy mango ale developed a following, the two found a bottling partner, Shipyard Brewing Co in Maine.
"It's a flavour combination that had never been done before with beer on a production level," Chipman said. "It's Caribbean meets craft." The partners pooled their savings, secured small loans from friends and family — in the US$500 to US$5,000 range — and started St John Brewers in 2004. They were 27.
Hurricane Irma
In 2015, at 38, Vyas was diagnosed with avascular necrosis, a degenerative corroding of the bones, which required an arduous double hip replacement and prolonged recovery. That same year the business next door caught fire and incinerated the Tap Room. Only the kitchen and office survived. They relocated the bar to the office space and spent the next two years rebuilding.
Just as renovations were winding down, the island began buzzing about Hurricane Irma barrelling towards it. St John had not seen a storm anywhere near that size since Category 3 Hurricane Marilyn in 1995.
Vyas and Chipman, along with bar manager Nick Rinaldi, operations manager Tim Hanley, and Vyas's wife, sandbagged the bar. The group rode out the storm's 185mph (298kmph) winds — with gusts as high as 225mph — in a concrete seaside condo with two hairless cats, Freddy and Frankie. "We made dams with sheets and towels and just bailed water for hours," Rinaldi said.
Knowing there would be no means to communicate, the staff had pledged to meet at the Tap Room after the storm. Word spread by the "coconut telegraph", as islanders called it, and what was supposed to be a staff meeting of 15 turned into a community gathering of 100 people searching for friends and information.
"Normally you ask people, 'How are you doing?'" said Hanley, the operations manager. "Instead the question was, 'Do you have a roof?'"
The bar staff handed out cold brews when things wrapped up. "It was so hot out," Vyas said. "It seemed like everyone could use a cold beer."
Free Beer Friday
Two weeks later, Category 5 Hurricane Maria dumped an additional 35 inches (89cm) of rain on the island. The Tap Room, tucked in a stone-and-mahogany shopping complex, escaped with mostly water damage. Vyas maintained a positive outlook. "We'd already been through a fire," he said. "So when the hurricanes happened, we said, 'We'll clean it up and move on.'"
When they were not working on the bar, the owners were helping others clear out homes and driveways. Because the Tap Room could not open, they decided to give back what they could: cold beer. Every Friday for four weeks, St John Brewers gave away its arsenal of 2,400 surplus bottles. "Why let it sit there when people could be enjoying it?" Chipman said.
Over at the Cruz Bay Landing restaurant, owner Todd Beaty and his staff were serving up 1,000 free meals a day with the support of the Red Cross. They looked forward to Free Beer Friday all week. "We'd go racing down there," Beaty said. "Just to be able to have a cold beer and talk to everyone. It was absolutely precious to us."
Crowds swelled to 200 people. One Friday, a DJ arrived packing his own generator. Someone brought bongos. "Then it started to rain, and people just danced in the middle of it," Vyas said. "No one talked about the storm," said Allen, the Tap Room chef. "It was almost like being at a normal happy hour."
Tap Room 2.0
It took two months to restore power to Cruz Bay and six to get the whole island running. The Tap Room resumed business in November 2017, still operating out of the converted office. This summer — three-and-a-half years after the fire — the Tap Room 2.0 was finally unveiled.
The brewpub that started with just four taps in 2006 now has 24. The space is four times larger, with seating for 120 people, and a second floor with a cathedral ceiling. Production has increased from five kegs a week to 20. It is one of the only restaurants on St John with air conditioning.
"It feels very well deserved," said Ryan West, administrator for the Love City Strong foundation, of the airy new digs. "Tap Room stepped up and threw morale-boosting parties once a week. They weren't looking for praise and didn't make money." He added: "People don't forget that kind of thing." — Bloomberg