This article first appeared in The Edge Malaysia Weekly, on October 1, 2018 - October 07, 2018.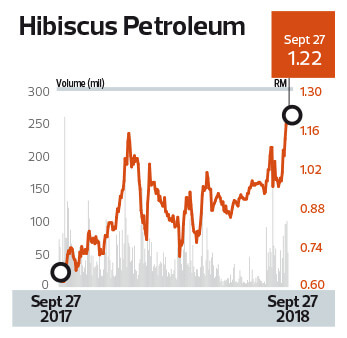 FORMER special purpose acquisition company Hibiscus Petroleum Bhd will be looking close to home when it goes shopping for new assets, according to managing director Kenneth Pereira.
"We are looking at places we are already in. We are in the UK, we are in Malaysia and we are in Australia ... because they have a strong legal framework. We are comfortable with the legal framework of these countries and we understand them," he says.
Currently, Hibiscus has two large oil-producing assets in its portfolio — the Anasuria cluster in the UK sector of the North Sea and the North Sabah enhanced oil recovery production sharing contract (North Sabah PSC).
North Sabah PSC can still be considered a fairly new addition, given that Hibiscus completed the acquisition in March this year after buying out Shell's 50% stake.
Although it is not unheard-of for oil companies to constantly be on the lookout for new assets, Pereira explains that given Hibiscus' ambitious targets, there is a shortfall that needs to be addressed. The company had previously announced that it was trying to achieve 100 million barrels net proven and probable oil reserves, and production of 20,000 barrels per day by 2021.
"From the assets we have, we think we can probably get to 15,000bpd production. We think we can develop the current resources, plus our other contingent resources and assets, which will take our reserves to somewhere around 60 million to 65 million barrels, so there is that gap," he says. The asset in Australia has not produced first oil yet.
When Hibiscus was listed as a SPAC in 2011, its early strategy was skewed towards exploration and development. It was in 2014 that the company took a hard right turn and concentrated on producing assets.
An early strategy of the group was to look at assets that other oil and gas companies were exiting when oil prices crashed. That allowed Hibiscus to pick up assets at more attractive prices. But given the current environment, with oil hovering at US$80 per barrel, will that strategy still work?
"There are a few components to look at. You must look at what it is costing the current owner to operate that field. It might be a large company with high overheads, so its unit production cost could be higher than yours.
"There is also the strategy — some companies now prefer to not be in oil, they want to be cleaner and greener, so they are moving to gas and exiting oil-type businesses. So, there are still opportunities," Pereira says.
He adds that one of the advantages smaller O&G companies have over their larger counterparts is a certain level of agility when it comes to their processes.
"In the case of Anasuria, when we took on that asset, at that point in time, the field was expected to reach economic cut-off by 2023. With our current unit cost structure, that has been extended to 2028. We have managed to add 15 years of life to that field, and we are hoping to do the same to North Sabah PSC.
"The idea is to squeeze everything out of the ground in the most efficient way possible using the infrastructure that is already in place," he says.
In early September, Hibiscus completed the GUA-P2 side-track well in Anasuria, which will help enhance production.
Its focus is to bring down its cost per barrel, but Pereira is quick to point out that its aim is not to reduce costs every time, but rather to eliminate waste.
"Anasuria, again, is a good example. When we took it on we were producing at US$23 per barrel in a US$40 oil environment. Today, we are producing oil at less than US$20 per barrel in a nearly US$80 environment.
"So, we feel we are in a much better place but we are still trying to maintain the discipline of keeping those costs low," he says.
Net cash but not complacent
Although it has been a number of years since Hibiscus was a SPAC, Pereira says the mentality of the company is still very much David facing the O&G Goliaths.
Interestingly, though, despite being in an extremely capital expenditure-heavy environment, Hibiscus currently carries no borrowings. But Pereira says this may eventually change.
"We raised RM245 million in the initial public offering. Post-IPO we raised about RM500 million through various capital exercises. Today, the company is in a position where we have not had to borrow to get to where we are.
"Will we keep away from borrowings? I don't think so. We feel we have a good platform to take a decent-sized step in terms of another asset or another project, and this will require us to borrow," he says.
However, Pereira is quick to point out that management has been guided by the  board to be conservative in the gearing ratios.
According to the campany's latest cash flow statement as at June 30, cash generated from operating activities amounted to RM131.5 million. For FY2018, Hibiscus saw a 92% jump in net profit to RM203.7 million, largely due to a negative goodwill amounting to RM206.3 million.
An Aug 30 PublicInvest Research report says that, excluding the negative goodwill coupled with other exceptional items, FY2018's core net profit jumped 192.8% year on year.
However, Pereira warns that it is easy to get complacent. "You can think 'no debt, you don't have to work too hard'. It is important to still have that hunger, that entrepreneurial drive. We started with three people when we listed, and now we have over 300, but we still want to keep that spirit of entrepreneurship."
Hibiscus' share price has risen 87.69% over the last year. It closed at RM1.22 last Thursday, giving  the company a market capitalisation of RM1.94 billion.
Save by subscribing to us for your print and/or digital copy.
P/S: The Edge is also available on Apple's AppStore and Androids' Google Play.