This article first appeared in The Edge Malaysia Weekly, on October 1, 2018 - October 07, 2018.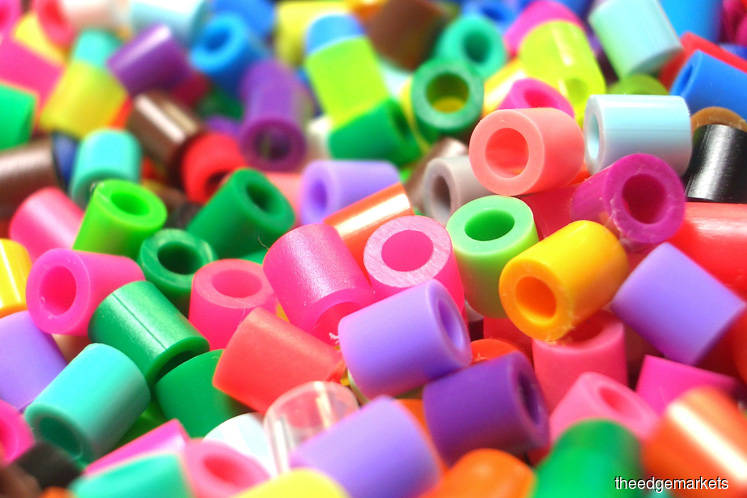 PLASTIC packaging manufacturers have had a rough year as they battle with high raw material prices that have led to a profit meltdown for most players.
With Brent crude now climbing above the US$80 per barrel level, higher resin prices could be on the horizon as the commodity — made from raw materials sourced from crude oil and natural gas — is an important component in packaging.
But some quarters believe manufacturers may be spared this round of hikes owing to the excess supply of resin coming into the market.
"In the US, the supply of resin derived from cheap ethane feedstock extracted from shale gas should also limit the price of resin," says an analyst with a local investment bank.
However, she admits that she is unsure of how this will play out for local plastic packaging manufacturers as signs of improved margins have yet to be seen.
Public Invest Research analyst Chong Hoe Leong is of the view that higher oil prices will spell trouble for the manufacturers.
"Theoretically, resin prices will rise in tandem with crude oil prices. So, this won't be good for the packaging manufacturers. It could be a bad year for them," he says.
The struggles plaguing plastic packaging manufacturers this year have also been reflected in their share prices as the majority have seen sharp declines over a one-year period.
SCGM Bhd appears to be the worst hit, tumbling 52% to close at RM1.36 last Thursday. Trailing SCGM are SLP Resources Bhd (falling 41% to RM1.10), Thong Guan Industries Bhd (33% to RM2.60) and Tomypak Holdings Bhd (26% to 74 sen).
Daibochi Bhd was the least affected, falling 7.53% to RM2.
Only Scientex Bhd has bucked the trend, gaining 4.37% to RM8.56 over the same period, possibly because its property development segment helped lift earnings.
For its fourth quarter ended July 31, Scientex's net profit amounted to RM88.29 million on revenue of RM733.15 million. Its manufacturing division reported a revenue increase of 21.1% to RM527 million from RM435.3 million a year ago, while profit from operations rose to RM26.3 million from RM18.8 million previously.
Management attributed the improvement to better product mix and margins achieved as well as contribution from its recently acquired company, Klang Hock Plastic Industries Sdn Bhd.
While packaging manufacturers are faced with thinning margins, analysts agree that the competitive nature of the industry means players may not be able to pass on the additional costs to customers.
"Besides SLP Resources, which manufacturers niche products, the rest of the players are producing generic products that can get pretty competitive. So, I don't think there is much opportunity to pass on costs to customers easily," says an analyst from a local research house.
Chong, who has SCGM under his coverage, agrees. "It is difficult to pass it on. They did it once in April and if resin prices are higher in the second half of this year, it will be difficult to pass it on to customers again."
Besides margin compression, foreign exchange fluctuations are another headache given that all the players have exposure to the international market, even if a number of them maintain they have a natural hedge as both raw material costs and sales are conducted in US dollars.
But the ringgit, relatively stronger now compared with a year ago, could erode earnings. At the time of writing, the local currency was trading at 4.139 against the greenback compared with 4.22 last year.
Among the listed packaging players, Thong Guan has the largest export market, accounting for up to 80% of its revenue.
For the second quarter ended June 30, the company's net profit slumped 37.4% to RM8.62 million from RM13.77 million while revenue remained flat at nearly RM206 million. It is worth noting that the company also has a food, beverage and other consumable products division that is still loss-making.
Thong Guan attributed its weaker performance to lower US dollar sales after converting to ringgit.
CGS CIMB Research has cut its target price on the stock to RM3.45 from RM4.48 previously to reflect the continued losses at the F&B division and higher electricity and logistic costs, but retained its "add" call "as we continue to like the strong defensive demand for its nano-stretch films and PVC food wrap films".
Given the current situation, analysts do not see any upside for the players. Indeed Chong believes there could still be downside risks to earnings.
"The cost issues have been ongoing for the last year and until margins improve, there will be little excitement for the sector," one local investment bank analyst says.
For some reprieve, manufacturers and investors will be hoping that the excess supply of resin gets to Malaysia soon.
Save by subscribing to us for your print and/or digital copy.
P/S: The Edge is also available on Apple's AppStore and Androids' Google Play.