This article first appeared in The Edge Financial Daily, on October 3, 2018.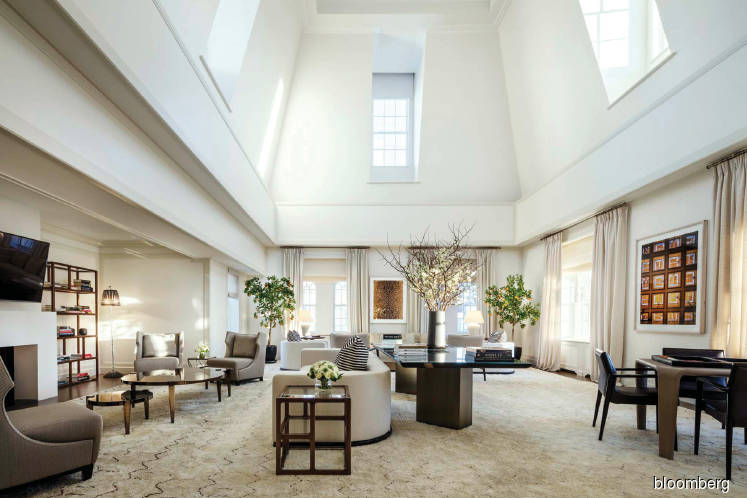 WITH a price tag of US$75,000 (RM310,6880) a night, the Mark Hotel in Manhattan, New York is now offering the most expensive hotel suite in the US.
Built in 1927, this iconic Upper East Side hotel underwent a major renovation from 2006 to 2009. While the historic exterior was untouched, the entire inner workings of the building were replaced, with interiors rethought by famed designer Jacques Grange. Popular with locals because of its Jean-Georges restaurant and Frédéric Fekkai salon, and with celebrities as the go-to gathering spot before the Met Ball, the penthouse brings a new allure to the building.
Located on the 16th and 17th floors, the 10,000sq ft (929 sq m) interior space, also designed by Grange, offers five bedrooms, four fireplaces, six bathrooms and two wet bars. The living room, with 26-ft ceilings, is located in the corner tower of the building and is large enough to be converted into a full-sized grand ballroom. Outside, there is a 2,500sq ft rooftop terrace that overlooks Central Park.
While the penthouse is not new, this is the first time it is available to rent. "Before the paint was dry on the renovation, we had someone interested in renting it as an apartment, so it has never been publicised or even on the website," Olivier Lordonnois, general manager for the Mark Hotel, told Bloomberg. "We then had a family rent it for 16 months, and now it is finally ready for guests." Lordonnis said the family got a reduced rate, due to the desired length of stay.
For comparison, a nearby 10,000sq ft townhouse is selling for US$24.75 million, while a 16-month stay at  current published rates would clock in at US$36.5 million.
When asked about the price, Lordonnois let us know that he was the one to come up with that figure, and points to a competitor, the Ty Warner penthouse at the Four Seasons, as comparison. That suite spans 4,500 sq ft, has four terraces, but only one bedroom, and goes for US$50,000 a night. "There is no way we would price our penthouse at the same level, as it is so much bigger," said Lordonnois. "Plus, guests are getting all the amazing services of the Mark."
In the same luxury stratosphere, The Plaza  Hotel offers the 4,500sq ft, three-bedroom Royal Suite for approximately US$40,000 a night. It has 24-carat gold fixtures in the bathroom and offers a fully equipped fitness room and chef's kitchen. The Mandarin Oriental books its two-bedroom, 3,300sq ft Suite 5000, with a contemporary art collection curated by Whitewall magazine, for US$36,000 a night. Interested guests must call to book, as it does not appear on the website.
While general hotel amenities at the Mark include round-the-clock room service by Jean-Georges, John Lobb shoeshines, a 70-ft sailboat available to charter, complimentary bicycles, and pedicabs for hire, Olivier offers something a little more personal for penthouse guests. "We have heads of state, very wealthy business people, and celebrities renting this space, and they could care less about a Bentley at their disposal 24/7, as they often have their security in tow, or their own motorcade," he explained.
Instead, Lordonnois and his team work with the guest (or assistants) to understand what might really wow them. It could be a rare bottle of wine or sake that would impress the guest. If one happens to be interested in astronomy, a telescope will be erected on the terrace. "It is a lot more work on our side to find these special amenities, but they are certainly a little more genuine," he said of the suite-specific wow factor. "Obviously, the accommodation is unbelievable, but after that, the little details have to be in line with the rest. That is our job: to find those little things."
Why build a suite this size in the first place? Buzz and bragging rights, of course, said Lordonnois, "but also, from a sales perspective, it decreases our inventory and improves overall occupancy rates," which chopping it into separate rooms would not. Occupancy rates for the penthouse currently hover around 50%, he said. — Bloomberg