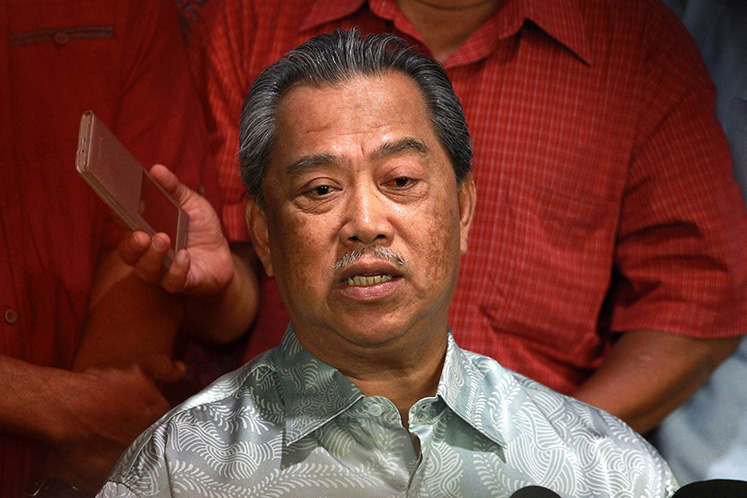 PORT DICKSON (Oct 11): The President of Parti Pribumi Bersatu Malaysia (Bersatu), Tan Sri Muhyiddin Yassin, stressed that the Pakatan Harapan (PH) Government will not fail to fulfil the promises made in its 14th General Election manifesto.
The Home Minister, who made his debut appearance in the Port Dickson Parliamentary by-election, here tonight, said the PH Government had a mandate of more than four years to implement them.
"I am very confident that under the leadership of Prime Minister Tun Dr Mahathir, (PKR president-elect) Datuk Seri Anwar Ibrahim and other partners, the promises can be implemented. The majority of the important agendas will be implemented.
"Even if not 100 per cent but the important things we will carry out... but the people have to be patient," he said in his speech at a friendly gathering with the people of Bagan Pinang, near here.
Also present were Negri Sembilan Bersatu chairman Tan Sri Dr Rais Yatim, PKR deputy president Datuk Seri Mohamed Azmin Ali, who is also Minister of Economic Affairs, and Negri Sembilan Bersatu deputy chairman Eddin Syazlee Shith, who is also Deputy Communications and Multimedia Minister.
Muhyiddin, who underwent surgery to remove a tumour in his pancreas in Singapore, on July 12, said his presence was proof of his support for Anwar, the PH candidate in the by-election. this Saturday
Earlier, Muhyiddin joined 200 people to perform maghrib prayers, followed by Yasin reading and tahlil at the Masjid Qariah Bagan Pinang, near here.