This article first appeared in The Edge Financial Daily, on October 8, 2018.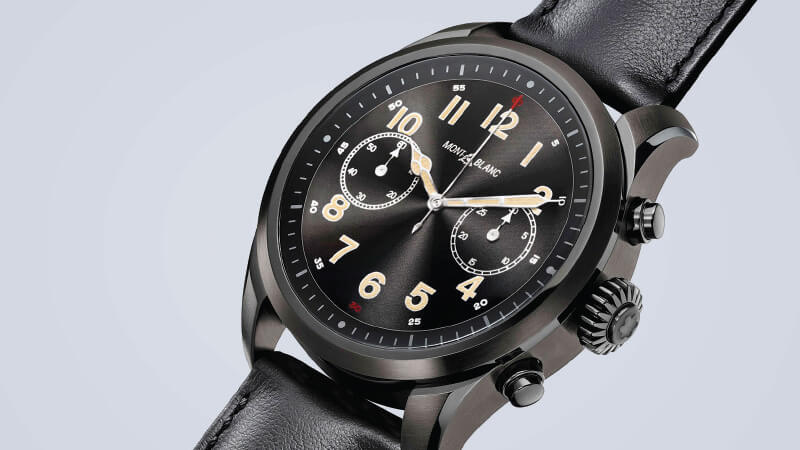 The Montblanc Summit 2 smartwatch.
A year and a half after launching its first smartwatch, Montblanc announced last Thursday an updated version dubbed the Summit 2. It features a 42mm case with a 1.2-inch display and is the first luxury smartwatch to include Qualcomm's new Snapdragon Wear 3100 chipset designed specifically for smartwatches. It runs on Google's Wear OS, making it fully compatible with Android smartphones, as well as limited use on iOS. The Summit 2 will be available on Oct 15 and is priced from US$995 (RM4,130).
Montblanc worked with Qualcomm and Google on the watch, Montblanc chief executive officer (CEO) Nicolas Baretzki said. "The new chipset requires less battery and incorporates a time-only mode, with only the time displayed and all smartwatch functions turned off." The time-only mode can result in a battery life of up to a week, according to the company.
The Summit 2 also offers more storage (8GB), GPS, a sharper display, faster processing, a voice assistant and mobile payment and is water-resistant (ATM 5). New travel applications have been added, including the Timeshifter app designed to reduce jet lag, as well as a live Running Coach app. The permanent colour-ambient display means the face should always be visible. Personalisation is also key, with around 1,000 software options, including backgrounds, hands and indicators, said Montblanc. Case finishes include stainless steel, black DLC steel, two-tone steel and titanium, all featuring a rotating crown and sapphire glass. Eleven different interchangeable straps will be on offer, including steel, rubber sport, nylon and calfskin.
Phase 2
Like the second generation of Montblanc, the smartwatch industry is also now in phase 2, said Ramon T Llamas, the research director for mobile devices and augmented reality and virtual reality at International Data Corp, an intelligence and advisory firm. "Phase 1 was really all about  experimentation. We knew people wanted smartwatches; we were not sure what they wanted on a smartwatch," he said. "We were not sure what a smartwatch should look like, feel like and function like. It's not as simple as shrinking your smartphone down to your wrist."
Phase 2 of the smartwatch industry, said Llamas, is all about taking lessons learnt and refining both the hardware and software. "You are seeing market changes. The first thing is, you are finally getting smartwatches that look like watches. Then, as the hardware improved, so did the user interface. The first smartwatches were terrible in terms of how to navigate. Now you are only a couple of swipes or gestures away from where you need to be."
The growth of third-party applications and cellular and Wi-Fi connectivity, allowing the watch to work as an independent item, have also increased desirability.
According to International Data Corporation research, 33.3 million smartwatch units were shipped around the world in 2017, resulting in a global market value of US$12.7 billion. In 2018, about 46.2 million units are expected to be shipped, with a market value of about US$15.4 billion. By 2020, around 94.3 million units are projected to be shipped, which will bring the market value up to around US$27.3 billion.
Crowded marketplace
The Summit 2 arrives in an increasingly crowded market, both at a mass market level and also in the luxury sector it inhabits. There's the Hermès version of the Apple Watch (from US$1,299), as well as smartwatches or hybrids from brands such as Louis Vuitton and Tag Heuer. Baretzki said Montblanc is aiming to become the market leader of the segment.
"Smartwatches are strategically important," said the Montblanc CEO. "We want to stay connected with customers who want more from their watch than just a high-tech wearable."
Llamas noted that the challenge for luxury brands will be balancing prestige with technology: "Over the past several years, the emphasis has been on the design and style of the watch because that is what these brands bring to the table."
Yet, he continued, "At the same time, [watch brands] have been missing out on some of the technological developments that other watches are, at this point, maybe a year or two ahead. Things like, say, GPS or mobile payments. Or cellular connectivity." In this sense, the Summit 2 is a massive leap forward from its predecessor.
To the future
Looking to the future of the market sector, Montblanc's Baretzki said the focus will be on three aspects: Fashion, access to short pieces of information and how the device sits on the body.
"We will explore these three verticals further in equal measure and keep pushing boundaries to come up with new and important use cases," he said, adding that it is all about individuals who need technology to keep them ahead and allow them to be productive on the go, while still enjoying the experience and aesthetics of a fine timepiece. — Bloomberg