This article first appeared in The Edge Malaysia Weekly, on October 1, 2018 - October 07, 2018.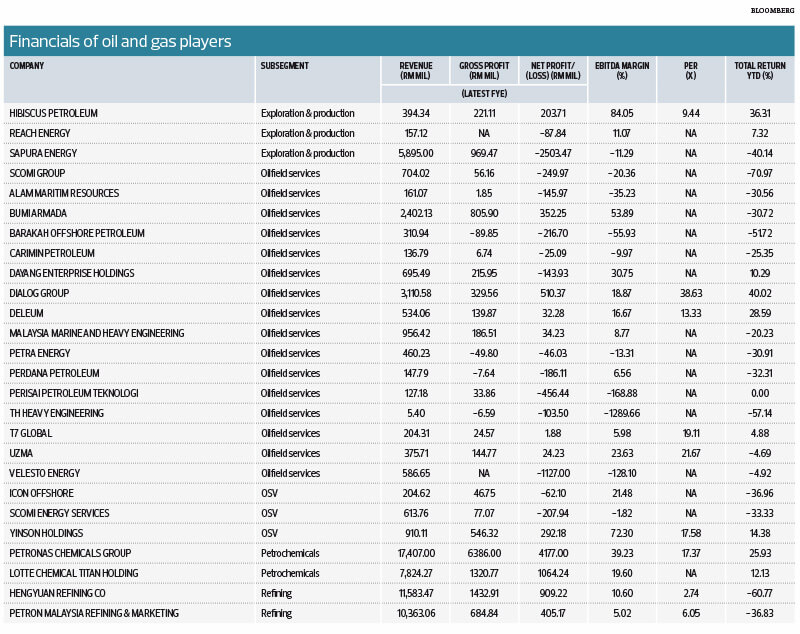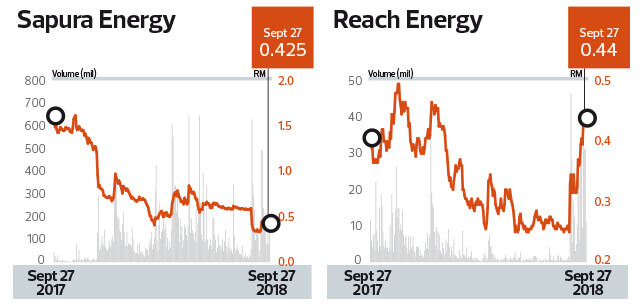 WHILE crude oil has rebounded to over US$80 per barrel and sentiment on the oil and gas sector has turned bullish, the recovery in prices may not lift all players in the industry.
Analysts say this is because a significant number of oil and gas companies in Malaysia are involved in the service segment, which may not directly benefit from higher crude oil prices.
Conversely, there will be a positive impact on upstream players such as Hibiscus Petroleum Bhd, Reach Energy Bhd and Sapura Energy Bhd.
"Oil producers will enjoy a direct impact from the rebound in oil prices. Those with oilfields will definitely be the beneficiaries as every dollar increase in oil price will add to their bottom line," Hong Leong Investment Bank analyst Sean Lim tells The Edge.
He picks Dagang NeXchange Bhd, which owns a share of the Anasuria Cluster, as a potential beneficiary as well as downstream oil and gas group Petronas Chemicals Group Bhd as it will see a rise in the prices of its petrochemical products.
"But, of course, for Petronas Chemicals, there will be a lag and the price of each product type is still subject to its own dynamics," he says, adding that companies involved in the maintenance and service segment of the industry could benefit indirectly from the improved sentiment, thus encouraging oil majors to award more projects.
Lim notes that the US Energy Information Administration (EIA), in its latest short-term outlook report, has for the first time forecast growth in crude oil prices next year compared with previous forecasts of lower pricing.
The EIA expects Brent spot prices to average US$73 per barrel this year and a slightly higher US$74 per barrel in 2019. At the time of writing, Brent crude was trading at US$81.76 per barrel.
"We are definitely more bullish than three months ago as there are more and more indicators that confirm that the recovery in prices is ongoing," says Lim.
However, BIMB Securities Research analyst Azim Faris points out that companies involved in services still rely heavily on job awards from Petroliam Nasional Bhd (Petronas) and that the rollout of projects has been rather slow.
"A few FIDs (final investment decisions) were reached this year, including the approval for Sapura Energy's development of gas fields off Sarawak and Mubadala Petroleum's FID for the Pegaga gas field," he says.
Even if Petronas awards more contracts going forward, says Azim, the charter rates payable to the contractors are still a concern.
He cites Velesto Energy Bhd as an example. Though the utilisation rate at its drilling rigs remains stable at around 60% to 70%, the segment is still booking losses amid charter rates that are lower than those seen when crude oil prices peaked in 2013.
"Each segment of the oil and gas value chain has its own problems, so investors like us need to dig deeper into the fundamentals of the companies," he says.
Affin Hwang analyst Tan Jianyuan notes that several service companies have been awarded maintenance, construction and modification (MCM) contracts.
For instance, Dayang Enterprise Holdings Bhd bagged one such contract for five years from JX Nippon Oil & Gas Exploration (M) Ltd while Barakah Offshore Petroleum Bhd secured a five-year contract from Sapura Energy Bhd.
"I believe the rising oil prices will accelerate the award of MCM contracts, benefiting these maintenance players," says Tan.
He believes companies involved in the jack-up and offshore support vessel segments face challenging times ahead amid low charter rates. "Basically, we are assessing companies based on the contracts that have been awarded. That's why I think some of these players could see some recovery moving into next year."
However, he thinks crude oil at more than US$80 per barrel may not be sustainable going forward as prices shot up within days against the background of US sanctions on Iran and the Organization of the Petroleum Exporting Countries' (Opec) decision to not increase production.
Tan expects prices to taper off to below US$80 per barrel towards the end of the year.
Azim shares the same view, expecting prices to be lower in the first half of 2019. He points out that demand for crude oil is seasonally stronger in the second half of the year than in the first.
"Prices are supported by the current strong demand and supply problems. Moving into the first half of next year, however, I don't think supply will be an issue. Prices may drop again, though not as much as before, but maybe to around US$60 to US$70 per barrel," he says.
Save by subscribing to us for your print and/or digital copy.
P/S: The Edge is also available on Apple's AppStore and Androids' Google Play.