This article first appeared in The Edge Malaysia Weekly, on October 1, 2018 - October 07, 2018.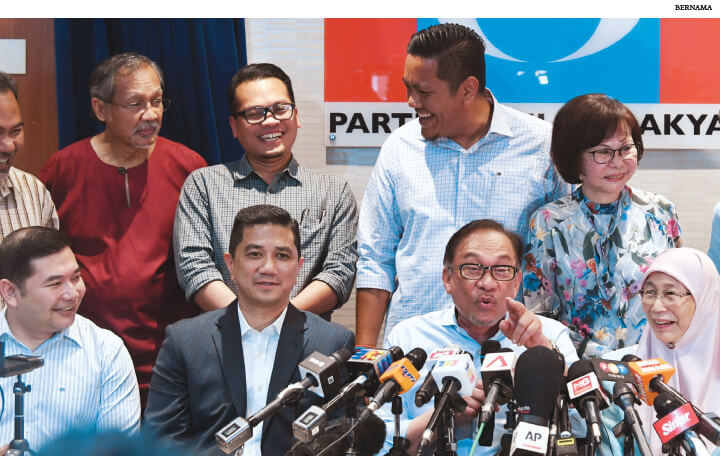 Seated from left: Rafizi, Azmin, Anwar and Wan Azizah .... PKR, PH's biggest party, is perceived to be facing problems due to a power struggle
PARTI Keadilan Rakyat (PKR) with its multiracial composition is arguably the most ideal political party for the country.
What is more, one of its core principles is to establish "a society that is just and a nation that is democratic, progressive and united".
And yet, it has been accused of being the "weakest" link in Pakatan Harapan, "problematic" even. Still, among its PH allies and obviously compared with the opposition, it has the most number of seats in parliament.
The trouble is, the ongoing PKR election campaigning — which started on Sept 22 and is scheduled to be concluded by the end of this month — is a mess with the fracas between supporters and allegations of money politics and abuse of power. And the party's much-touted e-voting system has been heavily criticised by its own members.
"We recognise the weaknesses of the computer system and crowd-control from the first week [of polls] and the party's election committee must work hard to improve them," says Nik Nazmi Nik Ahmad, who is running for a spot in the PKR leadership council.
Indeed, the election committee is working hard to solve the problems, or so it seems.
And to be fair, it has never been easy to, for want of a better word, control and run PKR as a party, given its diverse components.
Formed as Parti Keadilan Negara in 1999 upon the sacking of Datuk Seri Anwar Ibrahim from the Barisan Nasional government, the party attracted people from various groups and organisations, from Angkatan Belia Islam Malaysia (ABIM) and non-governmental organisations to members of civil society and former members of Umno and even PAS. They all came with their own idea of how the party ought to be run.
A merger with Parti Rakyat Malaysia in 2003 gave birth to PKR. Somehow, the party has not only survived but gone from strength to strength despite hiccups and crises — quite a handful of them too.
The challenges are greater now following PH's success in GE14. As part of the Malaysian government today, PKR is perceived to be facing problems that are disturbing, to say the least, and attributed to a power struggle.
Nik Nazmi, however, insists that PKR has adhered to the "one man one vote" principle since 2010 and that with almost 900,000 members — "the biggest party in Pakatan Harapan" — the democratic process is massive.
According to the Setiawangsa MP, it is expected that tensions have built up since the last party election, arising from concerns over the change in Selangor's menteri besar, the formation of PH and severed ties with PAS.
When asked if the bitter campaigning could lead to a split in PKR, Nik Nazmi's response is, "If anything, the split is not racial or religious but in the approach to take the party forward."
He adds, "Open differences are normal in other mature democracies — Hillary Clinton versus Barack Obama and Bernie Sanders, for example. Malaysians should get used to this." Agreed.
There are factions in PKR, never mind the denials. Simply put, there is the Azmin Ali camp and there is the Rafizi Ramli camp, which, incidentally, I wrote about in The Edge Financial Daily in August. As we know, Azmin and Rafizi are contesting for the deputy president's post.
As for the "open differences", especially between the supporters of the two camps, they should be described more as "animosities".
As for the contestants, well, we have heard Rafizi accusing Azmin of, among other things, "wanting to prevent Anwar from becoming the prime minister", which Azmin has denied.
Anwar is said to be "favouring" Rafizi but the incoming PKR president has gone on record as saying he is neutral.
We have also heard of "plans" by people who, in the event of not being successful in the party polls, will "take drastic measures in pursuit of political survival".
But in all probability, the vanquished will be accommodated in a typical "winners don't win all, losers don't lose all" compromise. Anwar will have to ensure this, if for nothing else than for his own interest.
Surely, the prime minister-in-waiting would want to consolidate his position and boost his own standing when he returns to parliament with the "solid" support of his party and a PKR that is united? Obviously, his becoming a member of parliament will depend on the outcome of the Port Dickson by-election come Oct 13.
Clearly, the man whose imprisonment in 1999 led to the formation of Barisan Alternative — who is credited with bringing together the various parties in Pakatan Rakyat and who played a big role in forging the Pakatan Harapan coalition — has his work cut out for him.
As the dust settles after the PKR election, Anwar will have to work with whomever becomes his deputy and ensure that the warring factions in PKR stop fighting and come together as one.
He will certainly need all the diplomatic and political skills gained from all his years in politics.
Mohsin Abdullah is a contributing editor at The Edge. He has covered politics for more than four decades.
Save by subscribing to us for your print and/or digital copy.
P/S: The Edge is also available on Apple's AppStore and Androids' Google Play.