This article first appeared in The Edge Malaysia Weekly, on October 1, 2018 - October 07, 2018.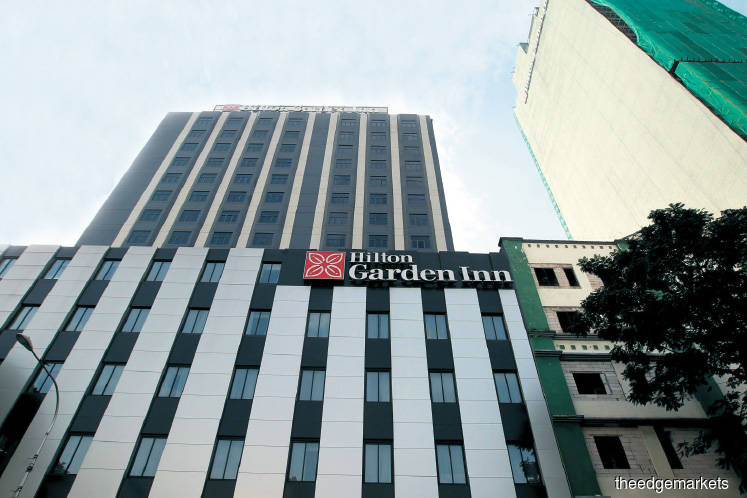 SINGAPORE's Royal Group disposed of two hotel assets — Hilton Garden Inn North and Hilton Garden Inn South — in Jalan Tuanku Abdul Rahman, Kuala Lumpur, to Thailand-listed Strategic Hospitality Extendable Freehold and Leasehold Real Estate Investment Trust (SHREIT) last month, less than three years after acquiring them.
Royal Group managed to flip the assets, which have a total of 532 rooms, for an estimated RM240 million or RM451,128 per room. At that price, observers say, the group made a handsome profit of about RM65 million after deducting its initial investment and renovation cost.
The Royal Group did not respond to questions from The Edge.
Industry experts contacted by The Edge were surprised that the group had sold the assets so soon after their purchase but pointed out that it managed to get a very attractive price.
"The cautious stance among local investors and the weakening ringgit have prompted foreign investors from Singapore and Thailand to come in. Local buyers will not pay so high [a price]," Rahim & Co director Robert Ang says.
He cites as an example the 203-room Geo Hotel in Kuala Lumpur near the Central Market, which was sold to SGX-listed ICP Ltd in September last year for S$27.5 million, or RM410,296 per room — comparable to what Hilton Garden Inn assets were sold for.
Three months later, in December that year, another hotel in Kuala Lumpur — 19-year-old, 154-room Nova Hotel in Jalan Alor — was sold for RM63.8 million, or RM414,286 per room. The buyer was Regalwide Holdings Sdn Bhd, which is owned by Choo Chong Ngen, a Singaporean hotel tycoon who founded the Hotel 81 budget hotel chain. According to Forbes, Choo is Singapore's 10th richest person, with a net worth of US$2.6 billion.
"The Hilton Garden Inn transaction actually shows the fundamental strength of the tourism and hotel market in Kuala Lumpur. The deal reflects the confidence of Singaporean and Thai investors in the country's real estate market and laws ... it is a great boost for the hotel investment market," Zerin Properties CEO Previndran Singhe tells The Edge.
In its announcement to The Stock Exchange of Thailand, SHREIT says Colliers International Thailand valued the hotel at RM257 million. Other hotel properties owned by the REIT include Ibis Saigon South and Capri by Fraser in Vietnam and Pullman Jakarta Central Park in Indonesia. SHREIT is majority owned by Macquirie Capital Securities Singapore Pte Ltd (41.27%) and Singapore sovereign wealth fund GIC Pvt Ltd (19.84%).
Back to Hilton Garden Inn, the North wing, which has 265 rooms, commenced operations last December, while the South block, with 267 rooms, is expected to open its doors next month. The two blocks are a couple of minutes' walk from each other.
Documents sighted by The Edge show that The Royal Group, via Knights Bridge Avenue Sdn Bhd. completed the purchase of the former Cititel Express hotel from IGB Corp Bhd for RM37 million in December 2015. After undergoing renovation and refurbishment, the hotel now operates as Hilton Garden Inn North.
The shareholders of Knights Bridge Avenue are Royal Group Capital Pte Ltd (50%), Power Rich Investment Pte Ltd (25%) and NMM Pte Ltd (25%). The directors are listed as Bobby Hiranandani, Asok Kumar Naraindas, Naraindas Gangaram and Phang Lee Kah. Forbes lists Asok, who is also known as Asok Kumar Hiranandani, as Singapore's 21st richest person, with a net worth of US$1.6 billion. Bobby is Asok's son.
In September 2016, the Royal Group's Gateway Legend Sdn Bhd purchased the non-operational Hotel Empress Kuala Lumpur, which is just metres away from the former Cititel Express, for RM45.5 million from Malaco Mining Sdn Bhd.
The shareholders of Gateway Legend Sdn Bhd are Royal Group Capital Pte Ltd (50%), Power Rich Investment Pte Ltd (25%) and Indosing Pte Ltd (20%). The directors are again Bobby, Asok, Naraindas and Phang.
Malaco Mining had purchased the asset in April 2013 from Ganzlink Sdn Bhd for RM40 million. Malaco Mining is wholly owned by Diamond-Hard Holding Sdn Bhd, which is owned by Sia Hok Kiang, with Tan Poh Suan holding one share.
Construction of the 15-storey Hotel Empress was completed in 2005. Originally owned by Gula Perak Bhd, it has changed hands many times over the years. This month, it will open its doors as Hilton Garden Inn South.
The Royal Group is led by Asok, who, with his elder brother Raj Kumar, had set up Royal Brothers, which was once dubbed the wealthiest non-Chinese family operation in Singapore real estate. However, the brothers went their separate ways 12 years ago and Raj Kumar went on to set up Royal Holdings.
In 2015, The Royal Group, via Hiranandani Hotels Sdn Bhd, purchased the 540-room DoubleTree by Hilton Kuala Lumpur from private real estate fund BlackRock Inc for RM388 million or RM718,000 per room.
A Malaysian property owned by Royal Holdings' is the HSBC Bank Building, formerly Menara Genesis, in Jalan Sultan Ismail.
Save by subscribing to us for your print and/or digital copy.
P/S: The Edge is also available on Apple's AppStore and Androids' Google Play.