This article first appeared in The Edge Malaysia Weekly, on October 1, 2018 - October 07, 2018.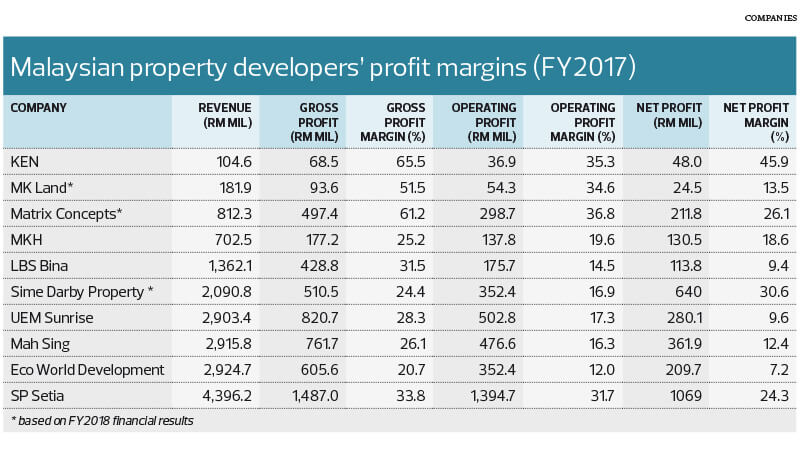 THE Sales and Services Tax exemption on construction materials is not expected to lead to big enough savings that would be meaningful  to buyers.
On Sept 24, Finance Minister Lim Guan Eng called on developers to lower the prices of homes as construction materials and services are now exempted from SST. In response, Real Estate and Housing Developers' Association (Rehda) president Datuk Soam Heng Choon urged developers to cooperate and pass on any savings from the tax exemption to consumers. The association is conducting a study to see how much of a reduction is possible.
However, it is believed it will not be much because construction costs typically make up less than half of the development cost of residential properties.
The exemption is expected to provide only up to 3% in cost savings, which will not address the imbalances in the property market, say analysts. Reducing prices by 3% will not solve the unaffordability issue.
"Developers are looking at cost savings of 1% to 3% from the tax exemption as some of the items are now taxed at a higher rate than under the previous tax system while others are exempted.
"It [affordability of homes] is a structural issue that cannot be solved by just giving tax exemptions on construction," says an analyst at a local investment bank who covers property development companies.
When asked how Rehda members had responded to the government's request and if they thought it was reasonable, Soam did not immediately respond to The Edge. Efforts to reach him and the former president of Rehda, Datuk Seri Fateh Iskandar Mohamed Mansor, were unsuccessful.
It is common knowledge that property prices in Malaysia are considered severely unaffordable. In its 4Q2017 bulletin in February, Bank Negara Malaysia says property prices are seriously unaffordable, especially in major cities such as Kuala Lumpur, Petaling Jaya, George Town and Johor Baru.
Based on the median income of RM5,228 per month, or RM62,726 a year in 2016, the maximum price for a house to be considered affordable was RM282,000. However,  the median house price at the time was RM313,000.
In the Financial Stability and Review report for the first half of 2018 (1H2018), Bank Negara says imbalances observed in the property market continued during the six-month period.
The central bank says the number of unsold housing units increased to 146,196 as at end-1Q2018, with more than 80% of them priced above RM250,000.
The question of affordability hinges on two factors — prices and income levels. Since the income of the average Malaysian will not rise immediately or in the short term, could property prices be lowered to more affordable levels? After all, it is in the interests of everyone, including the developers, to have a bustling property market.
Developers enjoy high profit margins
Looking at public-listed property developers, many enjoy high profit margins — something that business owners in other industries can only dream of. For example, for the financial year ended Dec 31, 2017 (FY2017), KEN Holdings Bhd registered a net profit margin of 45.86%, and this double-digit margin extended into the first half of 2018 when it stood at 47%.
However, in FY2016, its net profit margin was a more subdued 29.9%. The increase in profitability in FY2017 and 1HFY2018 was due to the completion of KEN Rimba Condominium 1, located in the KEN Rimba township in Seksyen 16, Shah Alam.
KEN Rimba Condominium 1 was launched in 2015. A unit measuring   1,080 sq ft was priced at RM399,000 (excluding parking bays),  more than the median house price of RM282,000, which would be considered affordable in 2016, as per Bank Negara's February report.
"The only way for developers to reduce property prices is by reducing their profit margins," says an industry observer. "This is the only component of development costs that a developer can control."
Typically, a property developer sees a 20% gross profit margin from a development. However, many developers actually enjoy gross profit margins of more than 20% in a year (see table).
High-end property transactions collapsed in 1Q2018
Developers should heed the call by Lim and Minister of Housing and Local Government Zuraida Kamaruddin to come up with more affordable housing projects because as properties get further out of reach of more people, the health of the property development sector itself will be in jeopardy. Although the property market is still holding up at the moment, there are indications of a slowdown. According to the National Property Information Centre, residential property transactions in Selangor dropped 7.1% in the first quarter compared with the preceding quarter.
The transaction numbers were dragged down by a drop in the number of transactions for properties priced above RM500,000. Transactions of homes priced from RM500,001 to RM1 million saw a 17.1% decline in 1Q2018. Transactions of properties priced above RM1 million fell 19.7% in Selangor, signalling weaker demand for high-end properties compared with the preceding quarter.
On the other hand, the number of transactions involving residential properties priced at RM250,001 to RM300,000 jumped 12.5% quarter on quarter. On a year-on-year basis, transactions chalked up healthy growth of 5.1%, largely from the medium-low and affordable segments.
The number of transactions of homes priced at RM150,001 to RM200,000 increased 15.9% y-o-y, while those priced at RM300,001 to RM400,000 saw an increase of 10.6%.
The number of transactions for homes priced at RM500,001 to RM1 million grew only 0.6% y-o-y. However, transactions for houses valued at more than RM1 million were still holding up,  increasing 6.5% y-o-y.
Demand for quality, affordable housing will continue to rise as the economy grows and the country urbanises further. Property developers may have to look at their profit margins in order to support the drive to lower house prices.
Save by subscribing to us for your print and/or digital copy.
P/S: The Edge is also available on Apple's AppStore and Androids' Google Play.