This article first appeared in The Edge Financial Daily, on October 2, 2018.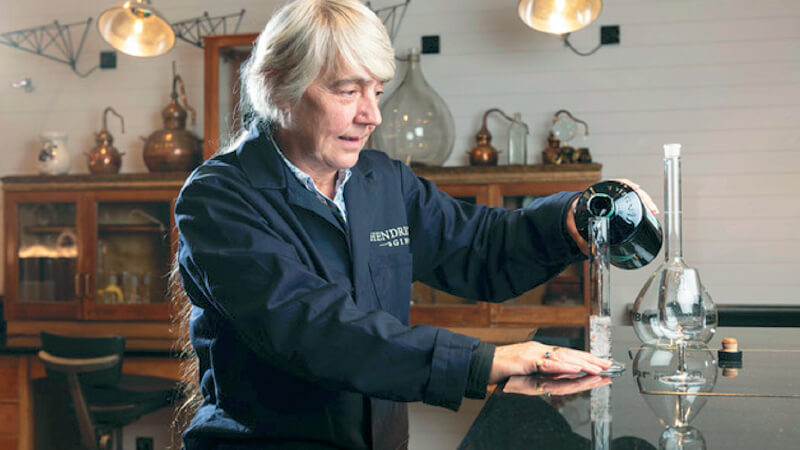 Bartenders will be invited to come here to finesse their skills alongside select VIPs, who will tour the hothouses and gardens, meet with Gracie in her lab and taste her various experiments.
The door is stout, with curly wrought iron hinges, the only entrance in an imposing, 13ft (3.96m)-high brick wall. It could be the exterior of an old castle here in Scotland, a bell hanging nearby to summon attention. When the huge clapper dings, a small hatch rattles open to reveal a pair of eyes, like a guard greeting Dorothy arriving at Emerald City for the first time. "Who's there?" he asks, before recognising the visitor "Och aye, come in."
When the gates swing open, it is an Oz-worthy sight: there is a palatial building hidden inside, made mostly from glass and iron like a Victorian exhibition hall. Two of the wings are hothouses, filled with plants, while between them sits a central conservatory festooned with decoration. A stuffed peacock perches proudly in one corner, near a pile of steam trunks. A coat rack is hung with tweed cloaks and pith helmets. Penny farthing bikes are racked together jauntily by the door.
This is the "Gin Palace" at Hendrick's headquarters in Girvan, Scotland, an hour southwest of Glasgow. The custom-designed complex is the embodiment of the eccentric marketing behind the British tipple, although right now it smells of fresh paint.
Every drop of Hendrick's, drunk any-where in the world, is produced right here. Three giant stills, each spotlit with a flattering glow, are housed in an enormous cathedral-style space with a stained glass ceiling. "Oh, it's a cracking still," says master distiller Lesley Gracie, looking lovingly at one of the paunchy copper pans, walking back and forth between them. If the Gin Palace is Oz, then the pixie-like Gracie is the wizard.
Twinkly-eyed, with a grey, Rapunzel-length braid swooping down her back, she is as eccentric and endearing as the gin she invented. It is only fitting that, as the unsung inventor of what's become a globally known gin, she should be given the chance to squire the first visitor round the new site, which is both a showcase for its studied eccentricity and a major investment aimed at futureproofing Hendricks' production.
Two decades after devising the recipe, Gracie continues to tinker with tinctures here on behalf of Hendrick's and its Scottish owner, William Grant & Sons Inc. The family-run distiller counts Glenfiddich, The Balvenie, and a raft of other top shelf brands in its spirits portfolio. Tasked with creating the company's first gin, a quirky experiment from one of Scotland's foremost whiskymakers, it was Gracie who engineered the winning recipe, mixing 11 botanicals into the distillation before adding squirts of cucumber and rose essence to the final blend, giving Hendrick's its distinctive, smooth flavour, like drinking a country garden, on ice. It debuted in America in 1999, proving a rapid success, and launched back home in the UK four years later, before rolling out worldwide.
Since then, the firm has underwritten a Phileas Fogg-style explorer mission to the Venezuelan jungle where Gracie gathered exotic botanicals, such as Scorpion's Tail, and distilled them onsite. The resulting liquid became the basis of an ultra-limited edition offshoot from Hendrick's called Kanaracuni — of the 350 litres produced, just eight bottles remain — which ultimately morphed into the brand's latest expression, Orbium. Gracie added extra doses of wormwood, quinine, and blue lotus blossom to the original recipe for a gin that can more easily be drunk without tonic. Already available in Europe, Orbium will appear stateside in early December in handsome blue bottles.
Further riffs on the core Hendrick's recipe will now be devised here at the Gin Palace. As much pomp, circumstance, and style has been invested, the heart of the complex is research and development. Those hothouses, for instance, were tailor-made to give Gracie easy, onsite access to a raft of new botanicals. The avid gardener brightens visibly when talking about cramming the Mediterranean wing with citrus varietals such as yuzu, lemon, orange or more esoteric options. "Buddha's hand is like a cross between the sourness of the grapefruit and the impact of the lemon, but it's sweet as well," she explains. "I did get a couple of them last year, and chopped 'em, up and did all sorts of stuff." The other, Tropical wing, will feature more esoteric, unfamiliar plants such as jackfruit, lotus, and even some of that Venezuelan Scorpion Tail, if it roots. "I know it's not gonna be the same flavour, but I'm keen to see how it compares to growing in Venezuela." Wildflowers will be planted on the distillery's grounds, as well, with these and the rest of the botanicals eventually making their way to Gracie's lab, where steampunk-like wrought iron stools sit alongside modern rotavapors and wooden apothecary-style cabinets filled with bottles of experimental distillations of unusual herbs: bog myrtle, pineapple weed, some of that chopped-up Buddha's hand.
The other rationale behind the splashy Palace is a pragmatic: Hendrick's needs to make more gin. In addition to the trio of stills gleaming in the entranceway, there is now a mirror trio gurgling discreetly behind another door in the warehouse, doubling manufacturing capacity. Last year Hendrick's sold more than one million cases for the first time, up form 73,000 in 2007.
Hendrick's is not alone in this boom: With sales of more than £530 million in 2017, it was a record year for British gin; the US remained the top export destination at £184 million, up £12 million in value year-on-year. Much of this modern-day Mother's Ruin follows the Hendrick's template, with gin made in Scotland by whisky distilleries keen for product that will ease cash flow while its malts take years to mature.
And of course, there is a third major rationale to William Grant's investment in the immersive Hendrick's Gin Palace: plain-and-simple marketing. From the beginning, the brand's faux-Victorian aesthetic and wittily offbeat branding has contributed as much to Hendrick's success as its taste. Thanks to a quirky cucumber garnish in lieu of then-standard lemon or lime, a Hendrick's drink was instantly identifiably, and sparked curious questions — an analogue answer to a hashtag, decades before the term was coined. Now, the brand is embracing contemporary social media. "There's a curiosity to see behind the scenes, to show it's not a corporate machine and people are at the heart of it all," says Gin Foundry editor Olivier Ward. "Lesley (Gracie) is still being as amazing as she's ever been," And those peacocks and penny farthings are Instagram catnip, too.
That is, if you can get past the walls. While Ward points to an enormous new visitor centre recently unveiled by The Macallan and the 100,000 plus visitors who pass through Bombay Sapphire's jewel box of a distillery each year, the Gin Palace is not configured for thirsty, drop-in visitors. Rather William Grant has taken a more selective approach. Bartenders will be invited to come here to finesse their skills alongside select VIPs, who will tour the hothouses and gardens, meet with Gracie in her lab and taste her various experiments; the gin's brand ambassadors will be tasked with identifying, and inviting, the first few such folks. If you want to wangle a visit for yourself, charm everyone you see wearing a pith helmet and a retro mustache in any bar. — Bloomberg