This article first appeared in The Edge Malaysia Weekly, on October 1, 2018 - October 07, 2018.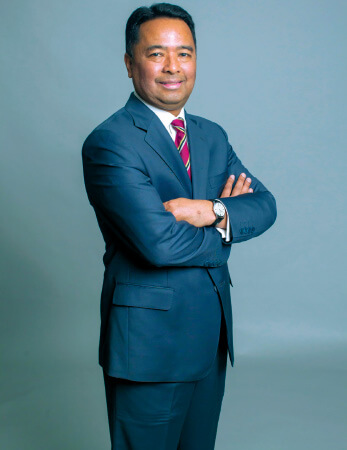 Rohaizad: When people start drilling exploration wells, you know they are getting more confident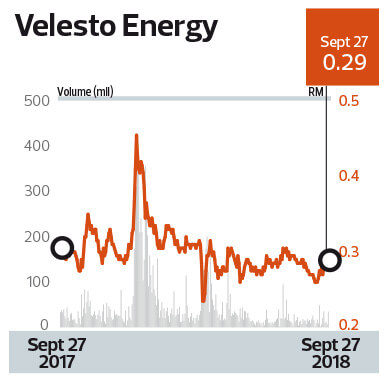 AT the Fourth Malaysia Oil and Gas Services Exhibition and Conference last week, the booth of Velesto Energy Bhd (formerly UMW Oil & Gas Corp Bhd) stood out for a number of reasons. For one, there was a hive of activity and those present — the oil rig operator's employees — seemed to be in high spirits.
"For us, the worst is over," Velesto president and executive director Rohaizad Darus says on the sidelines of the event. "Not only in terms of the business but [also because] we have sorted out our financial structure."
His sentiment is understandable as at the height of the oil and gas meltdown, jittery financial institutions had called on Velesto's debt obligations, requiring the company to repay about RM4 billion.
"We got stuck, having to cough up a huge sum to retire the debt that is maturing. What we did was, we undertook a rights issue of RM1.8 billion last year. Subsequently, we refinanced our debt totally with a new US$550 million loan. Now we are left with the US$550 million [debt] only," Rohaizad says in an exclusive interview with The Edge.
However, there are drawbacks to this loan. One is an increase in the finance cost — the interest rate shot up to 5.5% from 2%.
Nevertheless, it is noteworthy that Velesto's parent, holding more than 61% of its equity, is state-controlled unit trust outfit Permodalan Nasional Bhd (PNB) and its funds, which have deep pockets.
As at end-June, Velesto had RM1.36 billion in long-term debt commitments and RM70.47 million in short-term borrowings. Its deposits, cash and bank balances amounted to RM230.23 million.
"The first [debt] facility is only maturing in five years' time and the second in 10 years' time, so our financial issues have been addressed," Rohaizad says, adding that he is pleased that Velesto is also bleeding less red ink.
For its six months ended June, Velesto incurred a net loss of RM19.91 million from RM233.6 million in sales. In the previous corresponding period, it posted a net loss of RM155.1 million on revenue of RM214.19 million.
However, it is worth noting that Velesto had accumulated losses of RM2.18 billion as at end-June. In a nutshell, Velesto suffered what Rohaizad calls a "timing issue".
In 2012, Velesto had three rigs and a year later, added another. Then, from 2013 to 2015, it added four more rigs.
"We felt that the overall demand was there. At the time, we felt that the downturn would be a short one, maybe one year, maybe two years," Rohaizad explains.
But with things slowing down significantly, the contracts dried up.
"I have never seen such a sudden slowdown in my entire career. I've gone through four cycles before, but this cycle was very different and very severe … four years," he reminisces.
Nevertheless, now, with all seven of its rigs chartered out, Velesto will likely turn around this financial year, albeit with a small profit.
TA Securities, for instance, forecasts Velesto chalking up a net profit of RM4 million from RM580.4 million in sales. Similarly, Maybank Investment Bank sees the company raking in RM7 million in net profit from RM582 million in revenue.
The brighter outlook in large part is hinged on rising oil prices. Over the past year, oil prices have gained more than 40% and currently trade at close to US$82 per barrel, in stark contrast to lows of US$26 per barrel in February 2016.
While activity in the oil and gas space has picked up — Velesto is bidding for US$500 million worth of jobs — charter rates have yet to gain momentum.
Rohaizad says Velesto is likely to have a utilisation rate of above 70% for its seven rigs this year, which are currently chartered to national oil company Petroliam Nasional Bhd (Petronas) or its joint-venture partners.
The daily charter rate for jack-up rigs in Malaysia is about US$70,000, not much higher than the US$68,000 seen during the downturn. In 2014, the daily charter rate was US$149,000.
While charter rates may be stagnant, adding to the optimism is the scrapping of 31 jack-up rigs from January to end-August, resulting in only 115 being idle globally. The total global jack-up rig inventory stands at 448 units.
In March, at the Offshore Technology Conference, Petronas upstream head Datuk Mohd Anuar Taib said the national oil company would drill 110 to 120 wells this year and maintain exploration at 23 to 25 wells in Malaysia.
"This augurs well [for us and the industry], considering there was almost zero [activity] last year. When people start drilling exploration wells, you know they are getting more confident," says Rohaizad.
"In terms of bottom line, we are still recovering, but we are on the way back."
Most analysts tracking Velesto's stock view its prospects positively.
In a report in August, TA Securities says, "Velesto's 4Q is expected to impress. We expect utilisation in 4QFY2018 to reach 90% as all its rigs, besides Naga 6, are expected to be income-generating throughout the quarter. The high utilisation rate, coupled with circa RM30 million savings from finance and depreciation costs per quarter, should see Velesto return to the black in FY2018.
"We believe Velesto has been oversold and is poised for a turnaround, given the relief of short-term liquidity risk and an increase in tendering activities."
The research house has a "buy" call on Velesto with a target price of 34 sen.
Maybank Investment Bank also has a "buy" call on the stock, but with a target price of 33 sen.
"With an improving outlook over the next 12 months, any short-term weakness in the share price is an opportunity to accumulate. Our target price is based on one times enterprise value/replacement value," the bank-backed research house says.
Velesto ended last Thursday at 29 sen per share, giving it a market capitalisation of RM2.38 billion.
Save by subscribing to us for your print and/or digital copy.
P/S: The Edge is also available on Apple's AppStore and Androids' Google Play.