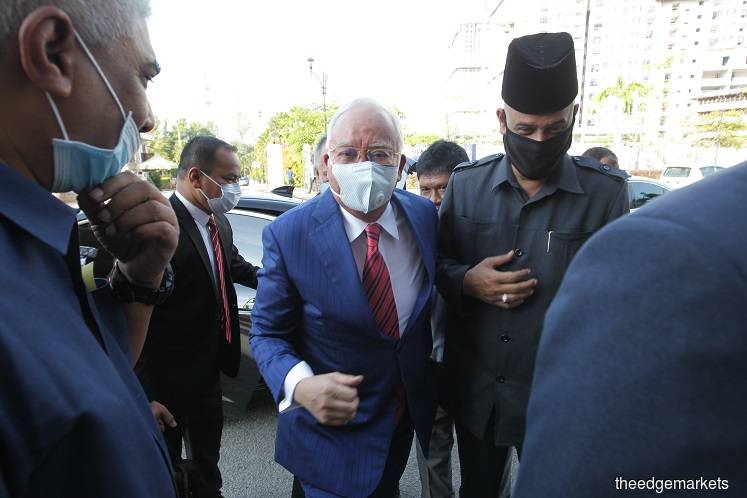 KUALA LUMPUR (June 15): The 1Malaysia Development Bhd (1MDB) final audit report tampering trial of former prime minister Datuk Seri Najib Razak and former 1MDB president Arul Kanda Kandasamy has been postponed to tomorrow, as one member of Najib's defence team came down with a high fever and is undertaking Covid-19 testing.
Lead defence counsel Tan Sri Muhammad Shafee Abdullah said he would also take the test today — making it the sixth time he would take the test — as a precautionary measure, which resulted in High Court Justice Mohamed Zaini Mazlan adjourning today's proceedings.
Shafee's team member, Rahmat Hazlan, was said to have a high fever and coughs, and was not able to turn up to court today. Shafee said Rahmat had gone for the Covid-19 test, with the results to be out by tomorrow morning.
This is the second time Shafee has requested for postponement of Najib's trial due to possible Covid-19 exposure fears.
In March, Shafee requested to adjourn the 1MDB-Tanore trial as he was in proximity to a person who was being tested for Covid-19.
At the time, the whole 1MDB defence team was instructed to self-quarantine as there was a risk that the virus could spread among them.
In the 1MDB audit tampering trial, Najib is charged with abuse of power as a public officer in his capacity as prime minister and finance minister in altering the 1MDB audit report which was to be tabled to the Public Accounts Committee in 2018. This was so that no action could be taken against him by Parliament.
Meanwhile, Arul Kanda is charged with abetting Najib.
For more stories on the 1MDB audit report tampering trial, click here.