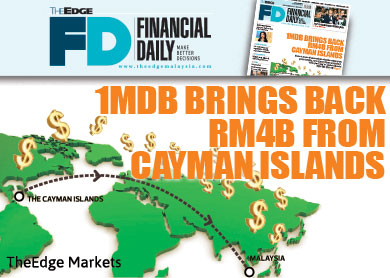 KUALA LUMPUR: 1Malaysia Development Bhd (1MDB) said it has redeemed over RM4 billion from its investments in segregated portfolio companies (SPCs) registered in the Cayman Islands, which represent more than half the US$2.3 billion (or about RM7.68 billion) parked there.
The balance — estimated to be around RM3.68 billion — is expected to be fully redeemed by this month, 1MDB said in a statement yesterday.
"A dividend of RM435 million from these investments has also been received subsequent to the financial year ended March 2014 (FY14) and will be accounted for in the next financial year ending March 2015," 1MDB said.
Deputy Finance Minister Datuk Ahmad Maslan told Parliament during the winding up of the budget speech yesterday that 1MDB had pulled out about 60% from the totalled RM7 billion investments in Cayman Islands and would bring back the remaining 40% at the end of this year.
Ahmad said the decision to bring back the investments was made to avoid any accusations that the money had gone missing, "which is wrong".
The money brought back will be used to fund the Tun Razak Exchange (TRX), Bandar Malaysia and other projects, including reducing 1MDB's borrowings and acquiring power assets, he added.
The Edge weekly (April 28 to May 4 issue), in its cover story "Bring back the money",  pointed out that 1MDB had parked around RM18.1 billion overseas with unnamed financial managers and institutions, of which US$2.3 billion had been invested in Cayman Islands under SPCs. In the article, the weekly also called on 1MDB to bring back the money.
1MDB posted a net loss of RM665.3 million for FY14 on the back of RM4.25 billion in revenue. If not for a RM2.7 billion property revaluation gain, it would have registered a net loss of RM1.85 billion instead of a net profit of RM778 million in FY13.
Revenue was 63.5% higher than the RM2.6 billion recorded in FY13, "reflecting the quality of the portfolio of assets that is being built and the strength of revenue generation", it said.
1MDB attributed FY14's loss to higher finance costs of RM2.4 billion, up 50% from RM1.6 billion in the previous financial year, which 1MDB said was again part of its strategy to grow its asset base.
It noted in a statement that FY14 marks "another productive year for the group", during which it has secured a number of high-quality energy and property assets for its growing portfolio.
"We have maintained our focus on growing the company's asset base and investment capacity.
"This has been driven by significant capital expenditure (capex) in the short term, which has resulted in an expected loss this financial year due to an increase in borrowings, but we are confident that the high-quality nature of the assets acquired and projects secured will drive the business forward and ensure its growth in the long term," said the group's managing director and chief executive officer Hazem Abd Rahman in the statement.
Notably, the group's asset base was increased to RM51.4 billion, up 15.2% from RM44.6 billion in FY13, but borrowings also rose in tandem by 15.7% to RM41.9 billion from RM36.2 billion.
"This high-quality asset base is backed by strong cash and cash equivalent reserves of RM16.7 billion, with the business well positioned to fund significant capex for the next 12 to 24 months, and providing significant headroom to meet future funding requirements," the sovereign investment fund said.
It added that the major areas of focus for capex in FY15 include projects secured by the energy division and the continued development of the TRX, Kuala Lumpur's first dedicated financial district, in the group's real estate division.
This article first appeared in The Edge Financial Daily, on November 7, 2014.