This article first appeared in The Edge Malaysia Weekly, on June 17, 2019 - June 23, 2019.
Click / Tap image to enlarge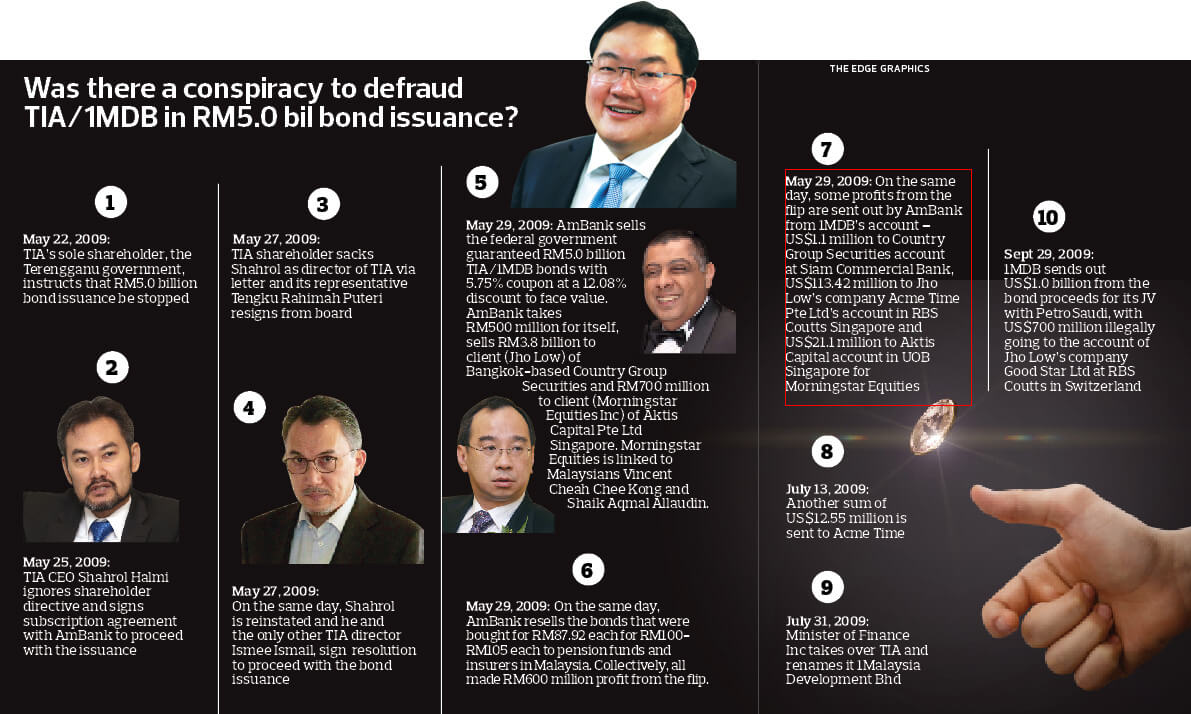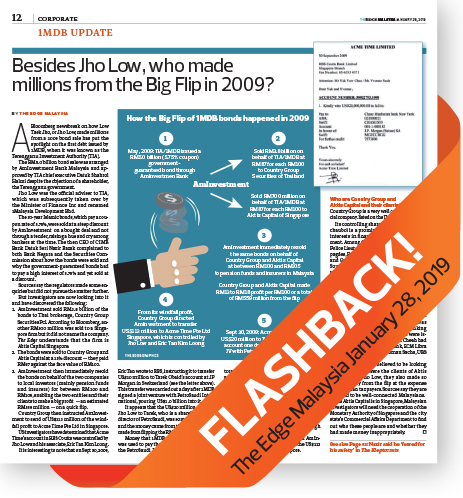 VINCENT Cheah and Shaik Aqmal also started The Malaysian Insider in 2007 before Jho Low took over the funding from 2010 to 2014, investigations reveal.
In the Jan 28, 2019, issue of The Edge Malaysia, we ran an article headlined "Aside from Jho Low, who made millions from the Big Flip in 2009?"
The article was on the first debt issued in May 2009 by 1MDB when it was still called the Terengganu Investment Authority (TIA) and its sole shareholder was the state government.
The RM5.0 billion bond issue was arranged by AmBank Group and approved by TIA chief executive Datuk Shahrol Halmi despite objections from the sole shareholder of TIA (see accompanying story).
Jho Low was at the time officially an adviser to TIA , which was subsequently taken over by the Minister of Finance Inc on July 31, 2009, and renamed 1Malaysia Development Bhd (1MDB) on Sept 25, 2009.
The 30-year Islamic federal guaranteed bonds, which pay a coupon rate of 5.75%, were sold on TIA/1MDB's behalf by AmBank at a steep discount.
Malaysian investigators looking into that transaction have, to date, discovered the following:
1.     AmBank on May 29, 2009, sold RM3.8 billion of the bonds to Thai brokerage firm Country Group Securities Pcl, which bought them for Low Taek Jho or Jho Low. AmBank took RM500 million for itself while the remaining RM700 million was placed out to Aktis Capital Singapore Pte Ltd for its client, a British Virgin Islands company called Morningstar Equities Inc.
2.     The bonds were sold at a steep discount of 12.08%, that is they paid TIA/1MDB RM87.92 against the face value of RM100
On the same day, AmBank resold the bonds on behalf of Country Group/Jho Low and Aktis/Morningstar Equities to Malaysian investors (mainly pension funds and insurers) for between RM100 and RM105 each, thus enabling itself and clients of Country Group and Aktis to make a big profit estimated at around RM600 million or US$170 million at the 2009 exchange rate.
 After the immediate flip, Country Group, on the same day, instructed AmBank to send US$1.1 million to its account at Sime Commercial Bank in Bangkok. It also asked that US$113.42 million be transmitted to Acme Time Pte Ltd's account in RBS Coutts Singapore. Another sum of US$12.55 million was sent to Acme Time on July 13, 2009.
US investigators have determined that Acme Time's account in RBS Coutts Singapore was controlled by Jho Low and his associate Eric Tan Kim Loong. Last December, Malaysian prosecutors filed anti-money laundering charges against the two men in absentia for receiving the money that originated from 1MDB in their Acme Time account.
Jho Low had used money from Acme Time to also pay various people, including Tarek Obaid of PetroSaudi International (US$20 million) on Sept 30, 2009  and the then 1MDB director of strategy Casey Tang Keng Chee (US$1.75 million) on Sept 5, 2009. 
Tang, who has also gone missing, was also charged in absentia for money laundering by Malaysian prosecutors in December.
Malaysian investigators are now looking into the manner the TIA/1MDB bond sale was handled. This includes why AmBank, which was paid RM11.25million in arranger fee, did not sell the bonds directly to the eventual onshore buyers but instead facilitated  Jho Low/Acme Time and Morningstar Equities to make large profits through the flip — at the expense of TIA/1MDB.
According to a Public Accounts Committee (PAC) report released in April 2016, because of the steep discount, 1MDB received only RM4.385 billion from the sale of RM5.0 billion. As the bonds pay a high interest of 5.75%, despite the government guarantee, the final total cost to 1MDB by the time the bonds are retired in 2039 is RM13.625 billion, PAC said.
Investigators are, therefore, determining if there was a conspiracy to defraud 1MDB by those involved in the bond issuance.
 
Who is Morningstar Equities Inc?
While it was clear that Country Group was acting on behalf of Jho Low, who was behind Morningstar Equities — the client of Aktis Capital?
Aktis Capital is an investment advisory and asset manager for high-net-worth customers.
Documents sighted by The Edge revealed that AmBank had, on May 29, 2009, transmitted US$21.1 million to the account of Aktis Capital at UOB Bank Singapore. This was the profit earned by Morningstar Equities from the flip.
Investigation sources in Singapore and Malaysia have told The Edge that Morningstar Equities is a BVI company linked to Malaysians Vincent Cheah Chee Kong and Shaik Aqmal Shaik Allaudin.
Singapore investigators have also informed their Malaysian counterparts that apart from the bond profit, tens of millions of dollars that originated from 1MDB were also funnelled into other accounts held by Cheah in Singapore, including Peachtree Capital Ltd. This money was subsequently moved to Cheah's accounts at Beaufort International Equities Inc and Autobots Technologies Pte Ltd as well as to the accounts of several individuals.
The sources said the money came from the fake Aabar-BVI, Alsen Chance Holdings Ltd and Affinity Equity Partners International Ltd. The US Department of Justice has said all three companies are controlled by Jho Low and Tan and were used to layer the money stolen from 1MDB for various purposes.
For instance, Alsen Chance provided US$1.2 million to Riza Aziz to buy a rare Hollywood poster while Affinity paid US$142 million for the superyacht Equanimity in May 2014 and US$1.278 million to the AmBank account of Datuk Seri Najib Razak in June 2014.
Singapore authorities have frozen all the bank accounts linked to Cheah and the other individuals, which had around US$30 million left in them. Arrangements are being made to return the seized money to Malaysia.
 
Who are Vincent Cheah and Shaik Aqmal?
Cheah is a major shareholder and director of Efficient E-Solutions Bhd while Shaik Aqmal is his partner in several business ventures.
Beaufort International, which ivestigators say had received some 1MDB money, has a 9.0% stake in Efficient. 
Sources say Cheah told investigators that he and Shaik Aqmal had in 2007 funded PR agency Fox Communications Sdn Bhd, which ceased operations in March 2011. Shaik was managing director of Fox.
Among Fox Communications' accounts back then were the Northern Corridor Economic Region project launch, Sime Darby Bhd, Realmild Sdn Bhd and the Ministry of Women, Family and Community Development.
The Edge had previously reported that Fox had done work for Jho Low and PetroSaudi International when it signed up for a US$1.5 billion venture in September 2009 with 1MDB, which turned out to be fraudulent.
Cheah also told investigators that he and Shaik also financed the start-up of The Malaysian Insider (TMI) news portal in late 2007 with the intention of supporting the administration of the then Prime Minister Tun Abdullah Ahmad Badawi ahead of the March 2008 general election.
Abdullah did badly in the election with Barisan Nasional losing five states and its two-thirds majority in parliament.
He was ousted in April 2009. Subsequently, TMI came under attacks from Umno bloggers who accused it of undermining new Prime Minister Datuk Seri Najib Razak. These bloggers accused businessman and former journalist Datuk Kalimullah Hassan of funding TMI despite his repeated denials.
When it started, the financing of TMI was shrouded in mystery and neither Cheah nor Shaik surfaced officially.
To help diffuse the tension between TMI and the Najib group, Jho Low stepped in to take over the funding of TMI in 2010, paying US$9.0 million without his name surfacing.
Investigators say Cheah pocketed US$3.0 million for himself while the rest was used to fund TMI until it was sold to The Edge Media Group in 2014 — a year after the 2013 general election.
(Publisher's note: The Edge Media Group bought TMI in June 2014 for RM4.0 million from two shareholders, one of whom was known to us while the other was someone we did not know. We were not aware that Jho Low was funding TMI from 2010.
On Feb 25, 2016, TMI was blocked by the Malaysian Communications and Multimedia Commission after it published an article that the MACC advisory council had recommended that Najib be charged over 1MDB. After that, The Edge Media decided to cease operations of TMI. We also had two of our publications suspended for three months in July 2015 but the action was reversed by the court.)
RM5.0 bil bonds were issued despite objection
The issuance of the RM5.0 billion Islamic medium-term notes (IMTNs) by the then Terengganu Investment Authority (TIA) — now the subject of investigation by the police and the Securities Commission Malaysia — in May 2009 was done despite the objection of its sole shareholder, the Terengganu government.
A report released by the Public Accounts Committee (PAC) in April 2016 said the then TIA chief executive Datuk Shahrol Azral Halmi had defied the instruction of Menteri Besar Inc of Terengganu (MBIT) not to proceed with the issuance.
"The PAC finds that Mr Shahrol Azral had disobeyed the instruction of shareholders to discontinue the issuance of the IMTNs. Mr Shahrol had also committed wrongdoing in signing agreements without authorisation given by the Board of Directors," the report stated.
TIA was formed in February 2009 to create a state sovereign wealth fund using the oil royalty income of Terengganu and was wholly owned by MBIT. The three directors of TIA were MBIT representative Tengku Datuk Rahimah Sultan Mahmud, Shahrol and Tan Sri Ismee Ismail, who was then also the CEO of Lembaga Urusan Tabung Haji (LUTH).
To get it off the ground, TIA was to issue the RM5.0 billion bonds backed by a federal government guarantee. In return, the federal government was to pocket 10% of the future profits of TIA.
Shahrol , in his testimony to PAC, said the issuance had to proceed because TIA had signed an agreement with AmBank Bhd on a bought-deal basis and so it could not be stopped.
The PAC report, however, presented a timeline on the chain of events to show that it could have been stopped. It said that the final subscription agreement with AmBank was signed on May 25, 2009, but that three days earlier, the TIA sole shareholder , through a May 22 resolution, had decided that it should not proceed.
PAC said MBIT had also written to AmBank, telling the bank not to proceed. It also said that investigations by the auditor-general revealed that at a 1MDB board meeting on Oct 10, 2009, Shahrol had said that the bonds were "hurried at the request of the special advisers of TIA".
The two advisers then were Low Taek Jho or Jho Low and Abdul Aziz Mohd Akhir.
According to PAC, although the Terengganu government had earlier agreed to the bond issue, it changed its mind because of some concerns about the corporate governance structure of the company that it felt was not in its interest.
As a result of the dispute, the Minister of Finance Inc took over TIA from the state government on July 31, 2009, and renamed it 1Malaysia Development Bhd (1MDB) with Shahrol staying on as CEO/director and Ismee as a director.
On Sept 28, 2009, 1MDB used a large part of the net proceeds of RM4.385 billion from the bonds to invest an initial US$1.0 billion (RM3.3 billion at the exchange rate at the time) in joint venture with PetroSaudi International, which has since been proved to be fraudulent, with US$700 million going to a company owned by Jho Low called Good Star Ltd.
That was the start of what morphed into a US$6.5 billion 1MDB debt burden, at least US$4.5 billion of which was stolen.