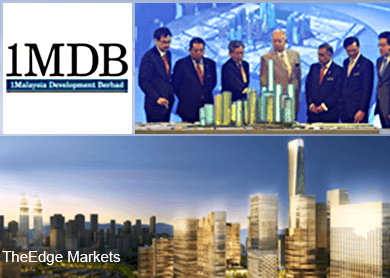 (April 24): Controversial state investment vehicle 1Malaysia Development Berhad (1MDB) today refused to comment on any "speculation and market rumours", following a series of exposés by whistleblower site Sarawak Report.
This comes after The Malaysian Insider sought the company's comments on allegations that it had given false bank statements pertaining to its subsidiary's accounts to the Singapore branch of BSI Bank.
"Thank you for your e-mail. While we welcome media enquiries, 1MDB does not comment on speculation and market rumours," said the reply from the company's corporate communications vice-president Grace Tan.
A check on 1MDB's website also showed a similar message to media enquiries, indicating that the debt-ridden fund will no longer answer allegations, as they had previously done.
The last statement released by the company's president Arul Kanda Kandasamy in addressing claims made against it, according to the website, was on March 12 on the RM950 million standby credit it received from Putrajaya.
1MDB has come under fire for its financial mismanagement, debts, questionable investments and borrowings.
Since its inception in 2009, the strategic development fund, which is owned by the Finance Ministry, has amassed a whopping RM42 billion in debts.
Prime Minister Datuk Seri Najib Razak, who chairs 1MDB's advisory board, has come under attack from various quarters over the firm's massive losses and dubious dealings, especially from Tun Dr Mahathir Mohamad.
The former prime minister has repeatedly asked Najib to step down, and said in his latest blog posting that unaccounted funds from 1MDB spending showed money has "disappeared", while noting Najib's inability to explain the matter disqualifies him from leading the country.
Dr Mahathir also hinted at corruption and theft of 1MDB's funds, saying that money disappearing was "different from just losing".
"Governments can lose money through bad investments. We would know where the money is lost. But when huge sums of money disappear, then those entrusted with its management must answer for the disappearance.
"Disappearance is about money lost which cannot be traced. This can be because of corruption or theft."
In its exposés on Wednesday, Sarawak Report said it was passed "disturbing evidence" showing that BSI Bank had dismissed documents supplied by 1MDB relating to the accounts for Brazen Sky Limited in Singapore.
BSI Bank in Singapore is where Putrajaya has said a portion of the 1MDB funds repatriated from Cayman Islands were being kept.
But Sarawak Report said separate sources in Singapore told it that "there is in fact no actual cash in the relevant 1MDB's BSI account, which was opened under the 1MDB subsidiary company, Brazen Sky Limited, merely 'paper assets' of indeterminate value".
As of January 31, 2015, BSI Singapore Bank reported 2?6 active accounts beneficially owned by Low, containing a total of just under US$17.5 million, said Sarawak Report.
"The discovery raises critical questions, not least over the status of the US$1.103 billion (RM4 billion) that 1MDB and the Finance Ministry? are currently claiming to be in a separate account at the same bank – money which was supposedly recovered from the original deal.
"After all, if so much of the money flowed out of that deal via Good Star to Jho Low, how has 1MDB managed to retrieve it all back with interest?" Sarawak Report said.
In another expose yesterday, Sarawak Report revealed that that businessman Low Taek Jho's company Good Star Limited, which allegedly siphoned off millions from 1MDB, was found to have transferred over US$500 million (RM1.8 billion) to one of his accounts in Singapore.
Citing documents from the republic's monetary authorities, it said the account was under the name of Abu Dhabi-Kuwait-Malaysia Investment Corporation (ADKMIC), of which Low, was listed as the beneficial owner.
ADKMIC was the name of the company Low fronted in July 2008, which had previously engaged in the buy-up of a 53% shareholding in the Utama Banking Group (UBG), a company controlled by Tun Abdul Taib Mahmud's family, the report added.
The website also said it learnt that Najib and his wife Datin Seri Rosmah Mansor had met Low in Istanbul recently, during a stopover on their way to Kazakhstan. – The Malaysian Insider