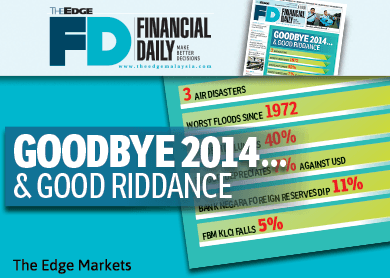 3 major air disasters
March 8 — Malaysia Airlines mh370 with 239 people still missing after disappearing mysteriously on flight to Beijing from Kuala Lumpur
July 17 — Malaysia Airlines mh17 shot down over Ukraine killing all 298 aboard with Ukraine and pro-Russia rebels blaming each other
Dec 28 — AirAsia Indonesia qz8501 with 162 people crashed into Java Sea amid extreme weather on route from Surabaya to Singapore
Worst floods since 1972
Over 250,000 people displaced in Kelantan, Terengganu, Pahang and Perak
Federal government allocates RM500 million in aid but damages and rehabilitation costs could run into a few billion ringgit.
Crude oil plunges 40%

A sharp drop in oil price to below US$60 a barrel will burn a hole in the government's coffers and impact its 2015 budget which had assumed oil price at US$105 a barrel. Revenue from oil and gas accounts for around 35% of government revenue.
Ringgit & Bank Negara foreign reserves fall as much as 11%
The local currency and Bank Negara Malaysia (BNM) reserves slid as foreign investors sold out of ringgit assets like stocks and government bonds. The ringgit dipped 7% from 3.27 to one US dollar on Dec 31, 2013 to 3.4980 on Dec 30, 2014. It was down 11% from the 2014 high of 3.15 to one US dollar.
BNM foreign reserves eroded 11% to US$117.6 billion on Dec 15, 2014 from US$134.9 billion on Dec 31, 2013.
KLCI dips 5.4%

Stock values fell 5.4% as measured by the FBM KLCI which ended Dec 30, 2014 at 1,766.83 points versus 1,866.96 points as at Dec 31, 2013 as corporate earnings came in below expectations. Up till end of 3Q, all sectors, except utilities, reported lower profits.
This article first appeared in The Edge Financial Daily, on December 31, 2014.