This article first appeared in Enterprise, The Edge Malaysia Weekly, on October 9, 2017 - October 15, 2017.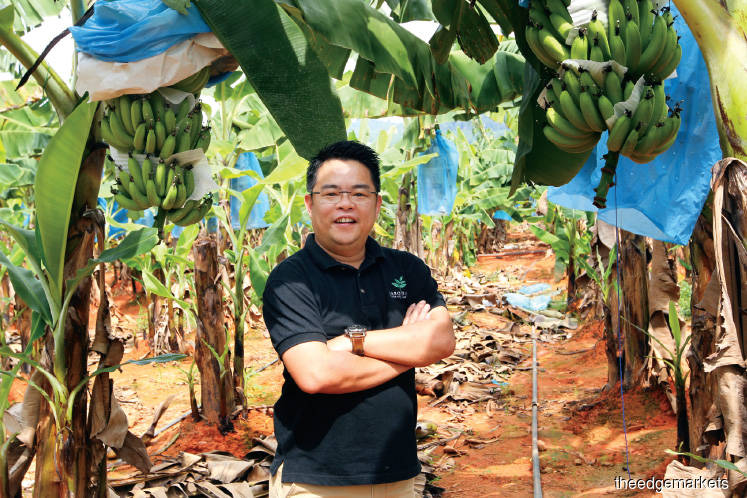 Back in 2009, Datuk Tom Chow Chin Kiat was working for a company in China that was importing bananas from the Philippines, Vietnam and Indonesia and he realised how strong the demand for bananas was.
For the two years he worked there, 150 to 200 containers of bananas a week were sent to the port he was in charge of in northwest China. This observation gave him an idea for striking out on his own and starting his own business.
"I kept thinking, bananas are from tropical countries and God gave them to us. Why was Malaysia not exporting? So I told my boss that I wouldn't be working for him anymore. Rather, I would go back to Malaysia and look for bananas to trade with him," he says.
Chow is the founder and executive director of Agrofresh International Sdn Bhd, a company that exports bananas from around Southeast Asia to international markets such as Europe, China and the Middle East, under the Cavana brand. The company has also tied up with Universiti Putra Malaysia (UPM) to engage in research and development. Their project is called Putra Paradise, and the R&D centre is located on a 50-acre parcel in Puchong, nestled behind shoplots and highways.
The company has contract farms in Vietnam, Malaysia and Thailand, which follow the standard operating procedures (SOPs) set out by the R&D centre.
"Agriculture will be a profitable field in the next few years because of rising demand. We have been eating bananas for decades, and I don't think there will be a day when we run out of bananas or a day when people stop eating them," Chow says.
The company primarily exports Cavendish bananas, a species more suitable for export because it lasts longer. This variety is common in many foreign markets, including China, Europe and North America.
Going back to square one
Chow's journey to making Agrofresh an R&D-driven export company was not easy. He ran into regulatory hurdles and had to work with farmers who were not experienced in exporting their harvest.
"When I first came back in 2009, I ran around Malaysia and met a lot of people, but I discovered that Malaysian bananas cannot be exported to China because they fall under a government-to-government barter trade rule," Chow says.
He had to shelve his plans for Malaysia and started looking around for suppliers from other countries. First, he tried the Philippines, and despite competing traders and higher prices, he managed to turn a profit, exporting bananas from the Philippines to China.
But this was not to last. In 2012, with the tensions between the two countries growing because of their rival claims over territories in the South China Sea, China suspended trade with the Philippines and Chow lost close to RM2 million.
That was a huge hit and Chow came close to giving up on the fruit. However, one year later, out of the blue, he received a call from a banana farmer in Indonesia who wanted him to come over and inspect his produce to see if it met his export standards.
He had inspected this farmer's crop in 2009 and found that the fruit was less than export-worthy. So, he told the farmer what he should do if he wanted to export his bananas.
Chow decided to give the farmer another chance and flew over to inspect his plantations. He was not disappointed. The farmer had followed his instructions and the bananas were export-ready. He immediately packed them into boxes and began exporting to China.
"But another problem cropped up. After around three years, a Middle Eastern merchant offered the Indonesian farmer a lot of money for the whole plantation. That's how they work. So this meant I was back to square one, with no bananas," he says.
It was then that Chow decided to concentrate his efforts in Malaysia. He wrote a proposal to UPM to collaborate — he would provide the contract farms and exporting opportunities while the university would contribute research skills, labs and students. Through this collaboration, Chow planned to teach farmers across the region how to grow their bananas for export.
AgroFresh's contract farmers would visit the R&D site in Puchong to learn the proper methods while UPM students would also visit the site every month. UPM and Agro-Fresh are also working on a book that details the SOPs for running a Cavendish banana farm in Malaysia.
Planting for export
Bananas meant for export have to be a certain size or weight to be sold at a higher grade for better prices. In addition, the fruit must be free from disease, which requires close monitoring by the farmers.
The collaboration with UPM resulted in a set of SOPs to help farmers improve the quality and quantity of their yields and help farmers meet export standards. The SOPs cover a range of issues, including farm management methods, irrigation technology, cultivation practices and the composition of fertiliser.
"Most of the pisang berangan in the local market are diseased, which you can see from the black dots on them. You can still eat them, but they cannot last more than two days and they cannot grow bigger," he says.
If you are growing bananas for export, you have to check the fruit every day.
"If a tree produces poor quality fruit or if it is sick, it must be chopped down. Today, my contract farms are quite good, but we used to argue. Now I make it clear what my specs are," Chow says.
He says the typical Malaysian banana farmer can only manage yields of 18kg to 20kg per tree. The ones who follow his methods, can get at least 25kg per tree. Chow adds that farmers must learn how to package their fruit for export and time the harvest according to how long it will take to ship the fruit to various destinations.
"For example, if the bananas are to be shipped to the Middle East, they cannot be too big because it takes 1½ months to get there. Bananas expand on the way and might explode in transit. So we have to harvest two weeks earlier for the Middle East than we do if the bananas are destined for China," he says.
AgroFresh puts together its own fertiliser mix for different stages of the tree's growth. The formula depends on the type of soil in the plantation. The company plans to set up a factory to produce its own fertilisers.
"Water and fertiliser are the most important elements in a plantation. Our yield is higher because we create specific fertilisers for different growth stages, based on three years of research with UPM," Chow says.
An evolution in farming
It was not easy to convince the farmers to change their methods.Most of them had been doing the same thing for generations and they did not appreciate a young upstart telling them what to do.
"They tell me, 'I was planting bananas before you were born. You dare to come and teach me?'" he laughs.
Another problem is that farmers are not willing to do what it takes to increase their yields. "In Malaysia, farmers don't have the concept of [growing for] export. And since there is insufficient demand in the local market, they don't see the need to plant more."
That is partly why AgroFresh is intent on opening up trade opportunities for local farmers. For instance, the company signed a deal in May with China's Dashang Group to export pineapples. Chow still cannot export Malaysian bananas to China because of trade restrictions, which he hopes to address.
There are also concerns that if Malaysian bananas were to catch on internationally, it would cause a hike in local prices — the way it did with durians. Chow acknow–ledges these concerns but believes that any price hike would only be temporary.
"It is not about taking existing bananas in Malaysia to sell to China. Our goal is to increase the number of plantations growing for export. Look at the durians. They are expensive now but wait two or three years and prices will drop because of all the new plantations coming up."
The average farmer would need to invest RM3 million to RM5 million per acre in their banana plantations. Each investment cycle lasts two years, during which time there should be three harvests.
"With the current market, I can break even or at least make back 90% of my initial costs with the first harvest," Chow says, adding that the weak ringgit has boosted export returns.
He has big plans to grow Agro–fresh. For starters, he wants to increase R&D. He wants to refine AgroFresh's existing processes even further to increase yields and quality.
He also wants to contract more farms in Sarawak and Johor. Right now, he has only one contract farm in Perak and owns his own farm in Sarawak.
Chow's long-term plan is to create a fruit trading hub in
Malaysia. He wants to import fruits from outside the region into Malaysia and export them to other Southeast Asian countries as well as China. He also wants to move further downstream and manufacture banana-based products such as banana powder, which can be used as flavouring in food products such as banana-flavoured milk powder.
The other thing Chow wants to address in the mindset of Malaysian farmers. He thinks it's time they come of age and start focusing on the quality of their products, instead of just profit. This is not just so they can penetrate more export markets, but to stave off competition from higher quality foreign products that may disrupt the local market in the future.
"[Growers of] good quality fruit do not have to worry about a lack of demand, both for the export or local markets. Fruit farmers need to think about specialisation and not planting so many different things," he says.
Take Bentong ginger, for instance, Chow says, "It's very expensive but demand is high. Even though China exports a lot of ginger to Malaysia, the quality is nothing compared with Bentong ginger. And this is because the farmers have specialised."