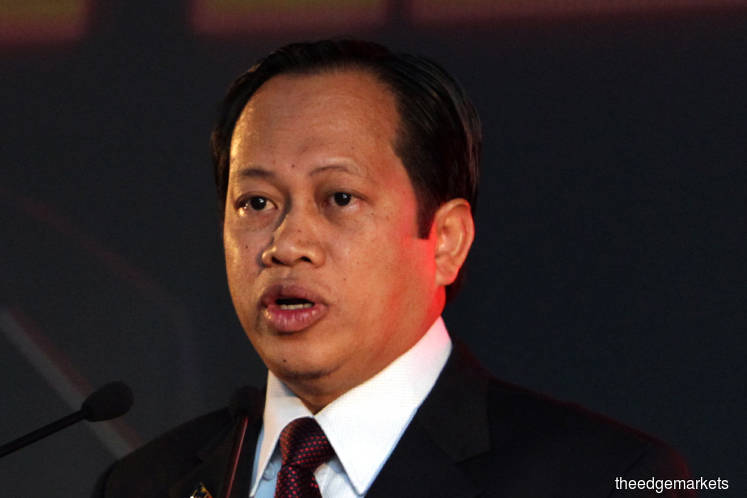 KUALA LUMPUR (Feb 21): Former deputy finance minister Datuk Seri Ahmad Maslan (pictured) seeks to strike out his two charges in relation to not declaring the RM2 million he purportedly received from Datuk Seri Najib Razak in 2013 were allegedly illegal proceeds.
The 54-year-old Ahmad, who is also Pontian Member of Parliament, filed the application on Feb 14 at the Sessions Court where he was charged.
Today, the case was called up before Sessions judge Azman Ahmad where he fixed March 26 to hear the application.
Deputy public prosecutor Siti Noor Hafizan Zakaria told the court that they need to file an affidavit in reply to the application as it was only filed last week.
Ahmad was represented by lawyer Hamidi Mohd Noh.
The former deputy minister is charged with not declaring to the Inland Revenue Board that the RM2 million received via an AmIslamic Bank Bhd cheque from the former premier from illegal proceeds, in the 2013 tax assessment.
If convicted under Section 4(1) of the Anti-Money Laundering, Anti-Terrorism Financing and Proceeds from Unlawful Activity Act (AMLATFPUA), Ahmad could face a maximum of RM5 million fine, up to five years in jail, or both.
He also faces another charge of allegedly giving a false statement to Malaysian Anti-Corruption Commission investigating officer Mohd Zairi Zainal at the Parliament press conference room on July 23 last year.
Ahmad allegedly said the money was not from Najib, he had not seen a cheque for that amount, and he neither knew about the cheque nor cashed it.
For this offence under Section 32(8) of the AMLATFPUA, the federal lawmaker faces a maximum fine of RM3 million, jail for a maximum of five years or both if convicted.