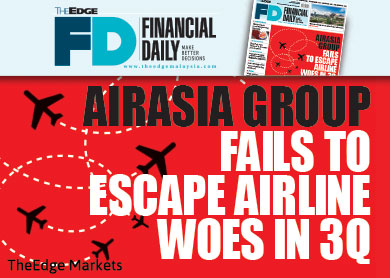 KUALA LUMPUR: AirAsia Bhd failed to escape the turbulent patch facing legacy carriers which are struggling to fill their seats due to increased competition, as the budget airline saw its third-quarter net profit plunge 84.8% on weaker performance of its associates and higher deferred taxes.
Its low-cost, long-haul affiliate AirAsia X Bhd, as expected, reported a wider net loss of RM210.85 million in the third quarter ended Sept 30, 2014 (3QFY14) from RM128.79 million in 2QFY14 on higher operating expenses, foreign exchange losses and finance costs. This was its fourth consecutive quarterly loss since 4QFY13.
AirAsia's net profit for 3QFY14 fell 84.8% to RM5.4 million from RM35.48 million a year ago, as its associates registered a loss of RM17.2 million in the quarter compared to a profit of RM13.95 million in 3QFY13. Thai AirAsia posted its second straight quarterly loss in 3QFY14, affected by the political situation in Thailand.
AirAsia's operating profit in 3QFY14 was also down 13.89% to RM227 million from RM263.62 million a year ago.
However, revenue in 3QFY14 grew 3% to RM1.3 billion from RM1.28 billion a year ago, thanks to increased ancillary income per passenger which jumped 15% year-on-year to RM47 from RM41. Passenger numbers in 3QFY14 grew by a marginal 0.5%, while the unit passenger revenue rose 3% to RM216 from RM210 last year.
In a filing with Bursa Malaysia yesterday, AirAsia said the group's profit was knocked by RM10.45 million in deferred taxes.
The group's debt in 3QFY14 also slightly widened by 2.61% to RM11.79 million from the preceding quarter, resulting in a net gearing of 2.07 times from 1.95 times in 2QFY14.
Nevertheless, AirAsia still managed to double its net profit in the nine-month period (9MFY14) to RM512.27 million from RM198.62 million a year ago, while revenue rose 2.34% to RM3.93 billion from RM3.84 billion.
"It was a tough [third] quarter for a lot of airlines, hence forcing them to re-examine their strategy, cost structure, capacity deployment, and pricing to ensure sustainability. Adding to this, the downward trend in fuel prices will be very good for the company and the group as a whole as fuel takes up 50% of our overall costs," AirAsia founder and group chief executive officer (CEO) Tan Sri Tony Fernandes said in a statement yesterday.
He blamed external factors as the main reason for the group's overseas market not being able to perform as desired in 3QFY14, such as the political situation in Thailand and the weakening of the rupiah in Indonesia.
"The Philippines is a tough market, but we have a solid turnaround plan in place for Philippines AirAsia and as for India, AirAsia India (AAI) has an exciting path ahead of it.
"The AirAsia brand is growing strong in India and if our plans go through smoothly and some regulatory hurdles could be lifted off, AAI will surely soar," Fernandes added.
Forward loads in Malaysia for the remaining months of the fourth quarter of 2014 currently remain in line with the previous year's.
AirAsia X CEO Azran Osman-Rani said the airline will halt its expansion of its Malaysian route network next year in light of the changing local market landscape where travel demand has softened and the industry capacity moderating.
"This will allow more time for routes and capacity added in 2013-2014 to mature and reach profitability as average fares increase in line with demand," he said in a separate statement.
The airline plans to slow down its aircraft capacity growth by deferring the delivery of two aircraft each in 2015 and 2016 and another three in 2017.
Azran expects AirAsia X to turn around in 4QFY14 with the rationalisation of industry capacity and the significant drop in global fuel prices in recent weeks.
"The growth strategy for 2015 will shift to a consolidation phase where no new aircraft capacity will be allocated to core routes in Malaysia's network in 2015, although ASK (average seat kilometres) capacity is expected to increase by 5% versus 2014 due to the 12-month effect of capacity introduced in mid-2014.
"Capacity allocation in 2015 will see a drop in the number of flights to Australia, while North Asia and other regions will see an increase in the number of flights," he said.
AirAsia X registered an operating loss of RM140 million in 3QFY14 compared to an operating profit of RM24.95 million in 3QFY13. This was despite revenue rising by 16.2% to RM698.76 million from RM601.49 million a year ago.
In 3QFY14, AirAsia X's operating expenses increased to RM842.5 million, primarily due to staff, fuel and maintenance expenses.
For 9MFY14, AirAsia X posted a net loss of RM350.92 million compared to a net profit of RM44.34 million a year earlier. However, revenue was up 30.2% to RM2.12 billion from RM1.63 billion.
Shares in AirAsia X plunged 5.5 sen or 7.86% to close at a historical low of 64.5 sen yesterday after the wider quarterly loss. Year-to-date, AirAsia X's share price has fallen by 37.4%. Its market capitalisation stood at RM1.53 billion yesterday.
AirAsia X was the third most active stock on Bursa Malaysia, with 59.64 million shares traded.
AirAsia shares, meanwhile, were up four sen or 1.65% to close at RM2.46 yesterday, giving it a market capitalisation of RM6.7 billion.
This article first appeared in The Edge Financial Daily, on November 20, 2014.