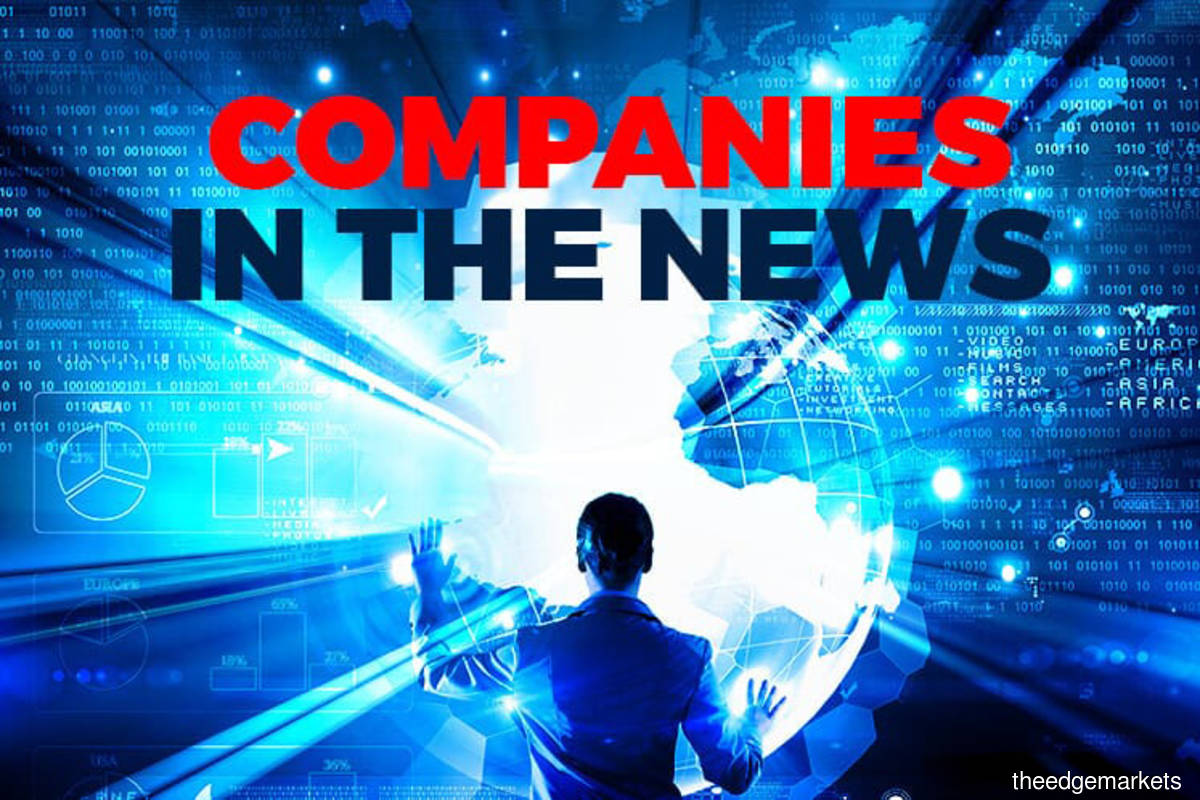 KUALA LUMPUR (Oct 6): Based on corporate announcements and news flow on Wednesday, companies in focus on Thursday (Oct 7) may include AirAsia Group Bhd, Kimlun Corp Bhd, Yinson Holdings Bhd, Tenaga Nasional Bhd (TNB), Theta Edge Bhd, Mieco Chipboard Bhd, SYF Resources Bhd, Top Glove Corp Bhd and Insas Bhd.
AirAsia Group Bhd has signed an amendment agreement with aircraft maker Airbus SAS to convert the budget airline's remaining A320 aircraft orders to the A321neo. AirAsia said the contract marks its commitment to purchasing the largest model in the bestselling A320 family.
In addition, AirAsia also announced that it will only allow fully vaccinated adult passengers on its flights, as it prepares to resume domestic and eventually international flight services. 
Kimlun Corp Bhd is setting up an Islamic commercial papers (ICP) programme and an Islamic medium-term notes (IMTN) programme with a combined limit of up to RM800 million. The engineering and construction services provider said it had received the acknowledgement receipts from the Securities Commission Malaysia (SC) pursuant to OCBC Al-Amin Bank Bhd's lodgements on its behalf.
Yinson Holdings Bhd has invested in Canada-based energy storage solutions company Sterling PBES Energy Solutions Ltd (SPBES) that is working to lower or eliminate dependence on fossil fuels in marine and industrial applications. The deal is done via the group's subsidiary Yinson Green Technologies Pte Ltd (YGT)'s wholly-owned unit Singapore-based Yinson Venture Capital Pte Ltd. 
Tenaga Nasional Bhd (TNB) will continue to balance the needs of the industry and its role as a listed company that gives fair returns to the people, said chairman Datuk Seri Hasan Arifin in his first meeting with TNB's top management. He added that TNB will also continue to support the nation's growth and economic recovery through reliable electricity supply, reinvigorating the economy through the transformation of the energy industry, and helping the target groups.
ICT service provider Theta Edge Bhd, whose shares hit limit up on Wednesday, has been slapped with an unusual market activity (UMA) query by Bursa Malaysia. Theta Edge's share price jumped 29.92% or 38 sen to RM1.65 — its highest in five years — after some 28.94 million shares were traded. The company's market capitalisation stood at RM176.95 million. The stock has more than doubled year-to-date from when it was just trading at 75 sen apiece.
Mieco Chipboard Bhd is seeking to undertake a fundraising exercise via a private placement of which the proceeds will be to finance the proposed acquisition of Seng Yip Furniture Sdn Bhd (SYFSB), a unit of SYF Resources Bhd. Mieco said it has entered into a conditional share sale agreement (SSA) with SYF for the acquisition of the entire equity interest in SYFSB for a purchase consideration of RM50 million to be satisfied entirely via cash, which is expected to be completed by the fourth quarter of 2021.
Top Glove Corp Bhd confirmed on Wednesday that the Department of Safety and Occupational Health (DOSH) is probing the death of a foreign worker on its factory floor earlier this week. Meanwhile, Top Glove said it has always abided by the law and has adhered to all policies and procedures of reporting to the relevant authorities, when any such unfortunate event occurs.
Insas Bhd is listing its stockbroking arm M & A Securities Sdn Bhd (M&A) via a reverse takeover of furniture maker SYF Resources Bhd. The securities firm is valued at RM222 million, representing a price-to-book valuation of 1.2 times — which is generally higher than most banks listed on Bursa Malaysia — and a price-to-earnings ratio of 11.8 times. Under the proposal, Insas will inject M&A into SYF, comprising 100 million ordinary shares and 60 million redeemable convertible preference shares, in exchange for 1.58 billion new SYF shares.