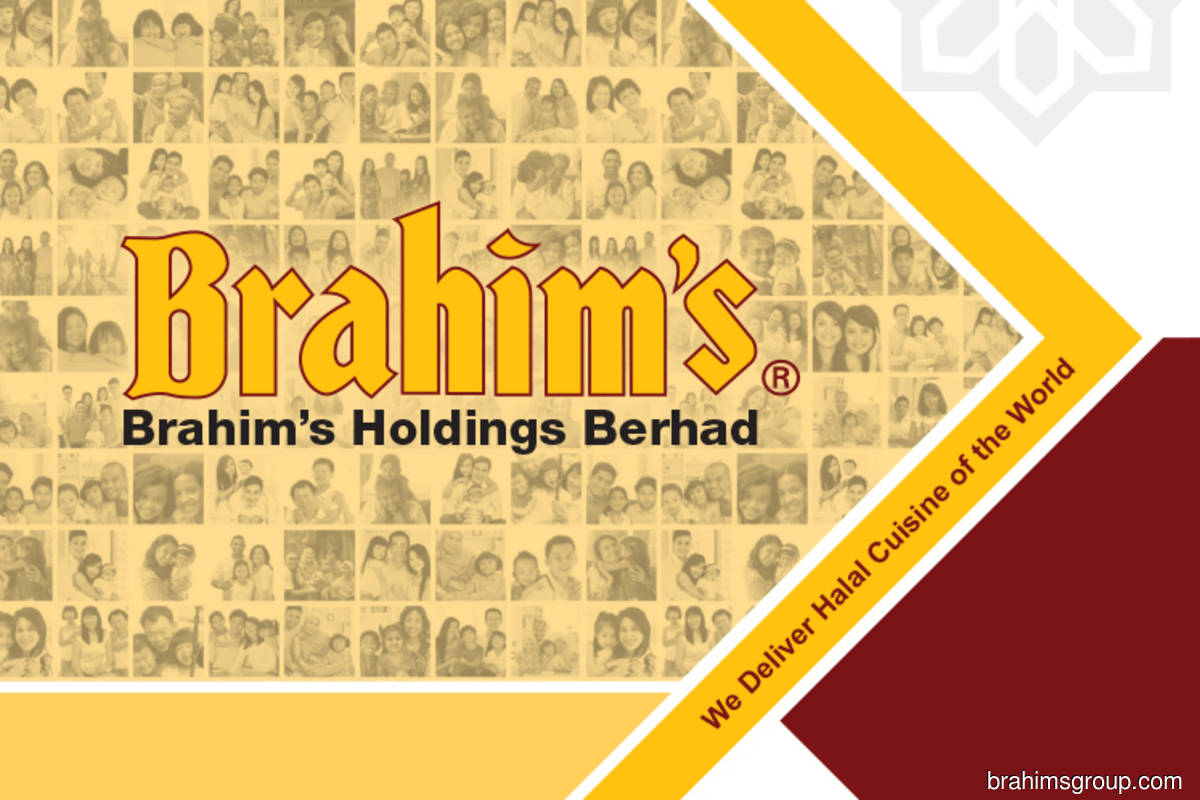 KUALA LUMPUR (Oct 12): Brahim's Holdings Bhd's share price jumped as much as 14 sen or 32.2% to 57.5 sen on Tuesday, its highest since end-September 2017.
On market close, the airline caterer's counter settled at 51.5 sen, still up 8 sen or 18.4%, with 50.31 million shares traded.  
The sudden interest in Brahim's is likely due to optimism from the relaxation of interstate and international travel restrictions for the fully vaccinated, which is expected to benefit airlines, the sector that Brahim's in-flight catering business serves.
Based on its 2020 annual report released on May 31, 2021, Brahim's SATS Food Services Sdn Bhd (BSFS) — formerly known as LSG SkyChefs-Brahim's Sdn Bhd (LSGB) — is the principal inflight catering service provider at KLIA, KLIA2 and the Penang International Airport. 
Brahim's, via its 51%-owned Brahim's SATS Investment Holdings Sdn Bhd (BSIH), holds 70% shareholding in BSFS. The remaining 30% stake in BSFS is owned by Malaysia Airlines Bhd. BSFS continued to serve 35 international airlines in 2020, with Malaysia Airlines remaining as its major customer.
However, only a few of its customers were active throughout 2020 due to the pandemic-driven travel restrictions, which resulted in BSFS catering to an average of only 70 aircraft per day and preparing an average of only 5,000 inflight meals per day from its halal inflight kitchens at KLIA and the Penang International Airport. In contrast, the group has the capacity to handle up to 60,000 meals a day.
In an interview with The Edge Malaysia weekly last October, Brahim's founder and executive chairman Datuk Seri Ibrahim Ahmad talked about taking steps to grow the company's non-aviation segment by partnering hospitals and food delivery companies to grow its non-aviation segment, to reduce dependence on the aviation segment, which has been badly hit by the pandemic. 
At the time, the company was in talks with a major hospital chain that has nearly 30 hospitals to enhance their food service capability.  "Another potential customer we have engaged with is a food delivery company with a food depot in most states in Peninsular Malaysia," Ibrahim said.
Brahim's net loss swelled to RM6.54 million in the second quarter ended June 30 2021 (2QFY21), from RM3.42 million a year earlier, as the group's inflight catering services continued to be impacted by the pandemic. Quarterly revenue fell 18.88% to RM6.54 million, from RM8.06 million. But the 2QFY21 net loss was 5.49% smaller than the RM6.92 million reported for the immediate preceding quarter of 1QFY21.
Read also:
Brahim's steps up efforts to grow non-aviation business