This article first appeared in Forum, The Edge Malaysia Weekly, on August 2, 2021 - August 08, 2021.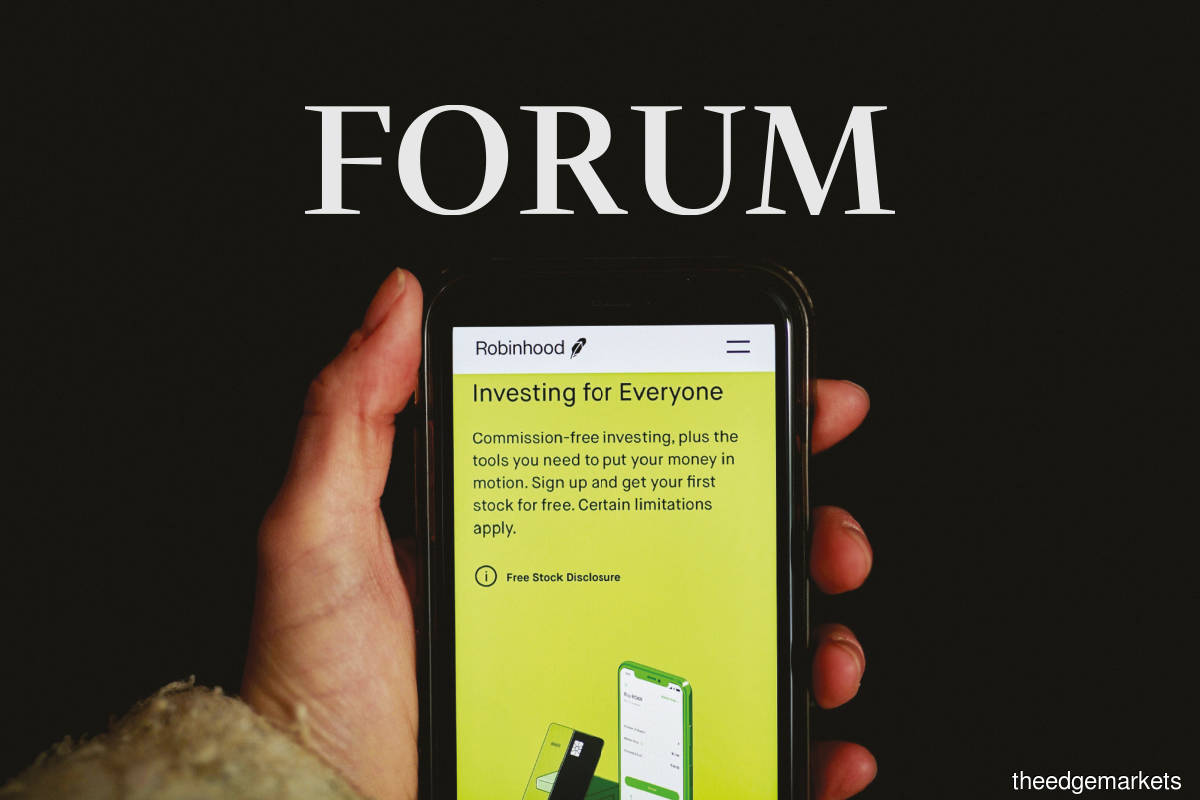 Robinhood Markets Inc, the stock trading app used by newbies to buy and sell their shares on the US markets, did not perform well on its debut last Thursday.
There are several reasons for investors' lacklustre reception to the app, which is popular among those below 35 because it offers fee-free trading services, unlike traditional brokerages that charge their customers for transactions.
Robinhood is positioned among the "disruptors" that change the way things are done with the aid of technology. But the valuation for its listing was no way near what a "disruptive company" would command.
Robinhood's pricing was at the lower end of the valuation band. One of the reasons was concern as to whether the brokerage would continue to attract high trading volumes in a post-Covid-19 world, when people have time and opportunities for other pursuits.
The listing of Robinhood is another bit of evidence that the feverish pace of retail investment in stock markets is likely to fade away when the pandemic is over  — or  when the reality of lofty stock valuations hits.
Like in most other countries, Bursa Malaysia attracted a large number of millennials as a new set of investors.
The number of active central depository account (CDS) holders is now estimated at 1.85 million. At the end of 2019, it was 1.4 million, indicating an increase of about 32% in active CDS account holders in the last 18 months.
The increase reflects the growing presence of retail participation in daily trading activities on Bursa Malaysia. From averaging less than 20% in the pre-pandemic era, retail investors now make up 45% of daily trading volume. For June this year, they made up almost 47% of the total volume traded.
Retailers made money from the run in glove stocks last year, followed by the craze for technology counters. In both cases, the valuations of the sectors went up to levels not seen in the recent history of Bursa Malaysia.
Never before had glove companies such as Top Glove Corp Bhd and Supermax Bhd traded at historical valuations of 80 times. The valuations of some technology stocks were even higher — surpassing 100 times based on their historical earnings.
High valuations mean these stocks have potential to grow their earnings on a sustained basis. How many of these stocks can double or triple their earnings in the next one year or two?
According to Bursa Malaysia CEO Datuk Muhammad Umar Swift, the bulk of the new accounts were opened by millennials, and they represent a new breed of investors.
Millennials are generally deemed as those born between 1981 and 1996. Even the oldest among them would not have not gone through a stock market meltdown as seen in 1997/98.
They have not experienced a real stock market crash. How many really know what "cut loss" means?
Investing has been rather easy in the last one year or so. A moratorium on loans, and withdrawals from funds meant for one's retirement, paved the way towards excess liquidity for some groups of people. There was no danger of the financial system coming under stress due to the pandemic.
The reduced risk to the financial system, coupled with improved liquidity, prompted many to put some money in the stock market. And investing was not difficult. Nobody needed a 20-page analyst report to understand why gloves were in demand during the pandemic.
Now, the investing scenario is different. Malaysia is going through a perfect storm of political instability, economic weakness and rising Covid-19 cases.
The heightened political instability — because no single party is able to command the confidence of the majority — was clear during the recent parliament meetings.
Economic growth that was projected to be more than 7% has now been reduced to 4% due to the prolonged lockdown. Government revenue has dropped, resulting in some economists anticipating a further increase in the debt-to-GDP (gross domestic product) ratio.
Some economists are projecting that government debt to GDP may be increased to 65% from the current 60% level. Prior to the pandemic, the debt ceiling was kept at 55% of GDP. But a two-year leeway to 60% was allowed because the government needed to borrow more money to run the country.
The fear is that the government may come under downgrade pressure, especially if it is unable to bring down its spending or increase revenue on a sustained basis. The pressure would build up, particularly if the government's debt servicing cost exceeds 15% of revenue.
The listing of Robinhood marks the rise of millennial investors. It came with the rising popularity of investment chatter sites such as Reddit. Investment decisions tend to be based on herd mentality.
There are several web-based entities that promote and teach value investing. But how many really follow the principles of value investing? How many are prepared to cut loss when the going gets tough?
Finally, how many will drop out of the investing fraternity in the aftermath of a market downturn?
After the 1997/98 stock market crash, Malaysia lost a generation of investors. Saddled with losses, retailers shied away from the stock market until a year ago. Many had to sell their properties to avoid being declared bankrupt.
A large section of retail investors are still basking from their fruitful bets on glove and tech stocks. Many may be of the view that they have mastered the art of investing.
This may lull them into a sense of confidence that will only be tested when the market turns.
There is a saying that one needs to lose money in the stock market before starting to make returns on a sustained basis. Many will learn it the hard way.
---
M Shanmugam is contributing editor at The Edge