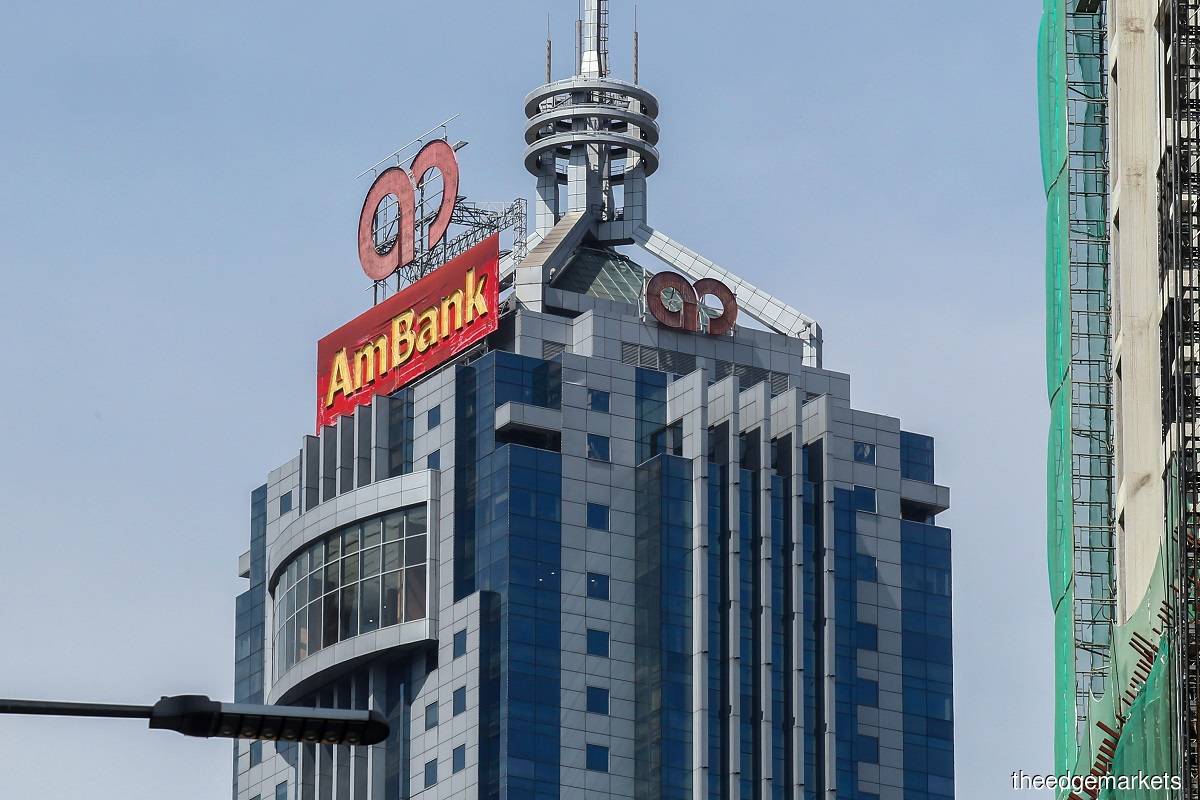 KUALA LUMPUR (Nov 26): AMMB Holdings Bhd's (AmBank) net profit for the second quarter ended Sept 30, 2021 (2QFY22) rose 35.28% to RM321.04 million from RM237.32 million a year ago, due to lower impairment charge.
Its quarterly revenue, however, slipped 2.94% to RM1.12 billion from RM1.15 billion, according to its filing with Bursa Malaysia.
The group did not declare any dividend for the latest quarter.
For the first half ended Sept 30, 2021 (1HFY22), the group's net profit increased by 17.45% to RM707.64 million from RM602.48 million a year earlier while its revenue also climbed 4.97% to RM2.36 billion from RM2.25 billion.
In a separate statement, AmBank said the group recorded a net impairment charge of RM377.1 million in 1HFY22, which was lower compared with RM382.4 million a year ago, resulting from higher model-driven forward looking (FL) provisions taken, offset by lower overlays.
The group's total income rose 5% to RM2.36 billion, driven by higher net interest income from both loan growth and net interest margin expansion.
Its gross impaired loans ratio was lower at 1.44% (FY21: 1.54%), with loan loss coverage ratio increasing to 159% (FY21: 135.6%).
Its gross loans and financing grew 0.7% year-to-date (YTD) to RM115.6 billion (FY21: RM114.8 billion).
Its customer deposits saw a slight 3.9% decrease YTD to RM115.9 billion, with time deposits reducing by 5.3% while current account and savings account balances remained broadly stable at RM35.6 billion.
AmBank group chief executive officer Datuk Sulaiman Mohd Tahir said the group was able to retain a tight control on costs in 1HFY22, which led to the group's cost-to-income ratio improving further to 42.7%.
Meanwhile, the group's net credit cost for 1HFY22 stood at 61 basis points with net provisions 1% lower year-on-year.
"We are clear about the importance of financial institutions joining the effort to support the government in easing the financial burden of those affected by the pandemic. From the ongoing PEMULIH relief programme to the latest Financial Management and Resilience Programme (URUS), AmBank will continue to assist our customers in determining the financial assistance they require in a targeted and sustainable manner," he said.
"While we have assessed the potential impact of URUS on our second half earnings to be manageable, we continue to set aside pre-emptive provisions against certain loan portfolios, bringing our total overlay reserves to RM900 million. We continue to be prudent and proactive in managing risks and the group remains sufficiently capitalised and highly liquid," he added.
On the outlook for FY22, he said Malaysia is moving closer to economic recovery with more and more businesses resuming and sectors opening up given the strengthened effectiveness of pandemic control measures and the pace of vaccine administration.
"Beyond the provision of fiscal relief to customers in need, we are also conscious of the need to play a part in the nation's economic revitalisation. The group continues to contribute in this regard via strategic programmes that provide small and medium enterprises (SMEs) with financing as well as solutions beyond financing including providing avenues for SMEs to adopt digitalisation measures to propel their businesses," he said.
"Moving forward, in line with our Focus 8 strategy, the group will continue to explore new avenues for growth while we preserve the long-term interest of our stakeholders through the strengthening of our balance sheet," he added.
At Friday noon break, AmBank closed six sen or 1.86% lower at RM3.17, valuing the group at RM10.51 billion.
Year-to-date, the counter has fallen 9.17%.