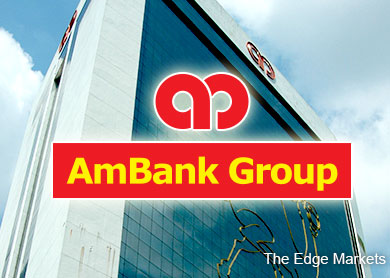 KUALA LUMPUR (Nov 19): AMMB Holdings Bhd's net profit rose 1.2% to RM445.8 million in the second quarter ended September 30, 2014 (2QFY15), from RM440.9 million a year earlier, on lower operating and acquisition expenses.
 
Higher contribution from the financial services provider's associates and joint ventures, besides foreign exchange gains, had also supported profit growth during 2QFY15, AMMB told Bursa Malaysia today.
AMMB said net profit was higher, despite lower net interest and net Islamic banking income. Its insurance division's net income also fell during the quarter.
Group revenue fell to RM2.21 billion, from RM2.38 billion. The group proposed an interim dividend of 12 sen a share during 3QFY15.
For 1HFY15, AMMB's net profit increased to RM982.8 million, from RM902.8 million in the previous corresponding period. Revenue rose to RM4.79 billion, from RM4.76 billion.
AMMB said its return on equity and return on asset stood at 14.3% and 1.65% respectively.
Meanwhile, net lending grew 1.4%, while loans-to-deposit ratio stood at 89.3%.
In a statement, Ashok Ramamurthy, Group Managing Director of AMMB, said the group's 1HFY15 performance reflected its on-going transformation initiatives.
"Our new consolidated wholesale banking model has been implemented and is gaining momentum in preferred sectors and segments. Our focus is on increasing our customers' share of wallet and building new relationship in targeted sectors.
"We are rebalancing our loans portfolio, with stronger growth in targeted segments. Net loans grew 1.4%, reflecting the impact of our cautious credit risk appetite in selected segments in retail, and as we reprioritise coverage by segment and sector in wholesale (non-retail loans)," Ashok said.
On prospects, AMMB noted that rising cost from the on-going subsidy rationalisation, proposed goods and services tax and upward pressure on borrowing costs would continue to weigh on household spending.
These factors will have pressure on AMMB's asset quality.
The group said its asset quality for 1H15 was within expected level, with gross impaired loans ratio improving 16 basis points to 1.79%, and loan loss coverage above industry average at 117.7%.
AMMB shares fell one sen or 0.2% to RM6.69 at 12.30pm, for a market capitalisation of RM19.56 billion.