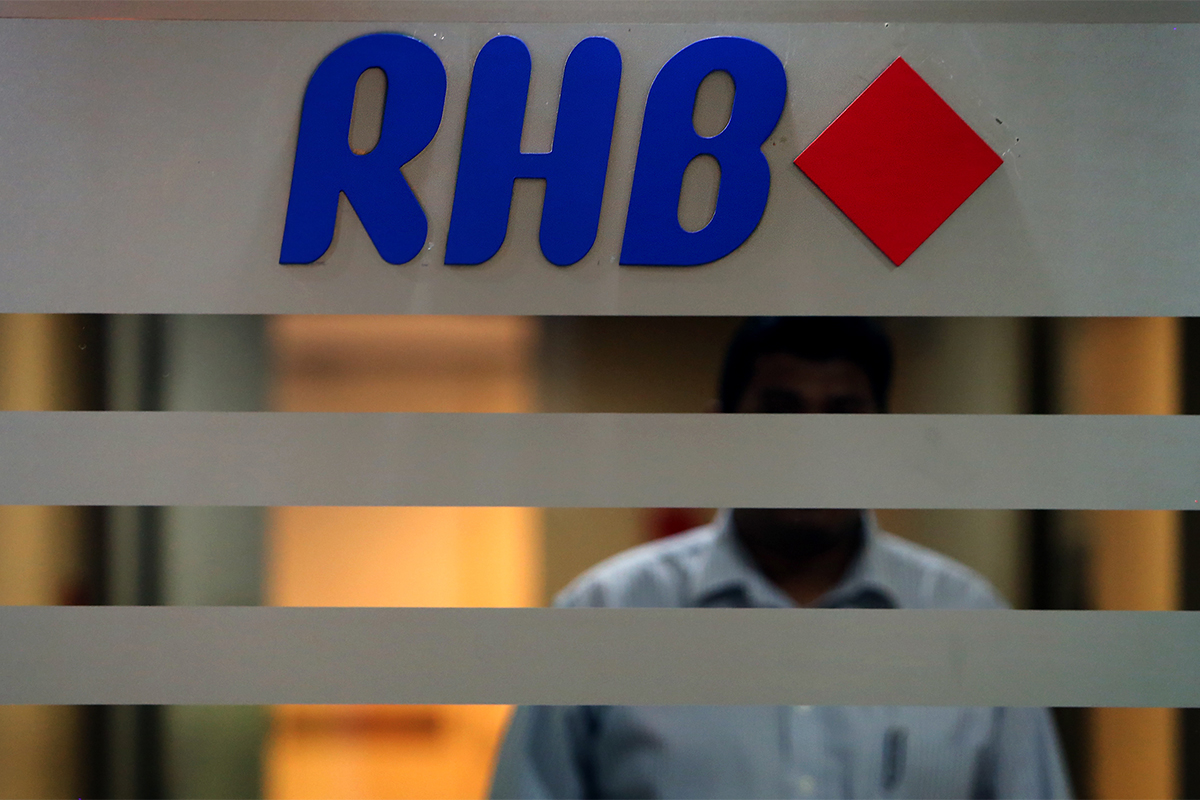 KUALA LUMPUR (Dec 1): Analysts raised their respective target prices (TPs) and earnings forecasts for RHB Bank Bhd after the group's earnings for the third quarter ended Sept 30, 2021 (3QFY21) beat their expectations.
In a note, UOB Kay Hian analyst Keith Wee Teck Keong raised his earnings forecasts for RHB for FY21 to FY23 by 12%, 1% and 8% respectively after factoring in lower-than-expected operating expenditure and stronger loan growth assumptions.
In tandem with his earnings forecast upgrades, Wee raised his TP to RM6.90 (from RM6.30).
Wee kept his "buy" recommendation for RHB Bank for its industry-leading Common Equity Tier 1 ratio of 16.8%, which could provide the scope for an upside surprise in dividends.
He favoured RHB Bank due to its attractive valuations and above-industry loan growth.
CGS-CIMB Research analyst Winson Ng, who maintained his "add" call for RHB Bank, also raised his core earnings per share (EPS) forecasts for RHB Bank for FY22-FY23 by 3%-4% due to overhead cuts, following a slight reduction in his earnings projection by 1.3% for FY21 after factoring in a modification loss amounting to RM209.3 million.
Excluding the impact of the modification loss, Ng said his core EPS forecasts for RHB Bank were raised by 3%-5% for FY22-FY23.
As a result, Ng anticipates RHB Bank to generate an annual net profit of RM2.49 billion for FY21, which would further grow to RM2.6 billion for FY22 and RM3.18 billion for FY23.
This would translate into core EPS of 65 sen for FY21, as well as 63 sen and 77 sen for FY22 and FY23 respectively.
Following the adjustments, Ng upped his TP for RHB Bank to RM6.40 (from RM6.18).  
Meanwhile, he sees a rerating catalyst for RHB Bank given its above-industry loan growth and strong earnings momentum with its record-high quarterly core net profit for the past two quarters,  
On top of that, Ng commented that RHB Bank's current valuation is attractive as it trades at 8.4 times calendar year 2022 price-earnings, below than its peer average of 11.7 times.
Ng added that his "buy" call for RHB Bank is also underpinned by the bank's "enticing" dividend yields estimated at 5%-6% for FY21-FY22.
Meanwhile, both UOB Kay Hian's Wee and Ng (CGS-CIMB) said RHB Bank's 3QFY21 earnings beat their and consensus estimates.
For Wee, he said RHB Bank's results for 3QFY21 were above expectations, supported by strong loan growth momentum, strong trading income and good cost discipline but partly tempered by weaker brokerage income.
"Excluding modification losses of RM172 million, RHB Bank reported a 3QFY21 core net profit of RM807.7 million (+29.8% year-on-year [y-o-y]; +15.1% quarter-on-quarter [q-o-q]), bringing its 9MFY21 (cumulative nine months ended Sept 30, 2021) core earnings to RM2,196.6 million (+19.7% y-o-y). Earnings were above our estimates with its 9MFY21 core earnings representing 85%/87% of our/consensus full-year forecasts," Wee noted.
Ng, on the other hand, said RHB Bank's 9MFY21 core net profit (excluding the modification loss of RM209.3 million) was above expectations as it accounted for 86% of both his and Bloomberg consensus full-year estimates.
To recap, RHB Bank's 3QFY21 net profit rose 2.14% to RM635.59 million from RM622.25 million a year ago mainly due to higher total income.
The bank said its quarterly revenue increased 2.74% to RM3.03 billion from RM2.94 billion last year.
On a quarterly basis, RHB Bank saw its net profit slip 9.37% from RM701.34 million for the immediate preceding quarter (2QFY21) despite the group's revenue rising 3.44% from RM2.92 billion for 2QFY21.
It attributed the weaker q-o-q earnings to higher net modification losses and higher allowances for credit losses, but partially offset by higher net fund-based income and non-fund-based income.
For 9MFY21, RHB Bank's net profit rose 24.68% to RM1.99 billion from RM1.59 billion, notwithstanding a 5.94% drop in revenue to RM8.86 billion from RM9.42 billion.
On Wednesday (Dec 1), RHB Bank had dipped one sen or 0.19% to RM5.27 at 11am, bringing it a market capitalisation of RM21.83 billion.