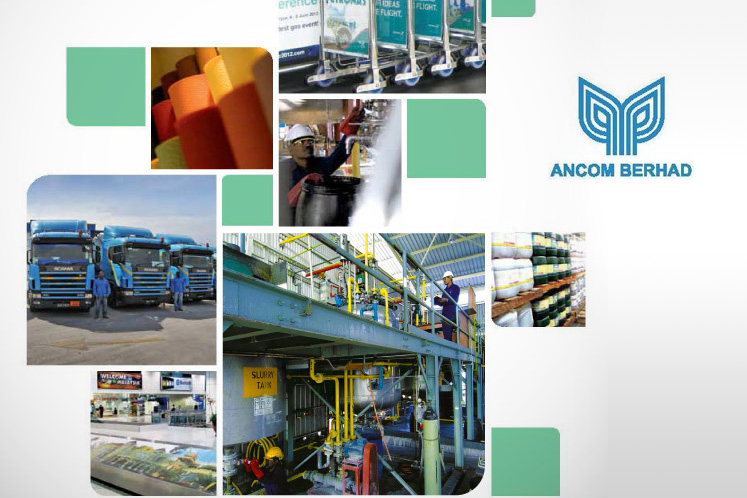 KUALA LUMPUR (July 15): Ancom Bhd, Ancom Logistics Bhd and Nylex (Malaysia) Bhd will undergo a restructuring exercise that will see the logistics business move to Nylex and the entry of immigration technology company S5 Holdings Inc into Ancom Logistics, said sources familiar with the plans.
"The group wants to put the logistics assets under one roof — Nylex. Following this, the entire supply chain will be complete at Nylex," said a source.
"Ancom Logistics will be without a business and the plan is to acquire an immigration technology company — S5 — for that unit," added the source, who declined to share the price of the deal.
It is understood that there were emergency board meetings called for all three companies — Ancom Bhd, Ancom Logistics and Nylex today — with regard to the restructuring plans for the whole group.
Ancom Bhd is the holding company of Ancom Logistics and Nylex.
Nylex is currently involved in the distribution, trading, manufacturing of petrochemicals and industrial chemical products, while Ancom Logistics does tanking and logistics for petrochemical and chemicals.
Ancom Bhd, Ancom Logistics and Nylex had requested for a suspension of the trading of their securities from 9am to 5pm today, pending a material announcement on a corporate exercise.
Prior to the trading suspension today, the latest closing share prices of both Ancom Bhd and Nylex were 77 sen, but they each had market capitalisation of RM183.2 million and RM134.69 million respectively.
Meanwhile, Ancom Logistics last closed at 13 sen, which valued the company at RM61.53 million.
In June, listed My EG Services Bhd announced its plans to acquire a 10% stake in S5 for RM90 million.
S5 is a private company which is mainly involved in the provision of security technology, intellectual property as well as the development and customisation of solutions and systems, consultancy and support in all related information technology and security industries.
The directors of S5 are Tuan Syed Mohammad Hafiz Syed Razlan, Aaron Loke Khy-Min, Kurian Thomas Jacob Thomas, Chan See Siang and Effendi Ramli.