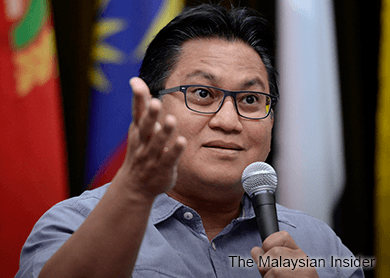 (April 22): Datuk Seri Najib Razak must immediately answer allegations raised by Tun Dr Mahathir Mohamad, another Umno lawmaker said today, noting that the failure of the prime minister to do so would be detrimental to the party.
Pulai MP Datuk Nur Jazlan Mohamed, who is also Public Accounts Committee (PAC) chairman, said today that Najib should not put off answering Dr Mahathir's questions or simply try to ignore it till the next general election.
"Najib has to answer the questions soon otherwise the future of the party will be affected," he told reporters in Kuala Lumpur today.
"The people will continue to voice out their frustration and anger at the party if he does not put the matter to rest."
Nur Jazlan said that Najib could either call for a snap election next year, or choose to answer the former prime minister's questions.
"It is too long to answer if he goes full term. My personal opinion is, he should look at the interest of the party as a whole?
"People are still angry with the GST (goods and services tax) and a host of other issues," he added.
He urged Najib, who is Umno president, to do it for the party and called on party members to also think about the future of Umno.
"If the party members love Umno, they will actually ask him (Najib) to answer. But if they are just defending the leader solely, they're not thinking about the party," the Umno man said.
When asked if the answers given by Najib during a TV3 interview two weeks ago were not sufficient, Nur Jazlan noted that it was not good enough for Dr Mahathir, who has continued his criticisms following that.
"To me, it didn't kill any subsequent criticisms and speculation, so it didn't work," he said.
"Give an explanation which will satisfy the people and kill the speculation and innuendos."
Nur Jazlan is yet another Umno member who has urged the prime minister to answer Dr Mahathir's questions, after Deputy Prime Minister Tan Sri Muhyiddin Yassin and Umno vice-president Datuk Seri Shafie Apdal.
Dr Mahathir has gone on a tirade against Najib in recent months, urging the prime minister to step down over the 1Malaysia Development Berhad (1MDB) scandal, for continuing the 1Malaysia People's Aid (BR1M) and also over the murder of a Mongolian woman, Altantuya Shaariibuu.
Despite Najib's TV3 interview to address the issues raised by Dr Mahathir, the former prime minister said there were still many questions left unanswered, including the whereabouts of 1MDB's Cayman Islands funds, which had reportedly been parked in Singapore.
In a blog post earlier today, Nur Jazlan wrote that Najib could clear the negative perception of himself, his family and the government by calling for a snap election.
"The prime minister could take a shortcut and dissolve Parliament to hold snap election to get rid of the negative perception by getting a new mandate," he said.
However, the Pulai MP denied that he was calling for Najib's resignation but noted that there was a similarity between Najib's current predicament, with what of former prime minister Tun Abdullah Badawi before the latter was forced to step down in 2008.
"The Umno leadership, at that time, agreed to give Pak Lah 18 months to stay on as PM but later on asked him to step down before that even.
"However, there is no reason for him (Najib) to step down as long as Umno supports him," he added.
At the same time, Nur Jazlan said Umno members must choose either leadership or the party, as it continues to deal with attacks from critics against the prime minister.
He said if they want to survive the next general election, members must understand that the biggest enemy now is no longer the Pakatan Rakyat – which itself is facing internal squabble – but from within.  
"It is this internal factor that will bring destruction to the party in the 14th General Election,
"Because of that, the loyalty of Umno members – all three million of them – whether towards the leadership or the party, will have to be re-evaluated or addressed,"
"Is it leadership or party? Which should be defended? This time, it can't be both and a choice will have to be made immediately, because the entire country is watching closely." he said. – The Malaysian Insider