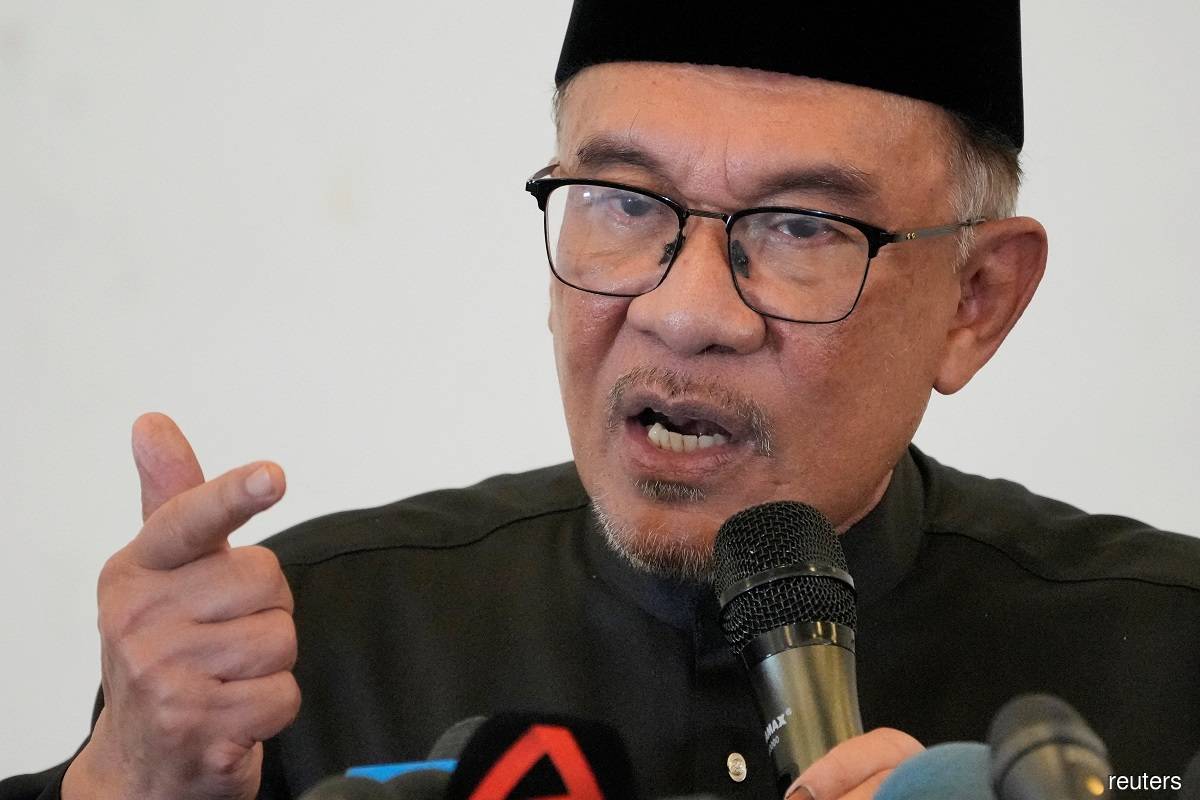 KAJANG (Nov 24): A Dewan Rakyat session will be held on Dec 19 to table, among others, a motion of confidence in the prime minister besides the swearing-in ceremony of all members of Parliament (MPs).
Newly appointed 10th Prime Minister of Malaysia, Datuk Seri Anwar Ibrahim, said the vote of confidence will prove that he has the majority of parliamentarian support in Dewan Rakyat, thereby strengthening the stability of the unity government, which includes Pakatan Harapan (PH), Barisan Nasional (BN), Gabungan Parti Sarawak (GPS), Parti Warisan, Parti Bangsa Malaysia (PBM) and independent.
In his first televised press conference as PM on Thursday (Nov 24) evening, Anwar said this after he received the backing from Sarawak Premier Tan Sri Abang Johari Tun Openg that GPS will be part of the unity government.
"This government is a unity government. This national unity government, as of Thursday afternoon before my swearing-in ceremony, has three largest components, comprising PH, BN and GPS.
"This makes PH the largest bloc in Parliament, followed by BN with 30 [MPs] and GPS with 22 [MPs] and as such the question of instability is irrelevant," he said.
Anwar also disclosed that the unity government will consist of other political parties like Warisan, Muda, as well as PBM, and does not rule out others joining the unity government.
He remains open to receiving participation by Perikatan Nasional (PN) to join the unity government. However, PN's chairman Tan Sri Muhyiddin Yassin is disputing the legitimacy of Anwar being the 10th prime minister as he claims that PN has garnered the support of 115 MPs.
Mini Budget for civil servants' salaries to be tabled on Dec 19, two DPMs to be appointed
Aside from the confidence vote and the swearing-in ceremony for MPs, Anwar announced that a mini Budget will be tabled on Dec 19 to approve government spending on civil servants' emoluments.
The approval of such emoluments is deemed important to ensure there are no concerns among civil servants regarding salaries, with the Budget 2023 yet to be debated and approved.
After the approval of the mini bill, Anwar said the government is expected to present a comprehensive follow-up Budget, about a month after the Parliament session.
The former finance minister under the leadership of the previous government, Tengku Datuk Seri Zafrul Abdul Aziz, tabled Budget 2023 on Oct 7 in the last Dewan Rakyat.
However, the Budget was not debated and put up for vote after then prime minister Datuk Seri Ismail Sabri Yaakob announced the dissolution of Parliament on Oct 10.
Meanwhile, Anwar said two deputy prime ministers will be created in his Cabinet comprising representatives of the unity government's component parties, which are expected to be filled by representatives from BN and GPS.
Additionally, the proposal to not appoint MPs who are being charged in court as members of the Cabinet will be discussed in detail with the parties participating in the unity government.
Anwar also insisted that PH's stance on the issue is clear, that is to not appoint any MP who is being charged in court into the Cabinet.
However, considering that the current administration is a unity government, he needs to discuss the matter first with other coalition parties.
Main focus on economy, commitment to upholding Constitution reiterated
Anwar, who is PH chairman, announced his main focus as PM is on Malaysia's economy.
He said it is reassuring to see an encouraging response by the local stock market and a strengthening ringgit on Thursday, signalling investors' confidence in Malaysia.
Asides from saying no to corruption, Anwar also reiterated his commitment to upholding the Federal Constitution, which includes the special status of the Malays and its rulers as well as Islam, beside ensuring that all the legitimate rights of other races and religions will be protected.
Get our comprehensive GE15 coverage here.
Kathy Fong & Kamarul Azhar Azmi