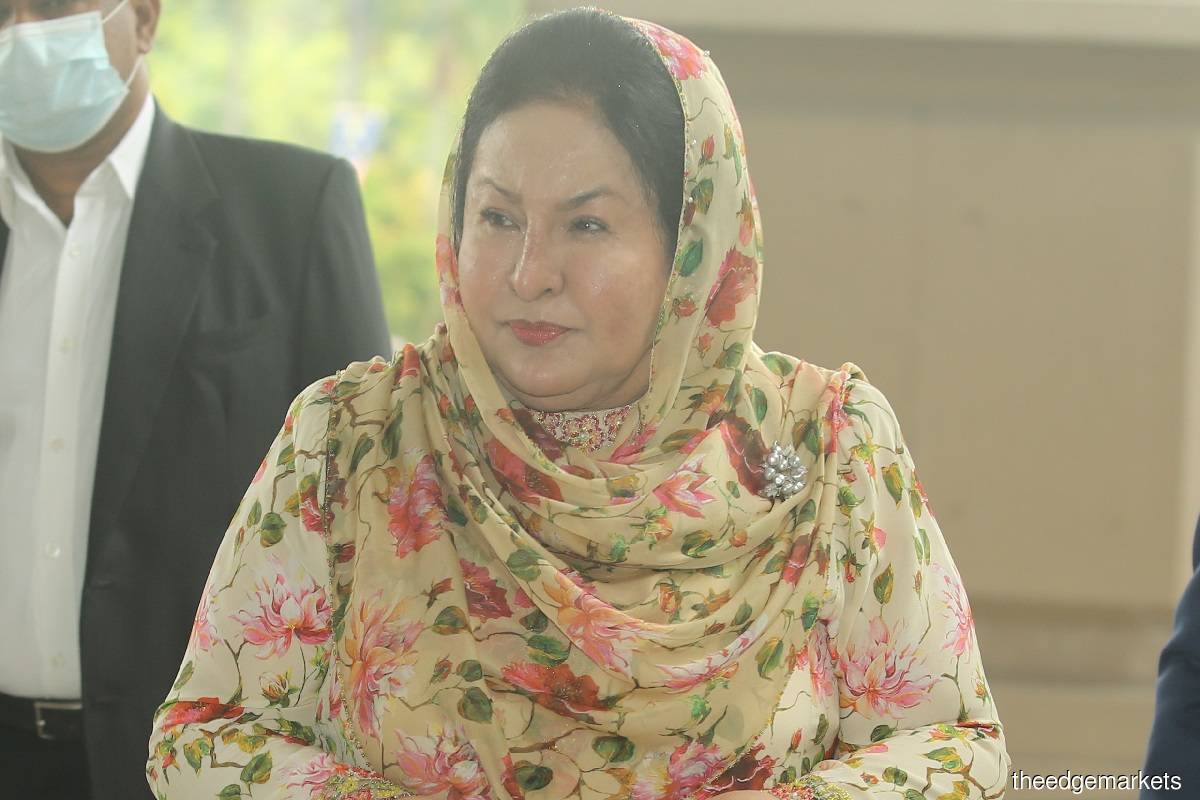 PUTRAJAYA (Sept 28): The Court of Appeal on Tuesday fixed Oct 4 to hear Datin Seri Rosmah Mansor's stay of proceedings application following last week's High Court decision that dismissed her application to declare her graft trial a nullity and remove Datuk Seri Gopal Sri Ram from continuing to prosecuting her.
Unless Rosmah, 69, the wife of Datuk Seri Najib Razak, obtains a stay from the appellate court on Oct 4, she would have to take the stand in her defence at the High Court the next day (Oct 5).
The hearing date was fixed before Court of Appeal deputy registrar Mohd Khairi Haron following case management on Tuesday.
Her lawyer Datuk Akberdin Abdul Kader and Deputy Public Prosecutor (DPP) Poh Yin Tinn separately confirmed the Oct 4 hearing date of the stay with theedgemarkets.com.
On Sept 24, High Court Justice Mohamed Zaini Mazlan dismissed Rosmah's application to declare the trial a nullity and found Sri Ram's appointment to prosecute her was proper.
She tried to nullify her graft trial due to questions surrounding the former Federal Court judge's appointment to prosecute her.
Justice Zaini ruled that Sri Ram's appointment as a senior DPP by then attorney general Tan Sri Tommy Thomas was done in a valid manner under Section 376(3) of the Criminal Procedure Code (CPC).
According to the CPC, Section 376(3) refers to the power of the attorney general to appoint fit and proper persons to be DPPs and who may be designated as senior DPPs.
"I therefore see no necessity to address the validity of the first written fiat of Datuk Seri Gopal Sri Ram's appointment under it, which is the essence of the applicant's application. This has ceased to become a moot point as I found Datuk Seri Gopal Sri Ram's appointment by Tan Sri Tommy Thomas under Section 376(3) CPC to be valid," the High Court judge said in his decision.
Justice Zaini further dismissed Rosmah's application for a stay of proceedings pending her intention to file an appeal of the judge's decision, which her lawyers did on the same day.
Rosmah, is charged with soliciting a RM187.5 million bribe out of the RM1.25 billion project that was awarded to then Jepak Holdings Sdn Bhd managing director Saidi Abang Samsudin between January and April 2016 through her aide Datuk Rizal Mansor.
She also faces two charges of receiving a total of RM6.5 million — RM1.5 million and RM5 million respectively — from Saidi between Dec 20, 2016 and Sept 7, 2017 at her official residence in Seri Perdana, Putrajaya and her private residence in Jalan Langgak Duta here.
Rosmah, when the court ordered her to enter her defence last February, opted to testify under oath from the witness stand, which means she can be cross-examined by the prosecution after she gives evidence in her defence.
Sri Ram previously said that he would take up the torch of cross-examining Rosmah.
Read also:
Rosmah fails in bid to recuse Gopal Sri Ram, nullify trial proceedings
Rosmah ordered to enter defence over solar graft trial; witnesses may include Najib