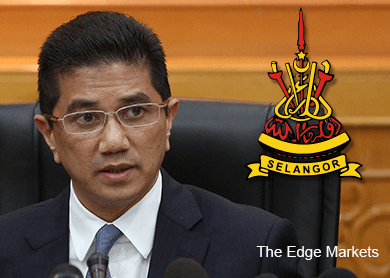 SHAH ALAM (Oct 31): Selangor has given "approval in principle" for three contentious highways, said Menteri Besar Azmin Ali.
However, their final alignments have not been confirmed due to residents' protests.
The highways are the Damansara-Shah Alam Highway (Dash), East Klang Valley Expressway (EKVE) and the Sungai Besi-Ulu Klang Exressway (SUKE), all of which have sparked controversies due to their alignments.
Azmin said the "principled approvals" had been given out before his term which started in September 2014.
The developers of these highways, however, still have to fulfil certain conditions before the final green light is given for them to start work, Azmin said.
These include submitting social impact assessments and reports of the so-called traffic benefits of these highways.
Azmin added that federal planning agencies needed to work with the state's planning committee to work out disagreement over the highways' alignments.
"For instance, in the case of Dash, there are many residents who want it, but it has also been opposed by residents in the last part of its alignment in Damansara Perdana.
"So we have to work on resolving that. Similarly with EKVE, it has also been opposed by residents at the end exit point after approval was not given for them to go near the Klang gates dam," Azmin told reporters yesterday.
Controversy over the three highways has intensified over the past year, with resident groups mounting campaigns to stop the projects because of the disruption of their neighbourhoods.
Green groups have also opposed the EKVE as its original alignment cuts through the Selangor state park, a tract of virgin forest that is important to the state's raw water supply.
Earlier this year, Azmin refused to grant approval for the Kinrara Damansara Highway (Kidex) due to its huge impact on the congested residential areas of Petaling Jaya and Puchong.
Yesterday, Federal Works Minister Datuk Seri Fadillah Yusof commended Azmin for approving these three highways.