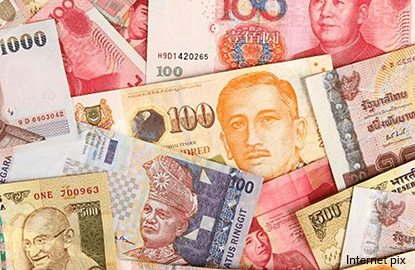 SINGAPORE (Feb 23): Sentiment toward most emerging Asian currencies worsened from two weeks ago, with bearish positions in the Philippine peso increasing to the most in two months, a Reuters poll showed.
The rise in short positions in the Philippine peso came after the peso slipped to a 10-year low this week, its decline having gained momentum after it breached key technical support at 50.00 per US dollar.
Analysts said the peso's weakness stemmed in part from an apparent softening in the central bank's efforts to curb the currency's weakness.
The peso has underperformed against regional peers so far in 2017 with a fall of 1% against the US dollar, pressured by a widening in the Philippines' trade deficit.
The poll of 16 market participants, including analysts, traders and fund managers, showed that sentiment toward most Asian currencies weakened compared with two weeks ago, due to either a reduction in bullish bets or an increase in bearish bets.
Bearish bets against the Singapore dollar rose to the highest in about a month.
Bets on the Chinese yuan turned slightly bearish, although positioning was still close to being neutral.
Bucking the trend was the Indian rupee, which saw bullish bets rise to the highest level since January 2015.
Bullish bets on the rupee increased this month, after India's central bank kept its policy rate on hold at 6.25% and unexpectedly signalled an end to its longest easing cycle since the global financial crisis.        
The poll is focused on what analysts and fund managers believe are the current market positions in nine Asian emerging market currencies: the Chinese yuan, South Korean won, Singapore dollar, Indonesian rupiah, Taiwan dollar, Indian rupee, Philippine peso, Malaysian ringgit and the Thai baht.
The poll uses estimates of net long or short positions on a scale of minus 3 to plus 3. A score of plus 3 indicates the market is significantly long US dollars.
The figures include positions held through non-deliverable forwards (NDFs).