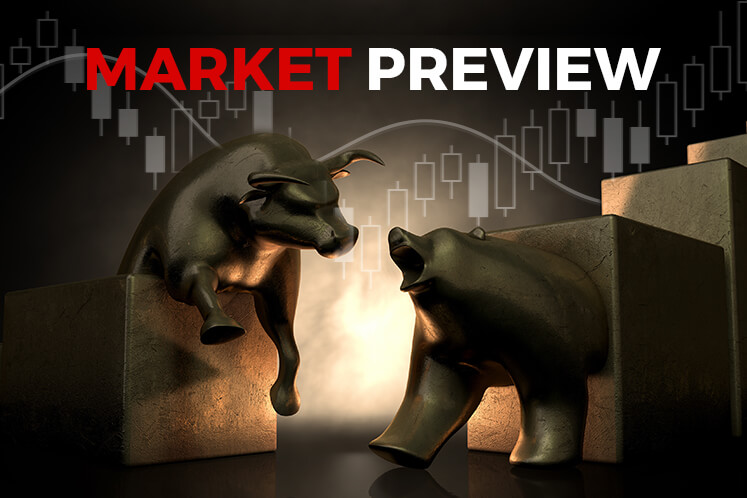 SYDNEY (Oct 30): Stocks in Asia were poised for a mixed start Wednesday after a lackluster session for U.S. equities left markets in a holding pattern awaiting the Federal Reserve's policy decision. Treasuries and the dollar were flat.
Shares in Sydney opened modestly lower, while equity futures earlier dipped in Japan and nudged higher in Hong Kong. The S&P 500 Index edged back from a record high amid a raft of earnings. A report that China and the U.S. might not sign a partial deal next month, a day after President Donald Trump's assertion that negotiations were ahead of schedule, dented stocks exposed to the battle. 
Lenders got a lift after Treasury Secretary Steven Mnuchin said he'd be open to looser bank rules.
The Fed is widely expected to lower rates again Wednesday, having already cut in July and September. For markets, the key will be the tone of Chairman Jerome Powell's press conference later in the day, with investors trying to ascertain the trajectory of policy heading into next year. Complicating matters are the ongoing trade tensions that recently showed signs of easing.
"We, like everyone, expect a rate cut of course but our view has been that would then represent a pause and there would be no rate cuts through the course of next year largely because the broader economy remains reasonably robust and inflation expectations have stabilized," Peter Oppenheimer, chief global equity strategist at Goldman Sachs Group Inc., told Bloomberg TV.
Elsewhere, the pound was flat after U.K. Prime Minister Boris Johnson won backing in Parliament for a Dec. 12 election.
Here are some key events coming up this week:
* Earnings include: Airbus, Apple, Credit Suisse, Facebook and PetroChina on Wednesday; Mitsubishi Heavy on Thursday; Exxon Mobil and Macquarie Group on Friday.
* The Fed is expected to lower the main interest rate when policy makers decide on Wednesday.
* U.S. economic growth is forecast to have slowed to 1.6% in the third quarter. GDP data are due Wednesday. The Fed's preferred inflation metric, the core PCE deflator, is due Thursday.
* The Bank of Japan sets policy on Thursday and Governor Haruhiko Kuroda will hold a news conference.
* Friday brings the monthly U.S. non-farm payrolls report.
These are some of the main moves in markets:
Stocks
* Futures on the S&P 500 Index were little changed as of 8 a.m. in Tokyo. The underlying gauge slipped 0.1% on Tuesday.
* Australia's S&P/ASX 200 Index dropped 0.2%.
* Futures on Japan's Nikkei 225 slid 0.2%.
* Hang Seng Index futures earlier rose 0.1%.
Currencies
* The yen was flat at 108.87 per dollar.
* The offshore yuan was little changed at 7.0649 per dollar.
* The Bloomberg Dollar Spot Index was little changed.
* Britain's pound was flat at $1.2864.
* The euro bought $1.1112.
Bonds
* The yield on 10-year Treasuries was little changed at 1.84%.
* Australia's 10-year yield slid two basis points to 1.16%.
Commodities
* Gold held at $1,487.23 an ounce.
* West Texas Intermediate crude decreased 0.1% to $55.51 a barrel.