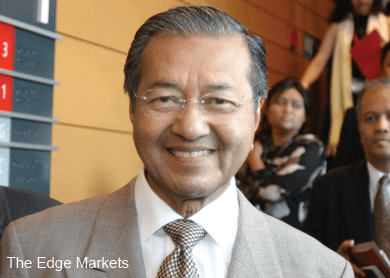 (April 23): Tun Dr Mahathir Mohamad today said Putrajaya's use of the Sedition Act to maintain Barisan Nasional's hold on power was not a good move, following criticism over recent amendments to the colonial-era law that made it more draconian.
The former prime minister said the act should not be used against those who were critical of the government, and even those who called for a change of government.
"If the law is used for you to stay in power, then I think it's bad.
"But unfortunately, the Sedition Act is used for the wrong purpose. The Sedition Act is to prevent people from incidents of hatred such as civil war, and to overthrow the government.
"But if you say the government is not doing well and should change the leader, that is not seditious," Dr Mahathir during a question and answer session at the Malaysia Social Media Week event in Kuala Lumpur today.
Dr Mahathir said it appeared from the current situation that the act was being used to punish individuals even if they had no seditious intent.
"Unfortunately, there seems to be an abuse of the act. The act is good only if it is used for matters that are seditious," he said.
Dr Mahathir has become increasingly vocal about asking Prime Minister Datuk Seri Najib Razak to step down, over what the former prime minister said was a lack of accountability over several controversies and some of his policies.
Amendments to the sedition act were passed by the lower house of Parliament on April 9 after Putrajaya moved to strengthen the law, instead of repealing it as promised by Najib in 2012.
While it is no longer deemed seditious to criticise Putrajaya and the judiciary, the act now contains other draconian measures which critics say curb the freedom of expression and stifle legitimate dissent.
There is no longer bail for those charged with sedition, and jail terms have been enhanced for a mandatory three to seven years for those convicted.
There is also "aggravated sedition" in cases that lead to bodily injury or damage to property, whereby the punishment is a prison term of between five and 20 years.
The court can also order material deemed seditious to be removed from online sources.
The amendments have been widely criticised, and a recent report by PKR's think tank, Institut Rakyat, said the act seemed to be "tailor-made" to target opposition politicians. – The Malaysian Insider