This article first appeared in The Edge Malaysia Weekly, on November 22, 2021 - November 28, 2021.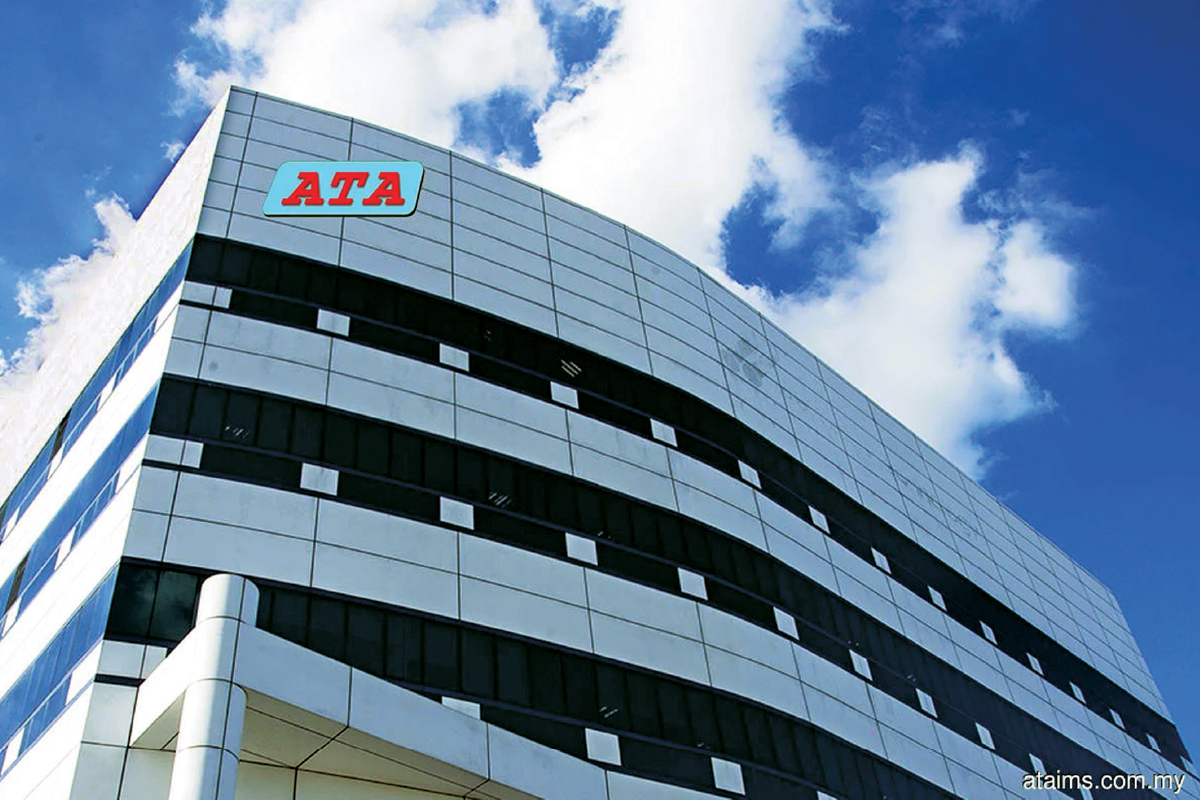 ATA IMS Bhd lost more than RM1.2 billion in stock market value in a week,  after suffering its first quarterly loss in four years, which the electronic manufacturing services (EMS) company said manpower shortages are to blame.
ATA IMS on Nov 12 posted a net loss of RM11.17 million for its second financial quarter ended Sept 30, 2021 (2QFY2022), compared with a net profit of RM52.29 million a year ago. It registered a net profit of RM23.38 million in 1QFY2022.
The warning prompted a sharp sell-off, with investors fearing a reversal of fortunes for the EMS company as its manpower woes are expected to persist. ATA IMS saw its shares fall 38% following the earnings announcement, to close at RM1.59 last Friday. Its market capitalisation stood at RM1.91 billion.
The disappointing results also weighed on analysts, who downgraded the stock and lowered their earnings forecasts. Bloomberg data shows that of the five analysts covering the stock, four have a "hold" rating and one a "buy" call. The average target price is RM2.27.
A check by The Edge reveals that ATA IMS' earnings and revenue have been on a downward trend for the past three quarters. It recorded a slight improvement in earnings of RM53.31 million in 3QFY2021 compared with RM52.29 million in the immediate preceding quarter. Subsequently, its net profit halved to RM26.94 million in 4QFY2021, dropping further to RM23.38 million in 1QFY2022 before slipping into the red in the latest quarter. The RM11.17 million net loss was the first quarterly loss suffered since 1QFY2018.
The group's revenue has been falling as well, to RM1.17 billion in 3QFY2021 from RM1.34 billion in 2QFY2021. Revenue stood at RM967.98 million, RM893.05 million and RM594.48 million in 4QFY2021, 1QFY2022 and 2QFY2022 respectively. The RM594.48 million figure was the lowest in three years since 1QFY2019, when it recorded RM576.76 million.
ATA IMS blamed the latest quarterly loss on manpower shortages as the government had frozen the recruitment of foreign workers since the beginning of the Covid-19 pandemic more than 1 1/2 years ago, resulting in a decline in the number of foreign workers as those who returned to their home countries during this period cannot be replaced.
The company added that the strict adherence with current standard operating procedures (SOPs) and restriction of workforce capacity at a maximum of 60%, resulting in under-utilisation of production capacity, has also affected its latest quarterly performance.
ATA IMS warned that the current situation may persist until such time as the government re-opens recruitment of foreign workers for the manufacturing sector.
Manufacturing sector facing dire manpower shortage
ATA IMS' woes serve as a wake-up call for the government to resolve the acute labour shortage in the manufacturing sector quickly.
The Federation of Malaysian Manufacturers' (FMM) October survey revealed that there was an overall shortage of 22,000 workers among its 252 members, comprising 14,000 unskilled general workers and 7,000 skilled general workers such as technicians, machinists and engineers.
The top five manufacturing sub-sectors facing manpower shortages are electrical and electronics; food and beverage; chemicals and chemical products; fabricated metal; and rubber products.
Considering that the survey only captured responses from 252 companies, FMM estimated that the shortage of workers could number more than 22,000, given that it has a total membership of 3,500 companies.
The manufacturing sector — which ranked second in terms of contribution to the economy, accounting for 23% of total gross domestic product (GDP) in 2020 — experienced a 44% decline in the number of foreign workers since 2019, to 391,831 currently from 697,124 in 2019, FMM noted.
"This is mainly attributed to workers whose permits and terms of employment expired during the Covid-19 pandemic period who have since returned home. Due to the current freeze on new employment from source countries, employers are unable to get replacements for their foreign workers," it added.
FMM said employers continue to face difficulty in sourcing for locals to fill the shortages in the unskilled general workers category arising from the current freeze on new recruitment of foreign workers. Industries have no choice but to rely on foreign workers as locals are not keen on certain jobs and industries, especially in the 3D (dangerous, dirty, difficult) sectors.
"It is feared that if the urgent manpower needs are not addressed quickly, it could derail the recovery of the industries, including their ability to meet their orders in hand and expansion plans. It would also impact the ability to fulfil supply obligations as part of global supply chains given that Malaysian is a key manufacturing and supply chain hub in the region.
"As it is, many of our industries had their second half of 2021 contracts reviewed during the lockdown period due to their inability to fulfil their order obligations, which subsequently impacted global supply chains severely," FMM added.
Several manufacturing companies contacted by The Edge expect the lingering industry-wide systemic issue to persist in the near term as they are struggling to clear their backlog orders that had piled up during the lockdown periods, forcing them to reject new orders amid the shortage of manpower.
They say that despite efforts to recruit local workers to fill the vacancies — such as offering higher wages to local workers than foreign workers for similar positions and providing safe environment — they have not achieved the desired results due to high turnover.
Another EMS player, PIE Industrial Bhd, has been experiencing a shortage of manpower for three years, since 2018, and the problem is getting worse, says managing director Alvin Mui.
"We need to re-look at our expansion strategy, as we are unable to keep up with the demand of our clients due to a lack of manpower," he says.
He says hiring foreign workers is not cheap, considering that employers must also bear the recruitment fees, which foreign workers previously paid to the recruitment agents themselves.
And because of the growing awareness of environmental, social and governance (ESG) principles, employers have to provide more comfortable quarters for their workers than they did in the past, he adds.
Mui says, essentially, foreign workers are favoured over locals not because of lower labour costs but because of their good attendance and fewer working issues.
He notes that the major challenge is to retain the local workers due to high turnover, which has caused disruption to PIE's operations. In addition, the group also faces higher cost pressure as the company needs to keep training new workers.
Komarkcorp Bhd, a packaging solutions provider and automatic labelling machine manufacturer, says the manpower shortages have reduced the group's effectiveness in accepting and completing more complicated orders.
Executive director Roy Ho says the group is facing shortage issues because of growing client demand and competition from other factories in the industry in terms of sourcing workers.
"We are working with clients and managing their expectations on deliverables. We are paying slightly higher than minimum wage to attract local talents and giving attendance incentives. We also provide a safe working environment by continuing to do Covid-19 testing on a weekly basis.
"However, it remains a stop-gap measure due to the cultural stigma of being a factory worker, which doesn't appeal to the local community," he adds.
Economists have divergent views on addressing the manufacturing sector's manpower woes
Economists have different views on how to resolve the manpower shortages faced by the manufacturing sector.
Socio-Economic Research Centre (SERC) executive director Lee Heng Guie believes the government needs to offer some flexibility and provide a short-term solution by addressing the issue, especially when it comes to managing the recovery of the economy post pandemic.
"Given that more economic sectors are allowed to open, more industries require more foreign labourers to fill up the gap," he says.
Noting that the automation process will take time, coupled with a lack of interest among local workers to take up the low-skilled factory jobs, Lee would like to see the opening up of the foreign labour intake for the sector.
In contrast, independent economist Manokaran Mottain suggests that the government should stay firm on its policy in order to force the industry to take the opportunity to reform and move up their value chain by moving away from labour-intensive industry.
"Companies should take this opportunity to start looking for technological advancement and reduce their dependency on foreign workers.
"We must focus on quality investment now as the country has too many jobs requiring no skill or low skill, hence we cannot move up the value chain," he adds.