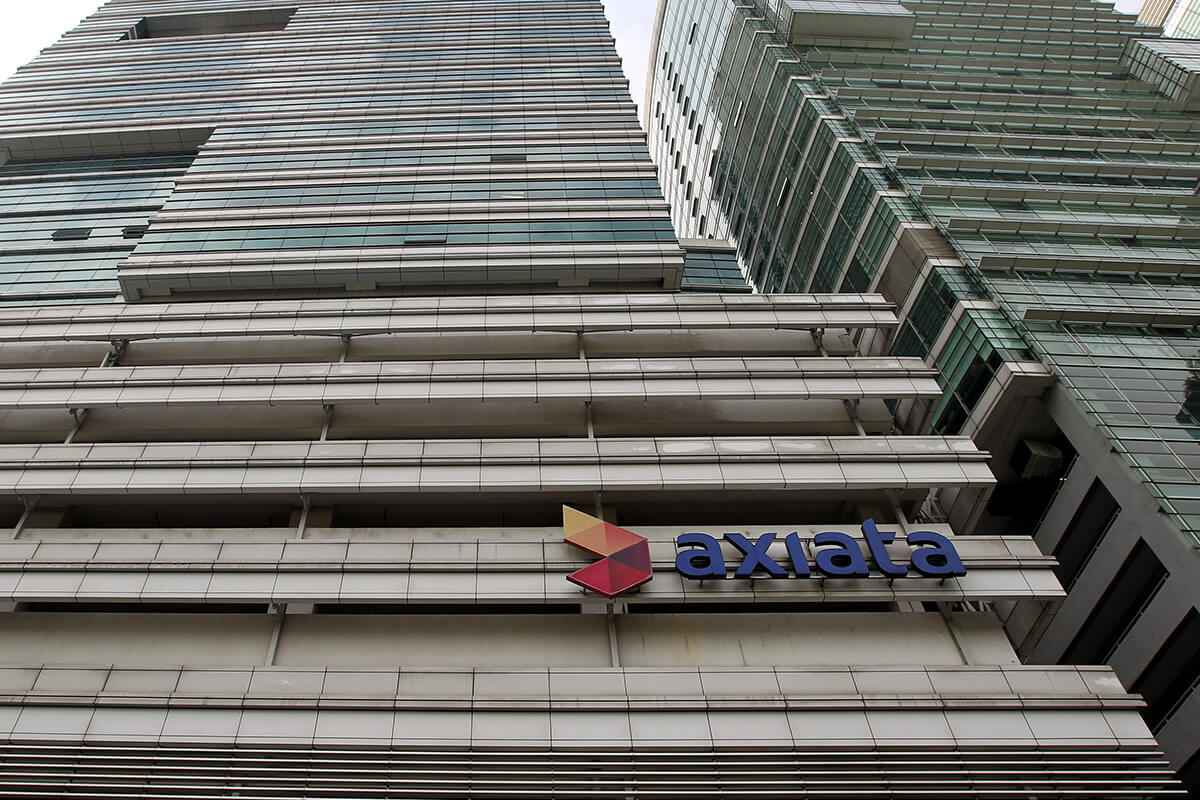 KUALA LUMPUR (Nov 26): Axiata Group Bhd saw its net profit for the third quarter ended Sept 30, 2021 (3QFY21) grow 25.85% quarter-on-quarter (q-o-q) to RM349.56 million compared with RM277.76 million in the immediate preceding quarter on higher revenue as well as improved earnings before interest, taxes, depreciation and amortisation (EBITDA) due to higher contributions across all Opcos.
Earnings per share in 3QFY21 increased to 3.8 sen from three sen in 2QFY21, according to Axiata's filing with the local bourse.
Revenue for the period also increased by 2.39% to RM6.54 billion against RM6.39 billion on the back of contributions from PT XL Axiata Tbk, Dialog Axiata PLC, Robi Axiata Ltd and Axiata Digital Services Sdn Bhd.
3QFY21 EBITDA improved by 1.7% to RM2.86 billion, from RM2.81 billion in 2QFY21, with better credit and inventory management as well as cost optimisation efforts, partially offset by higher operating costs.
"PAT (profit after tax) and PATAMI (profit after tax and minority interest) increased by 11.6% and 25.9% to RM463.1 million and RM349.6 million, respectively, underpinned by higher top lines, partially offset by higher depreciation and amortisation, foreign exchange losses and taxes," Axiata noted.
On a yearly basis, Axiata's net profit slipped 0.97% compared with RM352.99 million in 3QFY20, despite revenue rising by 7.06% from RM6.11 billion. 
"The group's healthy balance sheet with gross debt/EBITDA at 2.49x and cash balance of RM7.3 billion continued to work favourably in positioning for new opportunities and growth ventures in the home, enterprise and digital business segments," it said.
For the cumulative nine months ended Sept 30, 2021, the group's net profit grew 13.16% to RM702.87 million from RM621.11 million. Cumulative nine-month revenue was up by 5.89% to RM19 billion from RM17.94 billion a year earlier.
In a separate statement, Axiata's chairman Tan Sri Ghazzali Sheikh Abdul Khalid said the steady performance in the latest quarter placed the group on a strong trajectory to keep serving the needs of customers and communities across the region as digital technologies increasingly influence individual and business choices.
"As demand for data and digital solutions proliferate, the board continues to challenge the business to respond to commercial and community needs with resilience, agility and empathy across all our markets. Equipped with a solid operating model to tackle business opportunities and challenges, we are also deeply committed to supporting recovery and growth across our markets as societies emerge from the devastation of the pandemic to find their footing in the new digital normal.
"Thus, it gives me great pleasure to announce that Axiata has pledged RM115 million for the next 10 years to Axiata Foundation to further expand the education pillar, which is anchored by the Axiata Young Talent Programme in order to advance skills and knowledge required by Malaysian youths to thrive in the digital economy."
"In addition to education, Axiata Foundation will also expand its scope to two other pillars. These will include community investments — aimed at community enrichment driven by technology and community empowerment through digital inclusivity, and the environment — to implement solutions aligned with Axiata's Net-Zero Carbon Roadmap and Climate Action fundamentals," he said.
Meanwhile, Axiata's president and group chief executive officer Datuk Izzaddin Idris said the group is keeping a close watch on on potential inflationary pressure on SIMs and delay in network equipment delivery due to the global supply chain disruption, macroeconomic and regulatory risks across several markets and slower than expected recovery in Ncell.
"On 5G roll-out in Malaysia, we reiterate our support towards national digital aspirations that will benefit Malaysian consumers and businesses, and it is encouraging that discussions with the government are moving in the right direction. 
"Business-wise, we're optimistic about improved data monetisation for digital telcos, the sustained growth momentum of Axiata Digital's businesses as well as a pickup in site roll-outs for edotco with the easing of lockdown restrictions across markets."
"In line with the steady performance and potential upsides, 2021 revenue excluding device and EBITDA growth are projected to be ahead of headline KPIs at mid single digit percentage growth for both," he added.
At midday break, Axiata's shares were down six sen or 1.5% to RM3.94, translating into a market capitalisation of RM36.15 billion.