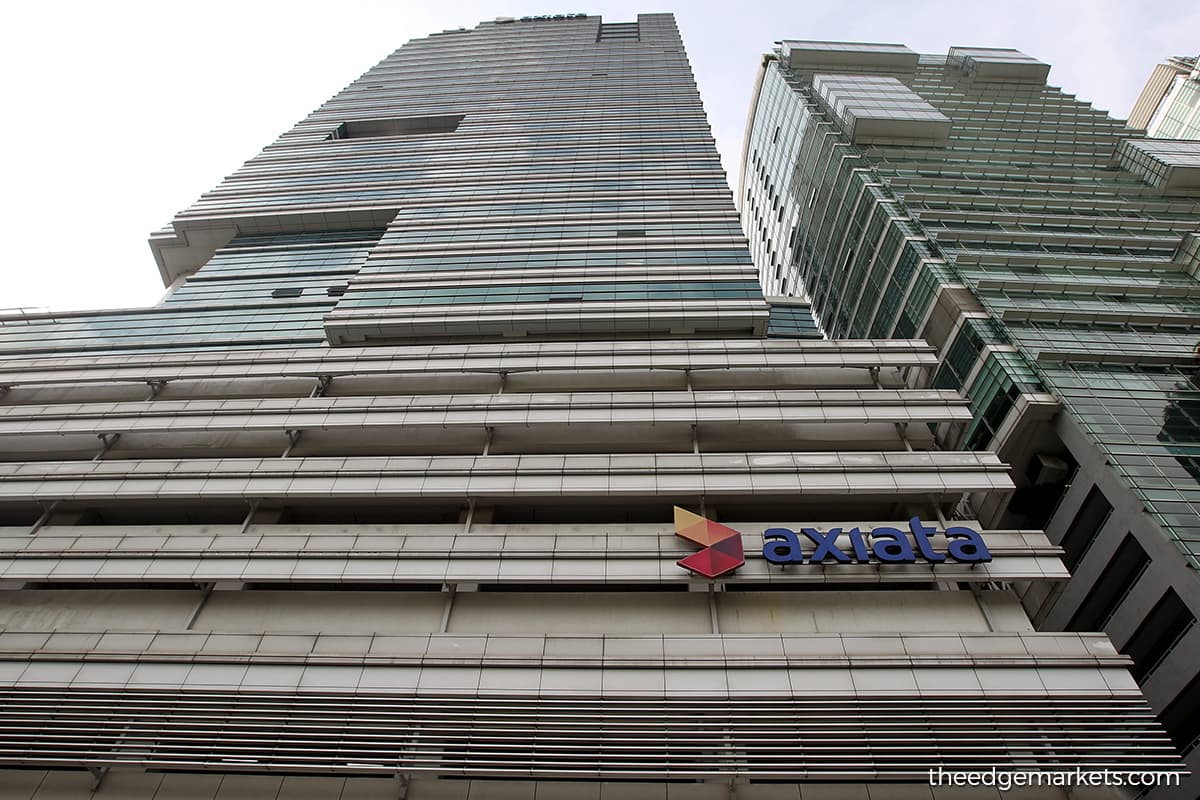 KUALA LUMPUR (April 9): Axiata Group Bhd and Digi.Com Bhd's share prices were among the top gainers in morning trade on Bursa Malaysia today as investors weighed the proposed merger of Celcom Axiata Bhd and Digi.Com's mobile telecommunications network operations.
Digi surged 65 sen or 17.33% to a more than eight-month high of RM4.40 this morning, while Axiata jumped 37 sen or 9.74% to a more than one-year high of RM4.17.
At 10.21am, Digi had pared some gains at RM4.26, still up 51 sen or 13.6%, with 27.73 million shares changing hands.
Axiata, meanwhile, pared gains at RM4.10, up 30 sen or 7.89%, with 14.76 million shares traded.
Analysts are positive on the merger as it will increase the competitiveness of Digi and Celcom. They also see higher possibility for the deal to be materialised and Digi to benefit more from the deal.
Affin Hwang Capital analyst Isaac Chow said in a note today he is positive on the proposed merger as he concurred with the management's view that the merger should generate business synergies via its enlarged scale, savings on capital expenditure (capex) or procurement as well as cost optimisation.
"We see a high likelihood for the merger to materialise and hence, we raise our target prices (TPs) for both Digi (to RM4.60 from RM3.85) and Axiata (to RM4 from RM3.60)," he said.
He also upgraded Digi, a clear beneficiary of the proposed merger to "buy" from "hold", but maintained his "hold" rating of Axiata due to its valuation.
Meanwhile, Ta Securities analyst Wilson Loo said he views the proposed merger of Celcom and Digi to be positive for the telecommunications industry as consolidation should ease competitive pressure within Malaysia's mature mobile market.
He expects Celcom and Digi to emerge as key beneficiaries given the potential for major synergies (e.g. operating expenses, capital expenditure as well as spectrum efficiencies and procurement) to be realised after the merger.
In turn, he opined that shareholders of the merged company (MergedCo) would stand to benefit from higher dividends in view of Axiata's high dividend aspirations and Digi's historical dividend payout ratio of more than 90%.
Meanwhile, he also believes that with anticipated improvements in quality of service and value propositions under the MergedCo, Celcom and Digi would at the very least be able to defend their respective market shares.
"Between Axiata and Digi, we identify shareholders of Digi to be clearer beneficiaries of the proposed merger as value accretion from synergies would be more direct.
"That said, for shareholders of Axiata, apart from the potential for value accretion and the dividend upside via the MergedCo, we view that they would also stand to benefit from the establishment of market valuation for its Malaysian operations via the MergedCo," he added.
He maintained his "buy" call on Axiata (TP: RM4.63) and Digi (TP: RM4.10).
On ther other hand, CGS-CIMB Research analysts Foong Choong Chen and Lam Hsien Jin see a better chance of the deal materialising as this is a more simple merger, in which both parties can learn from the past to avoid the previous pitfalls, and there is now a greater need to merge given the government's single 5G wholesale network plan.
"Pre-synergy, we see Digi's FY22 (financial year ending Dec 31, 2022) core earnings per share (EPS) lifted by 7%. Potential synergies may be less than before but should still be sizeable; we assume [it to be] RM5 billion.
"Pre-synergies, we see Axiata's FY22F core EPS diluted by 7%. Axiata's FY24 net profit and dividend per share aspirations would be unchanged post merger," they said.
They upgraded Digi to "add" from "hold", with a 14% higher TP of RM4.55.
"Our revised TPs sum up our pre-merger fair values (FVs) for Digi and Celcom, extra RM1.7 billion debt and RM5 billion synergies on an enlarged share base," they said.
They also reiterated "add" on Axiata with a 2% higher TP of RM4.20.
Meanwhile, AmInvestment Bank Research analyst Alex Goh viewed that the merger appears to favour Digi more than Axiata.
Assuming no synergies from the merger, he estimated that Digi's FY22 EPS will increase by 5%, while Axiata's will decrease by 10%, as Digi's equity appears to be valued 67% above Celcom's from the share and cash exchange.
"We estimate that Celcom Digi's FY22 net debt/EBITDA (the net debt to earnings before interest, taxes, depreciation and amortisation ratio) will rise from one times to 1.4 times, which remains comfortable for a telco business. For Axiata, this will substantively drop from 1.1 times to 0.9 times due to the deconsolidation of Celcom's debt and cash receipt of RM2 billion. Hence, we are positive on this development for both Digi and Axiata," he said.
He maintained his "buy" call on Axiata with an FV of RM4.50 and "hold" call on Digi with an FV of RM4.05.
Read also:
Axiata in 'advance discussions' for merger of Celcom and Digi.Com 
Celcom Axiata-Digi.Com merger talks only for Malaysian ops, no plans to combine regional biz