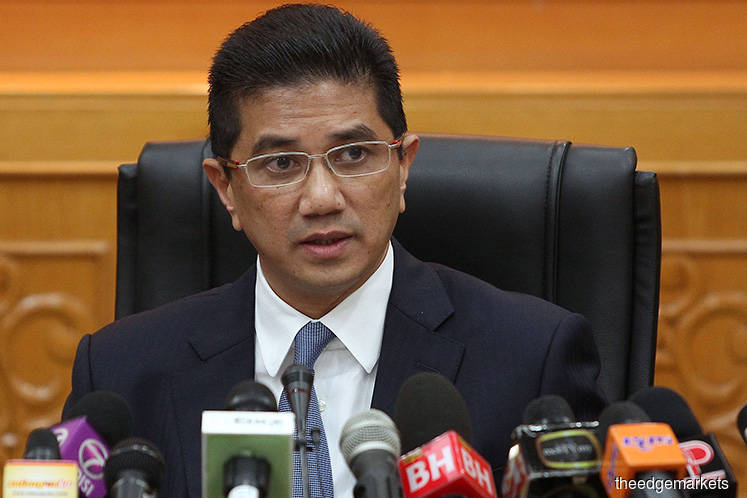 KUALA LUMPUR (Aug 1): Umno politician Datuk Seri Abdul Azeez Abd Rahim, speaking in Parliament today, described Economic Affairs Minister Datuk Seri Mohamed Azmin Ali as the country's most powerful person after Prime Minister Tun Dr Mahathir Mohamad.
Azmin was delivering his winding-up speech on the motion of thanks to the royal address when Azeez (BN-Baling) interjected and requested the minister to look into the cancellation of special haj programme sponsored by the 1MDB Foundation.
"I tried to approach Minister in the Prime Minister's Department (Religious Affairs) Datuk Dr Mujahid Yusof Rawa, but he did not want to see me, and therefore I appeal to you (Azmin) since you are the second most powerful person, after the prime minister, today," Azeez said.
Two days ago, Mujahid announced the cancellation of the programme beginning this year on the grounds that the foundation's source of funds was connected to 1Malaysia Development Bhd (1MDB), which is still under investigation.
The decision affected 1,200 people who had already received offer letters to perform the haj this year.
"Their offer letters were cancelled because the source of fund is in question, but I hope you would consider letting these people perform the haj by using their own money," said Azeez.
Azmin thanked the former Pilgrims Fund Board (Tabung Haji) chairman for referring to him as the second most powerful person in the country.
"But I cannot abuse the power delegated to me. I have no jurisdiction on this matter as the mandate given to me is on matters related to Tabung Haji's investment and businesses," he said and continued his wind-up speech, which lasted for more than three hours.
Speaking to reporters later, Azmin said he sees the mandate given to him as a responsibility, rather than power.
"This is not about the power, but about the responsibility. It is a huge responsibility that I have to shoulder together with my colleagues in the Cabinet. It is not about one person, it is a collective effort by the Cabinet members," he said.