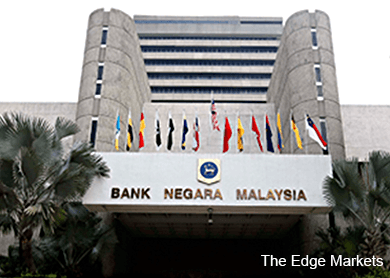 (May 14): Anti-graft organisation Transparency International-Malaysia (TI-M) wants Bank Negara Malaysia to investigate 1Malaysia Development Berhad's (1MDB) "questionable transactions" that had led to the state investment arm amassing RM42 billion debts.
It said the central bank should perform its role without fear and favour, since the financial collapse of 1MDB would have a great impact on the country and on taxpayers.
"TI-M believes that Bank Negara Malaysia (BNM) as the central bank of Malaysia has all the adequate powers to investigate these transactions and compel disclosure of all relevant information concerning these transactions to see if any law has been breached," said TI-M president Datuk Akhbar Satar in a statement.
"TI-M thus calls upon BNM as the main regulator of banking business and transactions to exercise such powers without delay. RM42 billion is not a small sum and the possible financial collapse of 1MDB has great adverse impact on taxpayers' funds and Malaysia's financial wellbeing."
TI-M said many of the transactions appeared to be cross-border deals and involved movement of funds between Malaysia and its financial institutions.
The organisation added that this was not the first time it had called for an investigation into the debt-laden strategic development firm, which is wholly owned by the Finance Ministry.
"TI-M has expressed repeatedly in recent times the need to investigate and bring to the surface the various questionable transactions of 1MDB as reported in the media."
Criticism has been mounting over the Finance Ministry investment vehicle, established in 2009, which has chalked up debts of up to RM42 billion, backed by Putrajaya.
Second Finance Minister Datuk Seri Ahmad Husni Hanadzlah previously disclosed that Putrajaya had approved RM950 million as standby credit facility for 1MDB, of which RM600 million has been used.
Scrutiny grew more intense following Sarawak Report's exposes, which piled pressure on Prime Minister Datuk Seri Najib Razak and prompted opposition politicians, former Umno leaders and anti-graft bodies to demand a thorough investigation into the fund.
Yesterday, Singapore's Business Times reported that six foreign banks had turned "panicky" because their RM3.6 billion loan to 1MDB was secured by its wholly owned Bazen Sky's US$1.103 billion, which is currently parked at Swiss-based BSI Bank Singapore.
The business daily, quoting sources, said "securitisation document" for the loan was now deemed "incomplete", as one of the covenants was not fulfilled.
These meant lenders could demand for repayment from the state investment vehicle any time before its due date of end-August.
On April 22, whistle-blower site Sarawak Report said 1MDB's account in BSI Bank merely contained "paper assets", the "true value of which cannot be determined". – The Malaysian Insider