This article first appeared in City & Country, The Edge Malaysia Weekly, on November 1, 2021 - November 07, 2021.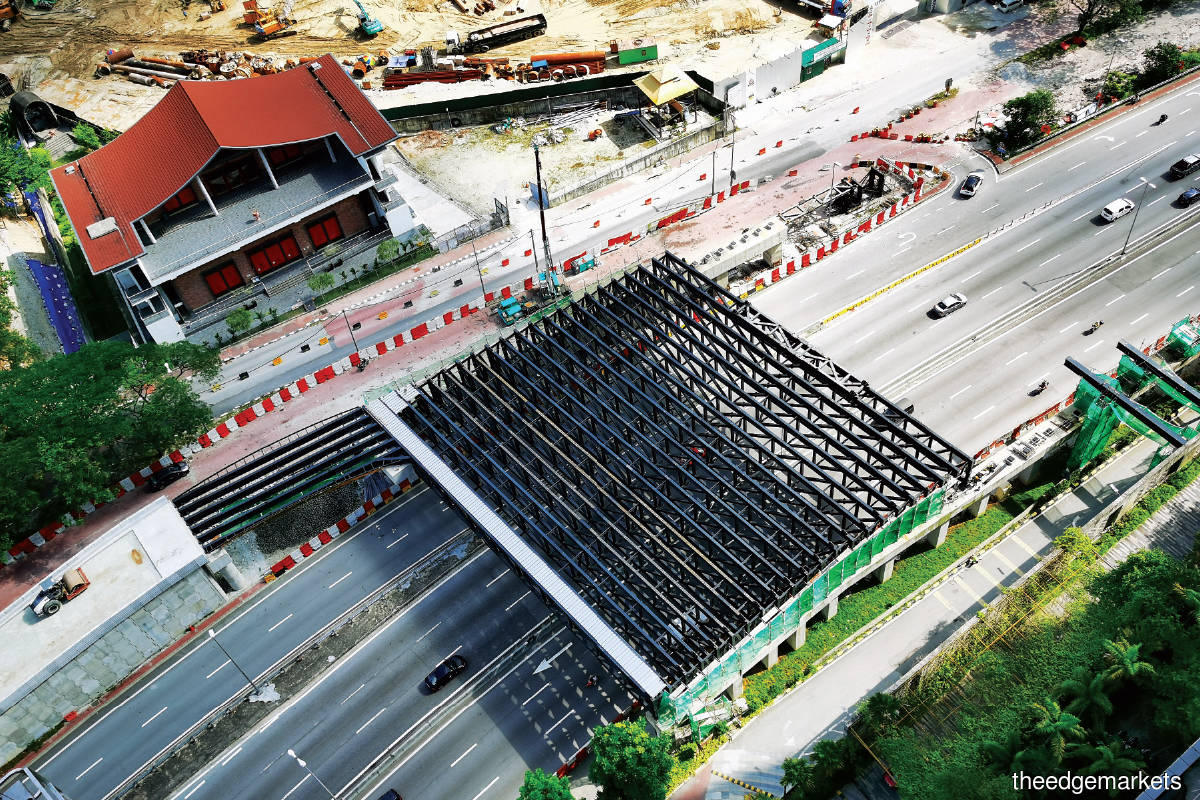 Nestcon Bhd is targeting to transfer its listing status to the Main Market of Bursa Malaysia in three years. "We are working hard to have a larger revenue and market capitalisation … Competition in the market is increasing and we need to do more specialised jobs that require technical expertise rather than remain as a general contractor," managing director Datuk Lim Jee Gin says in an interview with City & Country.
The successful listing of Nestcon on the ACE Market on June 29 is a recognition of the company's hard work, he continues. "It is the beginning of an exciting journey for us. We are here for the long term as a company with [strong] fundamentals and future plans. The listing has enabled us to venture into the equity market to fund our expansion plans. It also enhances our status, giving us an edge when we tender for new construction projects."
Commencing operations in 2010, the construction firm is now involved in building construction as well as civil engineering and infrastructure. It has more than 400 members of staff, including 15 engineers.
To date, Nestcon has completed over 29 projects worth more than RM900 million. The projects comprise transport infrastructure (East Coast Rail Link and Electrified Double Tracking project), a bridge (access to Sungai Pulai), land reclamation (Seri Tanjung Pinang and Melaka Gateway) and renewable energy (Edra Power Plant), among others.
The company is a G7 contractor registered under the Construction Industry Development Board (CIDB). It also holds the Sijil Perolehan Kerja Kerajaan (SPKK), issued by CIDB, that certifies that the holder has met the requirements and guidelines of the Ministry of Finance and is eligible to participate in any government procurement in construction in accordance with the prescribed qualifications.
While the Main Market status is a target, Lim says Nestcon's immediate focus is on its expansion plans, one of which involves the setting up of its own Industrialised Building System (IBS) facility. He believes that the move would allow the company to offer products of better quality, while reducing the delivery timeline.
"We have undertaken studies on IBS and presented them to our clients. The outcome of the technical discussions with them has been very positive … It is influenced by the labour issue faced during the pandemic and our clients are really looking forward to pushing this through," the professional civil engineer explains.
"If a project were to fully utilise IBS, it would reduce on-site workforce by at least 50% — depending on the type of IBS adopted — and the reliance on foreign workers. We plan to produce precast hollow core slabs, half slabs and precast bathroom units. In the longer term, we aim to expand our capacity into other precast products, or even our proprietary product or system, which would elevate our standing as an IBS specialist."
Expansion strategy
Under IBS, Nestcon will have on-site casting yards at its clients' development sites, which would lead to savings on transport cost. The firm has purchased some equipment and plants for this venture, and Lim expects its first on-site casting yard to start operating soon for a client with a 61-acre tract in Petaling Jaya, Selangor.
The set-up of the yard, he adds, will take up five acres and cost about RM6 million.
In general, the focus of Nestcon's expansion strategy would be on exploring new segments, though they will continue to be related to construction, says Lim. Other than IBS, the company is exploring opportunities in engineering, procurement, construction and commissioning (EPCC) projects, which are also known as turnkey construction contracts or design and build contracts.
In fact, it has earmarked part of the proceeds from its listing for the purchase of machinery and equipment to strengthen its technical capabilities in the civil engineering and infrastructure segment, which would allow it to tender for more EPCC projects.
"We are proactively exploring market opportunities within the renewable energy sector, which include LSSPV (large scale solar photovoltaic) and mini hydro projects. In fact, we have submitted several tenders [for projects] in this sector, including two EPCC tenders for mini hydro projects," he reveals.
"We submitted several EPCC tenders, comprising the two mini hydro projects as well as vertical landfill extension works at an integrated scheduled waste management centre. Moving forward, we also plan to venture into EPCC contracts for data centres."
Lim notes that many clients now want to avoid the hassle of going through the entire process of building development and construction. With its EPCC capabilities, Nestcon could act as a one-stop centre and work on the proposal based on the clients' needs, expectations and budget.
The expansion plan is set to enable the firm to further expand its revenue stream and project portfolio, as well as improve its profile, he says.
"In FY2020, our building segment contributed 58% to the group's revenue, with the rest coming from the civil engineering and infrastructure segment. The revenue fell due to the pandemic, but we have a strong order book of more than 24 ongoing projects worth RM2.16 billion, of which RM1.46 billion is unbilled and for the next three years.
"We can comfortably achieve RM500 million in revenue by FY2022 if the pandemic comes under control. Currently, we have submitted tenders for projects worth more than RM3.4 billion, and based on our historical success rate of 18% to 20%, we are confident of further enhancing our order book," Lim asserts.
Renewables and smart energy
In view of the future trend of sustainable buildings, Nestcon is considering venturing into renewables and smart energy storage as it foresees the potential for both existing as well as new buildings to be built with renewable energy sources and smart energy systems at their core.
Lim notes that with the integration of distributed energy systems, a building is made "smart" through the use of automated processes to optimise its performance. These include controlling operations such as heating, cooling, ventilation, lighting and security using sensors, meters, actuators and controllers, which would then improve the building's performance as well as minimise its environmental impact.
"To date, we have yet to establish strategic alliances with potential technology and/or service providers … [Meanwhile,] we will be exploring opportunities to own assets that will generate recurring income to create value for our shareholders," he says.