This article first appeared in Digital Edge, The Edge Malaysia Weekly, on December 28, 2020 - January 10, 2021.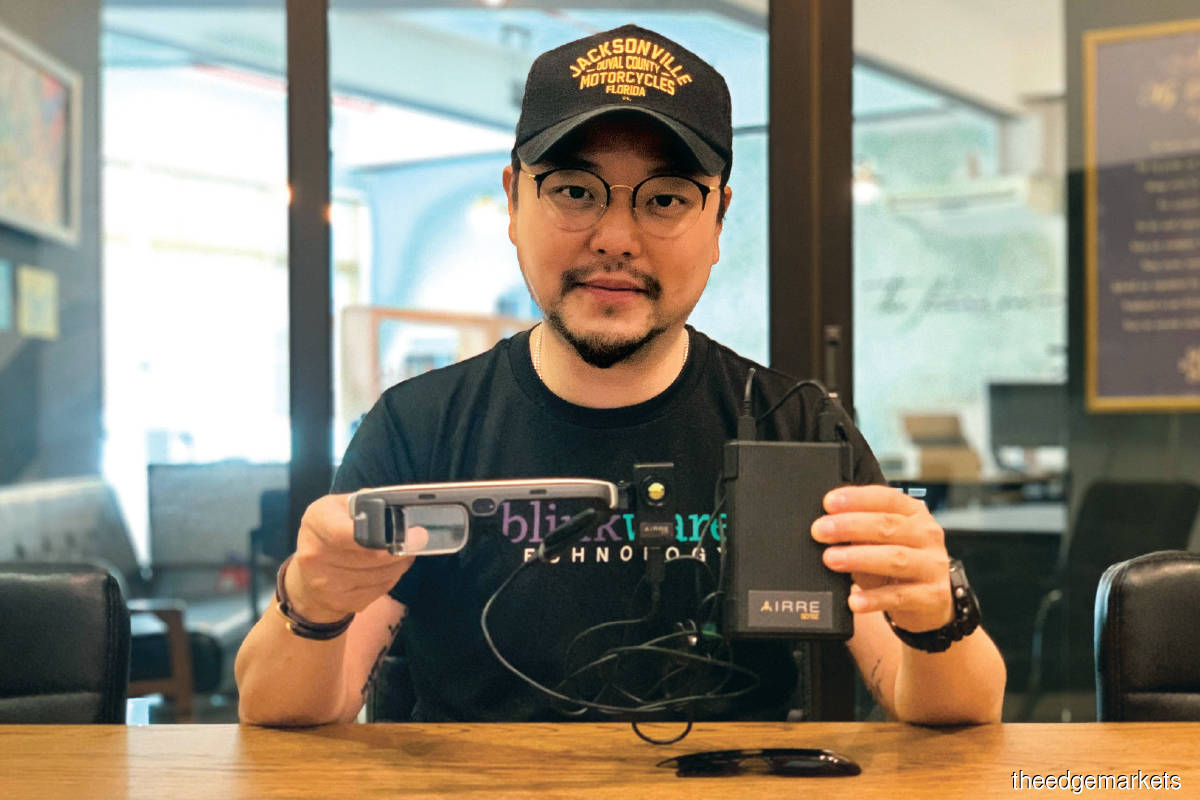 While much of the world is still grappling with the effects of the Covid-19 pandemic, Blinkware Technology Sdn Bhd is already developing intelligent solutions for what is to come.
"We have been so focused on dealing with the pandemic that not many are thinking about what is to come after," says Alvin Koh, the company's CEO.
Blinkware, which was established in 2013, has been using artificial intelligence (AI) and machine learning to introduce avant-garde technologies — from gesture control and facial recognition to detection technology — to a wide range of industries.
At the height of the pandemic in March, when the authorities imposed the Movement Control Order (MCO) to contain the spread of the coronavirus, Blinkware's range of AI-powered technologies were in demand.
Manufacturers were scrambling to implement automation especially in ­manpower-heavy divisions such as inspection and quality control — as there were plenty of standard operating procedures to adhere to in line with mandated distancing requirements.
Having already developed an AI visual-inspection product using cost-effective 2D cameras, Blinkware was able to step in to provide cost-effective solutions for manufacturing players that were dragging their feet in implementing automation.
Meanwhile, the pandemic continued to rage. Spotting an opportunity in healthcare, Koh proposed to direct the company's AI and machine-learning prowess towards coming up with more effective solutions to detect coronavirus infections.
Seeing that Blinkware already had capabilities to insert AI into existing hardware, Koh came up with the idea of using its software to improve the reading of X-ray imaging to detect anomalies in lungs, relating to the Covid-19 infection.
With no additional requirements for hardware, Blinkware came up with an AI-powered application programming interface (API) X-ray imaging software to detect Covid-19.
In July, when the Ministry of Science, Technology and Innovation (Mosti) launched the National Technology and Innovation Sandbox (NTIS) and called for applications, Blinkware immediately signed up to put its latest idea to work.
Aptly named Airre Scan, the cloud-based AI software uses patterns derived from tens of thousands of open-source images of the lungs of patients who have tested positive for the virus. The AI is then able to spot irregularities and identify potential infections with 93% accuracy.
How does it work? X-ray images of patients suspected of having Covid-19 or lung-related complications are uploaded into the software and the AI analyses them using image processing, machine learning and deep-learning algorithms to identify anomalies, defects or unusual shapes and patterns on live chest X-rays.
"Through the NTIS sandbox initiative, we were able to reach certain quarters to regulate and test our technology and it has been performing quite well," says Koh.
If all goes well, Koh hopes to start pilots in the first quarter of 2021 in hospitals both in Malaysia and overseas, particularly in countries like Vietnam.
"So far, we have inputted 15,000 chest images to test and train the AI. We are working closely with Fujitsu Japan to take this further. We are engaging public and private hospitals to give their inputs, for mass testing of Covid-19 cases.
"The main thing is to be able to isolate groups, which are high risk, and allow those people who are normal to go back to work, but it takes a lot of data to be able to get that kind of accuracy," he admits.
But Koh does not intend to stop at just that. As they progressed, he says the team discovered that they could push the technology to go beyond Covid-19 detection and identify other lung anomalies, including early-stage cancer.
According to the Ministry of Health and the World Health Organization (WHO), the loss of productivity due to non-communicable diseases (NCDs), particularly cardiovascular diseases, diabetes and cancer, cost the Malaysian economy upwards of RM8.91 billion, equivalent to about 0.65% of the country's GDP.
Such losses could be circumvented, if effective early detection is made possible, says Koh. Which is why Blinkware's technology is being expanded to unearth lung-related issues and in the long run, it hopes to expand into using AI to assist medical professionals with their diagnoses of other NCDs as well.
"The X-ray technology that we use now isn't very proactive. People only find out if they have a lung problem when they go in for a thorough check-up and that too when their ailment is really bad. And, by then, it's too late.
"Now that we are almost at the end of Covid-19 [as vaccines are underway], we started looking at whether we could address other issues to do with the lungs, the heart and other organs. We are also developing the technology to detect other NCDs. We are looking at adding 15 NCDs to our system right now.
"It is web-based API technology, which makes it easy to integrate and roll out to all hospitals and clinics nationwide. You don't need any additional hardware at all. All you need is your laptop and an internet connection. So, all the processing and storage is actually done on our server," he says.
With Airre Scan, anyone can just go to a local clinic and get a chest X-ray done, and with the aid of the AI, the medical professional will be able to easily identify potential diseases such as tuberculosis and pneumonia, and schedule follow-up tests.
This is especially cost effective for employers who hire a large number of foreign workers. Koh hopes the data derived from these tests will eventually be good enough for the Foreign Workers' Medical Examination approvals.
"For foreign workers, especially those in factories, they will have to get the full test done and some documentation to go back to work.
"Our main customers are actually factory owners, who have put in a lot of resources to keep their operations running. So, when they have to undertake mass testing for Covid-19, it is much cheaper and easier to isolate. For example, if only 50 out of 2,000 of those tested show any indication of symptoms, they can be isolated and quarantined while the rest can get back to work," says Koh.
Blinkware is also working on getting its AI-powered thermal camera wearable device — which would take digital contact tracing to the next level — to market.
Even under the best of circumstances, the contact tracing process can be difficult, time-consuming, labour-intensive, and sometimes invasive as it requires rigorous, methodical execution and follow-up, Koh points out.
So, Blinkware's answer to the problem is Airre Sense, a spectacle-like device attached to a highly sensitive thermal scanner, which can be used for mass identification of individuals with potential Covid-19 symptoms.
The idea was derived from its existing 2D inspection technology, which is being modified in the form of a spectacle-like scanner to measure body temperature.
With this, security personnel will be able to single out those with high body temperatures in highly populated locations such as places of worship and transport hubs. Once detected, the AI software will snap a photo of the individual and it will be sent to the personnel's phone to enable contact tracing.
"Right now, most people aren't even stopping to have their temperatures taken. This will resolve the problem as the device is coupled with a highly accurate Korean-made thermal scanner," he says.
Just like Airre Scan, Koh says this scanner is being developed for future use, and not just Covid-19 detection.
"In future, manufacturers won't need one big inspection system on the conveyor belt. All they will need is to equip their workers with Airre Sense eyewear. The wearer just needs to look at the product to have [his temperature] scanned, and if there is a defect, it will beep and the data will be sent to an app on [the manufacturer's] phone.
"We are progressing forward in terms of usability. We are also advancing the technology for surveillance such as for facial recognition, which can be useful to enforcement personnel in identifying criminals," he says.
This technology, which is being deve­loped in partnership with Notion Venture Sdn Bhd — the investment arm of Notion VTec Bhd — is being presented to government agencies as well as companies locally and abroad, says Koh.
"We were one of those companies that had the ability to pivot very fast in the time of a pandemic. And, so we are pushing ourselves to see what is relevant, post-pandemic. We hope that with this kind of technology, we can adopt more automation and use our human resources more effectively," he says.