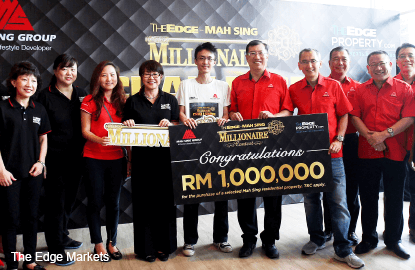 BANGI: Most people would need at least a few years — if not more than 10 years, to save up enough to buy their first home — but Brian Lim Choon Wah will now be able to instantly own his first home, thanks to The Edge-Mah Sing Millionaire Contest.
"It would have taken me many years to save money to buy my own house, if not for this competition," he told the digitaledge DAILY after overcoming the last challenge to become the winner on Saturday.
The agile and quick-thinking Brian defeated 20 other finalists to win the grand prize — a RM1 million cash voucher to purchase a Mah Sing residential property in Malaysia.
"This is the greatest day of my life. I never expected to win the competition," said the 32-year-old IT project manager.
The newly-minted millionaire shouted in excitement and hugged his family members moments after he knocked down the last box in the "sandbag throw" final challenge to clinch the top prize.
His parents — Danny Lim and Lily Yoong — and his younger sister Crystal Lim accompanied him to the competition.
They were all very excited about his success and proud of his achievement.
Brian said he was so nervous he couldn't sleep well the night before the event.
"I only slept around three hours last night [because I kept] thinking about what kind of challenges I may face today (Saturday)," he explained.
In The Edge-Mah Sing Millionaire grand finale — which took place at the Southville City @ KL South sales gallery — the 21 lucky finalists went through four rounds of elimination contests, with five finalists in the last round.
Brian wasn't the fastest among them, and although he was initially calm he rethought his strategy. "When I found that being calm didn't work to increase my speed, I decided to adopt a more proactive strategy and it worked," he explained.
Brian and another finalist, Hong Lih Chun, were neck and neck at the last challenge, which entailed tossing sandbags to topple a pyramid of cardboard boxes.
According to Brian, his mind went blank during that time and he couldn't think of any strategies except to just throw the sandbags he had.
When he knocked off the last box on the table, he was shocked and could only stand there in disbelief, he said.
Till the moment he received the RM1 million cash voucher from Mah Sing Group Bhd chief executive officer Ng Chai Yong, he still could not believe that he had become a millionaire.
Ng said the young winner is now part of Mah Sing's history as he is a new millionaire under this historic collaboration between the company and The Edge Media Group.
He added that as the company has a diversified range of residential products, the grand-prize winner is now faced with a very good problem — choosing a property he wants.
"But more importantly, I think what we've achieved here is to make a person's dream come true, and that is what Mah Sing aims to deliver through its properties as a premier lifestyle developer," he added.
Meanwhile, The Edge Communications Sdn Bhd and The Edge Property managing director Au Foong Yee said she is very happy as the competition has helped the lucky winner to own his dream home.
She noted that it is not every day that one comes across a contest with a RM1 million prize voucher that must be given away.
"[Aug 22] marks a very special occasion for both Mah Sing and The Edge Media Group as the two companies joined hands to introduce a brand-new millionaire in Malaysia," she said during the prize-presentation ceremony.
The Edge-Mah Sing Millionaire Contest was opened from June 20 to July 31. The online contest received overwhelming response from the public as participants stood a chance to win a RM1 million prize voucher to purchase any Mah Sing residential property in Malaysia.
When asked which type of property he preferred, Brian shortlisted some properties in the Klang Valley, Penang and Sabah. However, he is not in a rush to make his decision.
He has two months to purchase any Mah Sing Group residential property, with an option to extend the period by one month.
Among some of Mah Sing's million-ringgit properties are Icon Residence, Mont'Kiara in Kuala Lumpur; [email protected] Residence in Cyberjaya; [email protected] Residence in Puchong; Icon City in Petaling Jaya; The [email protected] City in Penang; The [email protected] Avenue in Sabah; and The [email protected] in Johor.
This article first appeared in digitaledge Daily, on August 24, 2015.