This article first appeared in The Edge Malaysia Weekly, on November 13, 2017 - November 19, 2017.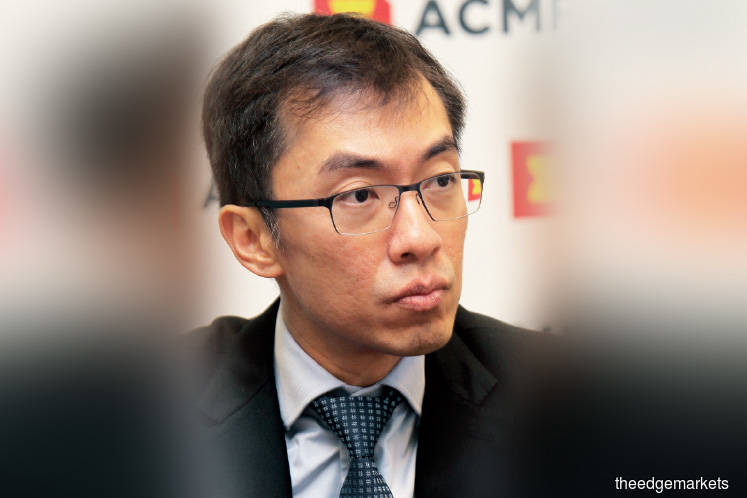 ASIAN Infrastructure Investment Bank (AIIB) welcomes partnerships with private investors, developers and banks to bridge the infrastructure investment gap in Asia, which currently stands at about US$800 billion (RM3.3 trillion) a year.
These partnerships will involve the co-financing of loans and equity investments with AIIB, says Dr Thia Jang Ping, a senior economist at the multilateral financial institution.
"Asia requires US$1.7 trillion a year for infrastructure development. As at 2015, the investment was about US$900 billion a year. The gap is very wide.
"Some of the countries face fiscal deficits, and some also have high borrowings. So, either way, they are constrained from investing further in infrastructure. These countries will have to rely on multilateral financing and private sector mobilisation," he remarks.
Speaking to The Edge before the recent Asean Capital Markets Forum in Kuala Lumpur, Thia says there are three sources that countries can tap to fund their infrastructure investments.
The first is internally whereby the countries must undertake reforms in fiscal spending and management as well as economic policy, and prioritise infrastructure financing.
The second is multilateral financial institutions, such as AIIB.
"The third source is private capital. Frankly, you need all three sources to work at their optimal level before you can actually bridge the gap in infrastructure development and investment," says Thia.
AIIB was launched on Jan 16 last year by China President Xi Jinping in Beijing. It has an authorised capital of US$100 billion. To date, it has approved financing for US$3.5 billion worth of infrastructure projects across the world, mainly in developing Asia.
One of the approved projects is the National Slum Upgrading Project in Indonesia. It is being co-financed by the World Bank, with each multilateral institution providing US$216.5 million.
AIIB is also financing a greenfield 225mw combined cycle gas turbine power plant in the Mandalay Region of Myanmar with a US$20 million loan, while a US$500 million flood management project in Metro Manila is being financed in partnership with the World Bank.
AIIB has yet to finance projects in Malaysia, says Thia. This is because the country has been able to finance its own infrastructure developments, thanks to its deep capital market and mature infrastructure financing regulatory framework, he adds.
"If you look at Malaysia's infrastructure, it is actually not bad compared with that in many parts of Asia," Thia remarks.
In contrast, a number of countries in the region are still incapable of financing their infrastructure investments on their own, partly due to their fiscal constraints and tight regulation of long-term public funds to invest in capital market instruments, such as infrastructure bonds.
Nevertheless, Thia reveals that a project in Malaysia's transport sector is being considered by AIIB for co-financing, together with its sponsors. However, he did not divulge the name of the project.
So, what are the infrastructure developments that AIIB gives priority to? Thia says the organisation looks at three major themes when considering an investment proposal — sustainability, cross-border connectivity and private-sector mobilisation.
"We look for projects that are green and sustainable from an environmental standpoint. The second priority is cross-border connectivity. These can be roads, pipelines, energy transmissions … projects that tend to require policy and implementation coordination between countries.
"The third is a project that can bring in private capital. The infrastructure investment gap in Asia is very wide. There is no way one bank or a single institution can completely close the gap," Thia explains.
Experts believe that the Kuala Lumpur-Singapore high-speed rail (HSR) project would be a prime candidate for an AIIB co-financing programme, given that it meets the bank's three criteria.
AIIB not a Belt and Road Initiative bank
In 2013, when Xi officially launched the AIIB initiative during a state visit to Indonesia, the assumption was that the bank would be a conduit for China to increase its economic clout in Asia.
That year, China's pivot to the world economy started when Xi launched the Silk Road Economic Belt and 21st Century Maritime Silk Road, now known as the Belt and Road Initiative (BRI).
Malaysia has seen sizeable investments from the Asian giant. Chinese property developers are a major force in property development. Chinese construction giants are also involved in the East Coast Rail Line, the upgrading of Kuantan Port and the establishment of the Malaysia-China Kuantan Industrial Park.
Will AIIB play a significant role in the financing of these and other similar projects?
"AIIB is not a policy bank. Nevertheless, many of our member countries are part of the BRI initiative. AIIB will consider each project on its own merits, so we will support some of these projects if they are meritorious.
"We look for economic viability, environmental sustainability and social acceptance — the project must be one that the country accepts as being good for its development," Thia says.
AIIB is ready to play its role in project financing. To bridge the infrastructure bill gap, there has to be coordination between the bank, project sponsors and private capital providers, says Thia.