This article first appeared in The Edge Malaysia Weekly, on December 13, 2021 - December 19, 2021.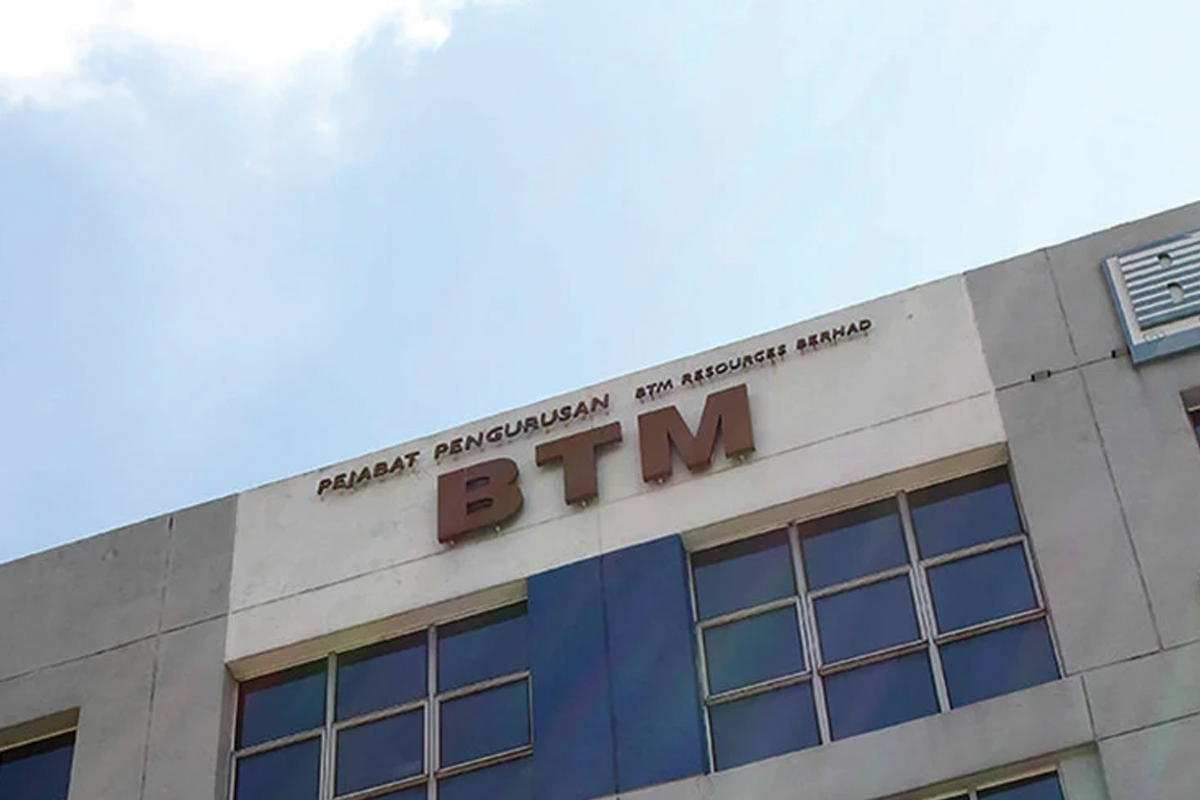 TERENGGANU-BASED wood processing firm BTM Resources Bhd has been producing and exporting high-density biomass wood pellets to South Korea and Japan since 2017.
Notably, Korea South-East Power Co Ltd (KOEN) — one of the largest power plant operators in South Korea with a total installed capacity of 9,000mw — has been among BTM's biggest clients for its wood pellet business over the past four years.
Interestingly, it was KOEN's success in converting its source of fuel for energy production in South Korea that prompted BTM to also explore the possibility of a new business venture into the renewable energy (RE) sector in 2019.
In mid-last year, BTM secured the quota and approval from the Sustainable Energy Development Authority (SEDA) to construct a 10mw biomass RE power plant in Teluk Kalong, Chukai, Terengganu, which is slated for commissioning in 2023.
According to executive director Datuk Woo Thin Choy, once the RE plant is commissioned, BTM will be transformed into an environmental, social and governance (ESG) compliant company.
"Nowadays, given the importance of ESG compliance, it makes sense for BTM to move in the direction of clean energy. In fact, our group has been involved in the green business since 2017, albeit in a smaller and indirect manner. We produce biomass wood pellets that are derived from compacting and processing wood waste," he tells The Edge in an interview.
BTM has been loss-making since the financial year ended Dec 31, 2017 (FY2017). In 9MFY2021, its net loss widened by 61% to RM4.97 million compared with RM3.08 million a year ago on higher overhead costs from its manufacturing operations.
Currently, the group's core businesses include kiln-drying and production of moulding and of timber finger joints, which are subsets of the wood processing industry, in addition to the manufacture of biomass wood pellets.
BTM has six wood pellet production lines with a combined production capacity of 10,000 tonnes per month. The current utilisation rate is at 3,000 tonnes per month, with plans to increase to 6,000 tonnes in 2022.
Wood pellets are the preferred fuel in South Korea due to their high density and low moisture content, which contribute to a high combustion efficiency of the fuel. The chemical properties of the fuel are also readily standardised in the manufacturing process to ensure that the highest thermal efficiencies are achieved in a consistent manner.
Nonetheless, the group is expecting the biomass RE business to be the new core business, where it will be utilising wood pellets and wood wastage as the fuel source to generate electricity.
"This is very different to the plantation companies that construct biomass power plants to generate energy using EFB [empty fruit bunches] for consumption by the palm oil mills. In fact, BTM will be among the few players in the country that generate RE, using wood waste, to be supplied to the national electricity grid," Woo says.
He notes that biomass is a sustainable RE source for the future, not only in Malaysia but the whole world, as many advanced countries are trying to convert their coal-fired power plants to RE plants, be they hydro, solar or biomass.
For instance, KOEN has been purchasing BTM's pellets to partially replace the use of coal in a bid to convert their smaller coal-fired plants into biomass energy plants.
"Their demand is so large that it continuously exceeds our production capacity, despite repeated efforts to increase the utilisation rate of our existing manufacturing facilities," Woo says.
He adds that one of the most crucial factors for the success of RE plant owners is the off-taker.
"In our case, the purchaser is Tenaga Nasional Bhd (TNB). Unlike typical sales-driven businesses, we don't need to carry bags and catalogues around to ask people to buy the electricity we produce; nor do we have to worry about terms of payments and all that," he explains.
Woo also points out that BTM major shareholder and group managing director Datuk Seri Yong Tu Sang has been involved in the local timber industry for over 60 years while remaining one of the most established timber merchants in Terengganu and Malaysia.
"Given his comprehensive experience, and with BTM's historical expertise in the wood processing business, venturing into biomass RE forms a natural extension of the group's existing business activities," he says.
Ample supply of raw materials
Yong thinks BTM's venture into RE poses less risk than initial impressions may convey, as the group has ample supply of timber and wood wastage.
"Other companies could face more difficult challenges in venturing into wood-based RE plants due their capital-intensive nature, derived from the necessity in securing sufficient wood waste supply for 20 years," he tells The Edge.
Yong, who owned a 25.82% stake in BTM as at May 11, says the wood waste will be transported to the power plant using the group's existing fleet of vehicles.
Upon delivery, the wood waste will be processed into wood chips, then moved into storage facilities, ready for automatic transport into the fuel feeding line for the usage of the power plant.
Meanwhile, sawdust — the by-product from the processing of wood waste into wood chips — can be gathered and further utilised for the production of wood pellets, ready for export to South Korea.
"From logging to the production of timber products, export of wood pellets and finally RE power plants, the effective yield from the timber production lines will be maximised by ensuring that all wood waste is reused to displace fossil fuels from the energy production sector, whether it be locally, or an international scale," Yong says.
In November last year, BTM appointed Samaiden Group Bhd to undertake the engineering, procurement, construction and commissioning (EPCC) works of its Chukai biomass RE power plant for a contract sum of RM115 million.
Yong says BTM's venture into RE is supported financially by MBSB Bank Bhd via a credit facility of over RM90 million.  It plans to go to the equity market if it needs more capital.
"Conservatively, we estimate that the 10mw plant will contribute an annual revenue of about RM30 million from 2023 onwards. Concurrently, we also plan to secure approval for an additional two or three more RE projects in Terengganu, as we plan to increase our total RE production capacity to 30mw by 2026," he reveals.
As at Sept 30, 2021, BTM's balance sheet showed that it held RM1.29 million in cash while its borrowings totalled RM698,000, resulting in a net cash position of RM595,000. It had raised RM2.98 million in a private placement that was completed in June this year.
Going forward, Yong says, BTM might even venture into becoming an EPCC player to undertake biomass projects for RE developers. Furthermore, the group will also consider other types of RE plants such as solar, biogas and hydro power. "However, our focus is on biomass for now. It is imperative that we learn to walk before running," he cautions.
Shares of BTM have declined 46% year to date to close at 16 sen last Thursday, giving it a market capitalisation of RM26.56 million.
Woo hopes BTM's growth story in the RE sector as well as the stock's relatively low-entry price point will convince investors to invest in the company's shares.
"Our two existing businesses, namely the wood processing sector and export of wood pellets, will continue to generate stable annual profits. Yes, BTM is a penny stock now, and our market capitalisation is still small, but that also means our potential for growth is much higher," he says.
While Woo concedes that any investment possesses some form of inherent risk, he argues that in BTM's case, the risk is limited.
"We have a guaranteed off-taker in TNB, the project's financing is secured via MBSB Bank, our major shareholder is a prominent timber merchant with decades of comprehensive experience and, more importantly, RE is the business of the future," he says.