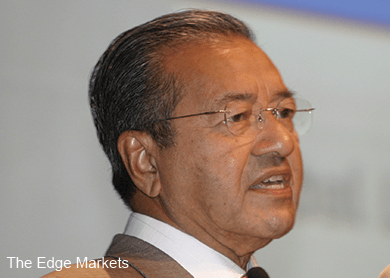 (May 8): Former prime minister Tun Dr Mahathir Mohamad wants the purchase of land by Lembaga Tabung Haji from debt-ridden 1Malaysia Development Berhad (1MDB) to be called off immediately.
Describing the deal as a bailout, he wrote in his blog today that the money of Tabung Haji contributors was being used to rescue 1MDB.
"Is this how Tabung Haji uses public money entrusted to it?
"Contributors hope for their money with Tabung Haji would be managed for their good but the money is being used to rescue 1MDB which has lost billions of ringgit," he wrote.
Tabung Haji, a savings fund for Muslims planning pilgrimages to Mecca, yesterday said it had bought a parcel of land from the state investment vehicle's Tun Razak Exchange (TRX) project for RM188.5 million, which it claimed was a "discounted" price.
It planned to build a residential tower at the site.
"The investment is a commercial decision which fits with Tabung Haji's risk appetite and went through all internal process accordingly," Tabung Haji chief executive officer Datuk Johan Abdullah said in a statement immediately after news of the controversial purchase was posted on a blog.
Dr Mahathir said the money from Tabung Haji was from depositors and the fund was entrusted to handle the money well.
"This money does not belong to Tabung Haji," he said, deeming it "saddening" that the money was used to "bailout" 1MDB.
He added that the price Tabung Haji paid for one-and-a-half acres of land in TRX was almost the same as when 1MDB paid RM 194.1 million to Putrajaya to obtain 70 acres of land for the TRX project previously.
"1MDB would reap huge profits. Originally, this land was supposed to be used to develop a Bumiputera trading centre. But 1MDB had set aside this project," he said. – The Malaysian Insider