This article first appeared in The Edge Financial Daily, on May 23, 2018.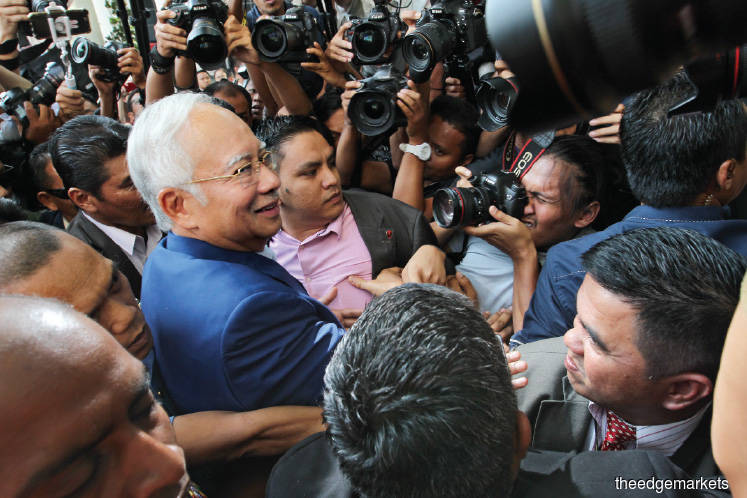 KUALA LUMPUR: It was an emotionally charged moment when the newly appointed chief commissioner of the Malaysian Anti-Corruption Commission (MACC), Datuk Seri Mohd Shukri Abdull, revealed details of his investigative journey into the 1Malaysia Development Bhd (1MDB) scandal.
Below is the full transcript of Mohd Shukri's story:
I want to tell you about my experience of investigating the SRC International Sdn Bhd and 1MDB cases. Before I proceed with my experience of investigating SRC International and 1MDB's RM2.6 billion case, let me start with my appointment.
On May 14, I was called by the Prime Minister's Office (PMO) to meet the PM (Tun Dr Mahathir Mohamad) at around 10.30am. When I got to the Yayasan Keprihatinan Perdana [building], Datuk Seri Mustafar Ali and Datuk Shabudin Yahaya were also there.
Frankly speaking, I did not want to accept the offer. We discussed it among ourselves and Datuk Seri Mustafar and Datuk Shabudin also did not want to accept it.
I had retired and was happy living as a retiree. It was a dream life, playing with my very cute granddaughter, whom I love very much, everyday.
We met the PM one by one. At first, I planned to tell Tun M I could not accept this offer because I felt happy with retirement and I think I'm old.
I was the first person who was called in. When I entered, Tun M asked me: "Do you accept my offer? If yes, tomorrow (last Tuesday) you will start."
When he said that, my initial plan to reject the offer was done with. There is no reason to say no when he is older than you and he retired earlier than you. So, I started thinking of how to give an appropriate answer.
When dealing with Tun M, you can hardly say no. You are looking at a 92-year-old man still working for the nation, so I, who is so much younger, could not say no, right?
So, I said: "Tun M, I accept the job but on one condition: I come back to finish my unfinished business."
If you ask me whether or not I am happy to accept this offer, frankly speaking, I'm not. But I take this as the responsibility for the country because my experience in the case of SRC International and 1MDB is very scary.
I almost died handling this case (SRC International and 1MDB), to the extent that I was afraid to come back to work. But when I look at the spirit of Tun M, I still want to work for the country. I'm brave enough to take this responsibility.
When [former MACC chief] Tan Sri Abu Kassim [Mohamed] asked me to start investigating the case of SRC International, he told me: "Shukri, you open the file and investigate the case of RM42 million that was deposited into the [now former] prime minister's account."
At that time, it was either we take action on the prime minister or he takes action against us. Abu Kassim said there should be no problem if we do it for our nation.
We faced great pressure as our witnesses were taken away. At times, other agencies questioned them on what they revealed to the MACC.
I was threatened with being fired, asked to retire, asked to go on early leave, and threatened to be pulled into the training section. But during that time, I was supported by Abu Kassim, whom I must thank for standing behind me.
He said: "Whatever happens, I (Abu Kassim) and Shukri will defend this case." Abu Kassim said: "If you want to get rid of it, throw both of us out." I was very happy during that time because I had support from him.
In the last few months of my investigation, I went to meet with [former attorney-general (AG)] Tan Sri Abdul Gani Patail; it was on Monday. He was sacked [the following day] on Tuesday, if I'm not mistaken.
Abdul Gani asked me: "Are you ready? Because on Wednesday, we are going to investigate the case." I said to him: "Yes, I'm ready and on standby."
One day before the MACC was about to take action against [Datuk Seri] Najib [Razak], Abdul Gani was removed from office as the AG.
After he was removed, I found out that I would be arrested and jailed for alleged conspiracy to bring down the government.
Who am I? I am an MACC officer and would not overthrow the government. What kind of power do I have to overthrow the government, right?
I got information from my closest friends too, that I would be arrested. So I departed for Washington DC, while making it viral at the same time that I was going to Saudi Arabia. [This caused] the authorities to "red-alert" me in Jeddah.
If I had gone to Jeddah, I would be arrested in Jeddah. Though when I went to Washington DC, I was followed by certain individuals there.
They took pictures and followed me, [while] my US team took pictures and handed over to me and I sent [them] back to [deputy chief commissioner (operations)] Datuk Seri Azam Baki.
I told a senior officer at the MACC to tell the then IGP (inspector-general of police) to send a better spy because my team was following him [instead of] him following me.
I was not safe in Washington DC, so I escaped to New York by train. In New York, I went to the New York Police Department (NYPD) and by chance there was a friend of mine who once served in Singapore. So, I was protected about a week later by the NYPD and I was given three bodyguards.
After I felt the situation was safe again, I returned to Washington DC, where I received news saying that my officers had been arrested and two senior officers had been transferred to the PMO, namely Datuk Bahri Mohd Zin and Datuk Rohaizad Yaakob.
For your information, Bahri has returned to the MACC and is placed in his old position known as the special operations section. I did not ask him to come back but he met Tun M, who sent him back. I did not influence Tun M and I was not aware that Tun M called him.
When I was in Washington DC, I cried like a child because I loved the MACC. I felt guilty that at a time my officers were arrested and transferred, I ran to the US.
Abu Kassim and I were fighting for the country, to get back the money that was stolen from the citizens of Malaysia. We wanted to help to return the money, but we were both accused of conspiring [against the country] and of being traitors. When I was in Washington DC and thinking of what I should do, I no longer thought of myself but of the MACC and of my officers.
So I sent WhatsApp messages to two ministers [in the prime minister's department] — Datuk Seri Shahidan Kassim and Datuk Paul Low [Seng Kuan]. I told them, I threatened them, saying: "Please return my officers as soon as possible. If you don't return [them], when I return to Malaysia I will use my power under the law to expose what has happened." That was what I wrote to Low and Shahidan.
I was willing to go that extent because I truly love the country and praise God, Shahidan said: "Brother, don't you do anything; let me settle [it]. I promise to send your officers back to you. Please respond." He [also] said: "Please calm down, I will do my best to return your officers."
I told him: "I don't want to hear your promise because for politicians, a promise is [just a] promise. I want you to return my officers immediately. Because if you don't, when I return, I will use my power to arrest those who are responsible for issuing the transfer letter, because I classify it as an abuse of power that obstructed the MACC's investigation."
I knew. I knew what the consequences I would face were. I knew I would be thrown out, I would be arrested, I would be harmed, but at that time, I forgot about everything else because I was acting for the country.
When I met with the chief secretary to the government, on the same day, he returned two of my officers. We did not stop there.
Despite the threats I received, Abu Kassim and I never gave up. Both of us met with several ministers because we wanted to convince them that the case of the RM2.6 billion and RM42 million from SRC International was real and not made up. "Please!" I told the ministers, "Please throw this man out. Throw out this corrupt man. Replace him with someone else who loves this country."
We pleaded with them to throw Najib out [and to] replace him with Datuk Seri [Dr Ahmad] Zahid [Hamidi] or Datuk Seri Hishammuddin [Hussein], people who have integrity to become the PM.
Of the many ministers we met, only three of them were brave enough to speak out; they were Tan Sri Muhyiddin Yassin, Datuk Seri Mohd Shafie Apdal and Datuk Seri Ahmad Husni Mohamad Hanadzlah. Everyone else was scared to take action.
I told the ministers before I did not want any favour. I did not ask for money or positions. I was speaking the truth so we could correct the situation before it was too late.
Because this [case of] RM2.6 billion was not made up. This was a true story! And the case was too big to be protected. It cannot be protected.
So seeing as how both our efforts were unsuccessful up to that point, Abu Kassim and I took the initiative to meet twice with the Council of Rulers.
I said [to them]: "Please, Tuanku, look at this — if you truly love the country the same as us, listen to what we are saying." But we were disappointed.
In the last few months of our tenure, we worked hard to install Mustafar as MACC chief commissioner. But in the preceding months, we heard rumours that Tan Sri Dzulkifli Ahmad would be put in the top post of the MACC.
We worked very hard to convince the chief secretary to put Mustafar in the post. I was leaving [the MACC] by October at that time. But in early July, it was confirmed that Dzulkifli would be appointed and Abu Kassim would be transferred to UITM.
When I saw that Dzulkifli would be appointed in August and I would be leaving in October, I was unwilling to work under him because I saw him as a traitor to the country.
As a deputy public prosecutor, he should strengthen cases instead of protecting wrongdoers. He was supposed to look into cases and advise the MACC on what other facts could be collected to strengthen the case. When he came here and was appointed as my leader, this [to me] was a huge betrayal. I did not want to work under him, which was why I decided to retire early.
I went for an Arabic-language course at UKM just to leave the MACC. In that process, there was a member of parliament — I won't say who, but he is from the north — who said to me: "Please, stop the questioning. What do you want?"
The first time he asked me what I wanted, I told him I only wanted one thing: "Don't interfere with my investigation. Let us finish with the investigation, send it to the AG and let the AG decide."
He wasn't satisfied. He came a second time, saying: "Please, cease your investigation, what do you want?" I told him: "If you speak once more, I will arrest you immediately." This is a parliamentarian known for saying "cash is king". Then he said "okay, okay" [and backed off].
What saddens me the most is that Abu Kassim and I were accused of being traitors and conspiring to bring about the downfall of this country when we fought the hardest because of how much we love the country. We wanted to bring back the money, and the US had already promised to return the money — but even that got us accused of being traitors.
That was an insult that I bore. There was a lot more that I had to sacrifice. I did not tell any of my family or my officers because I was afraid that they themselves would become afraid and demoralised. I kept everything to myself. When I received a bullet in the mail, I did not even make a police report because there might be no follow-up.
I kept it all in until a point when I could tell all, and today (yesterday) Allah has given me the opportunity to tell this story. You may be asking why I was silent, and why I didn't stand up and speak out like others. Datuk Bahri (former MACC special operations division director) said: "Please! Stand up, speak up, it doesn't matter if we are arrested or charged under the Official Secrets Act." I said we are not going to succeed that way. The day we speak up and are arrested, Malaysians will easily forget.
We have to be more strategic so that what we know we can deliver to the rakyat. One year, I delivered what I had in an isolated manner and through WhatsApp groups. And I know that [of] the thousands of messages I've sent, thousands have received them.
Whenever I meet people, I tell them, and I feel this is more effective than speaking openly and risking arrest.
It made it easier for people to understand what the RM2.6 billion was about. It seemed like it was made up. Who would give RM2.6 billion away? If it was RM2.6 million that was given, it might still be believable. But RM2.6 billion — I cannot believe there is any leader in the world who could find someone so generous as to give them that. It was too big.