This article first appeared in Enterprise, The Edge Malaysia Weekly, on February 11, 2019 - February 17, 2019.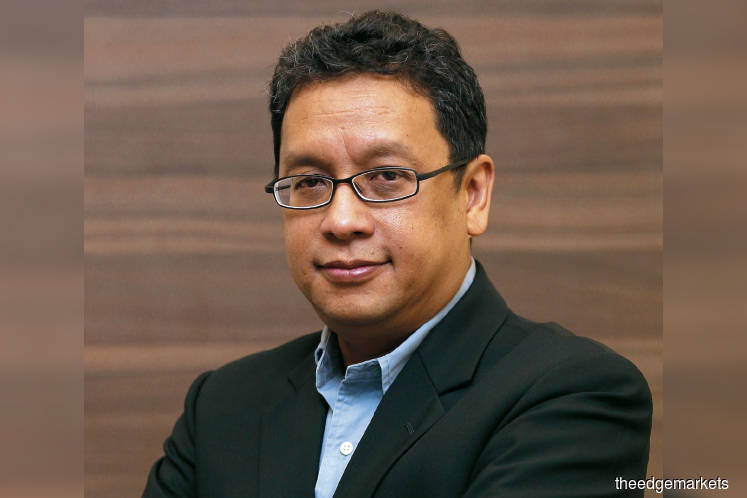 The previous government may have come under fire for many things, but one thing it did right was to create Collaborative Research in Engineering, Science and Technology (Crest). The quasi-government body — which helps bring together industry, academia and the government — has managed to achieve much, even with the scarce resources it was allocated.
One of the key reasons for its success is its CEO, Jaffri Ibrahim, a veteran of the technology and tech-funding sectors, who has worked patiently to set up the collaborations, overcome great resistance (especially from some of the academic institutions) and entrench Crest in Penang's electrical and electronics (E&E) sector. He has established such good relationships that most industry players, busy as they are, are just a phone call away.
Although Crest was set up to only deal with local institutions, Jaffri quickly saw that it would not meet its full potential that way. That is why it worked to set up collaborations with reputable foreign universities such as the University of Calfornia, Santa Barbara, where it facilitated the collaboration with local unviersities for the development of blue light emitting diodes, one of its greatest wins.
Crest was also instrumental in getting Dr Nayyar Hussain — the inventor of the Stethee, an artificial intelligence-powered and Bluetooth-connected stethoscope — to manufacture the device in Malaysia.
"We work with people who can do things, people who are on the ground, who understand the issues and want to do something about it. Our role is to give these guys a voice, along with all the other stakeholders — government, industry and academia," says Jaffri.
When Crest was set up, there were some challenges in bringing industry and academia together as they did not always see eye to eye, or even speak the same language. Jaffri and his team were constantly baffled by the resistance of some local universities to doing applied research that would actually be of use to industry. But by and by, they ironed out the wrinkles and, as he once said, "Our enemies became our friends".
Jaffri says Crest has been industry-led from the outset. "We have never been under any ministry. It is a company limited by guarantee. And we are only responsible to our board.
"Our board representation is the triple helix of government, industry and academia. What is interesting is that the majority of our board comes from industry — in fact, six out of the 11 members. Four are from government agencies and one is from academia."
Despite this, Crest continues to be funded by the government. It was funded by the Economic Planning Unit (EPU) via the Northern Corridor Implementation Authority (NCIA). "It was the EPU that basically sponsored Crest. But because we were set up in Penang, the money was channelled through the NCIA since that was the closest agency that could monitor what we do in Penang. But now that Crest has become more national, doing more work in the Klang Valley, Johor and on the east coast, it makes sense to have our funding chanelled through the Ministry of International Trade and Industry (Miti)," says Jaffri.
Basically, other than the agency dispensing its funding, the change in administration has not affected Crest. "Crest has not changed since the new government took over, not even a bit. Because we are so ground level and working with industry, we are not so embroiled in any changes from a stakeholder standpoint," he says.
Crest has always been associated with Penang because the state is the E&E hub of Malaysia. But, as Jaffri points out, it also has an office at the Malaysian Investment Development Authority in Kuala Lumpur. "We are planning to set up an office in Johor, but we have not received the go-ahead yet," he says.
Will Crest be hiring more staff for the Johor office? "No, we are planning to use the same team to drive the initiatives in the state. Because we are a collaborative model, we will probably come in and organise events and initiatives. But the location is for the Johor crowd, to have discussions, to have an office, to have events and training and so on," says Jaffri.
He adds that Crest will also be setting up something like an incubator space there. "Companies with the same DNA as Crest can relocate to this office. They will have to pay rent, but it will be slightly subsidised by Crest."
Jaffri says the Johor office will be slightly different from the one in Penang as the two states have different strengths. "I think Johor has been a manufacturing hub for the country but for different things, such as furniture. It is a prime opportunity for our industry to go in the direction of Industry 4.0. Have the companies there considered automation, robotics and artificial intelligence (AI)?"
In the Klang Valley, the focus is on healthcare innovation. "We have just signed a memorandum of understanding with the Ministry of Health. Basically, we are partnering the ministry as its innovation partner. I think the ministry's director-general has a very compelling vision with regards to healthcare in the country," says Jaffri.
"Rather than develop expensive hospitals that people cannot afford to go to for healthcare, what they should do is use technology to enable people to take control of their lives through wearables and other devices such as the Stethee.
"Basically, he is looking at 'uber-ising' healthcare in Malaysia, where instead of having government-employed doctors, the doctors are free agents. So, qualified doctors, enabled by devices, can provide their services directly to the rakyat, who can book these services using an app.
"You book the doctor's services and he or she drives to your house with as much equipment as required and provides whatever services you require. It is going back to those days when doctors used to do house visits and would know you, your grandfather, your children and so on. So, it is not only about empowering the people but also empowering doctors."
Jaffri is determined to take the Crest model around the country. He wants to see how the existing parts of its network can contribute to the different sectors in Malaysia.
"We want to understand how the technology community, the E&E community, can contribute to the different parts and sectors of the country. In the healthcare sector, for instance, we managed to connect them so that the guys in the E&E sector know how they can participate. We would also like to establish that in Johor so that the guys in electronics and AI can help the manufacturing sector there," says Jaffri.
He adds that Crest has already started talking to the Sabah government, which has sent 25 people to study the model so that it can be replicated in the state. "But what we are trying to tell them is, rather than replicate it, why don't we help them? What is it that we can do in Sabah to really help the state? One obvious area is using tech to help in precision farming.
"The other is the petroleum industry. Right now, they have a location but not much collaboration. So, they want to see how they can bring in researchers, technologists and so on to help."
The third area is tourism, which is huge in Sabah. "Here we can look at how to use wearables and IoT to help make Sabah an even more attractive place for tourists," says Jaffri.
He points out that Sabah has big plans, but one of the biggest hindrances to progress is the high cost of electricity. "How can tech help to bring down the cost?"
Crest will be seven this year and it has proven that its model of collaboration between industry, academia and the government is one that works. It is finally receiving acknowledgement and encouragement from the rest of the country. In fact, when the new government took over and the various departments had to make their case for survival at the EPU, Crest's presentation was just a matter of form. The new administration already knew of the good work it had been doing and the question was simply which ministry to put it under.
Jaffri argued for independence. He did not want Crest to be placed under any ministry so there would be no turf war and he could work with whichever ministry was relevant, depending on what it was doing at the time. The collaboration with the Ministry of Health was a case in point. This would have been more difficult if Crest had been placed under, say, Miti or the Ministry of Entrepreneur Development.
"I think people have seen the potential of Crest. People are starting to realise that it can be an outlet for them to tap — basically, to get everybody to collaborate and move forward until it becomes second nature," says Jaffri.
"That is my measure of success. When we are no longer needed to facilitate collaborations. When everybody can collaborate and work together. When Crest does not have to be there to push all this, we will have succeeded."