This article first appeared in The Edge Malaysia Weekly, on September 30, 2019 - October 06, 2019.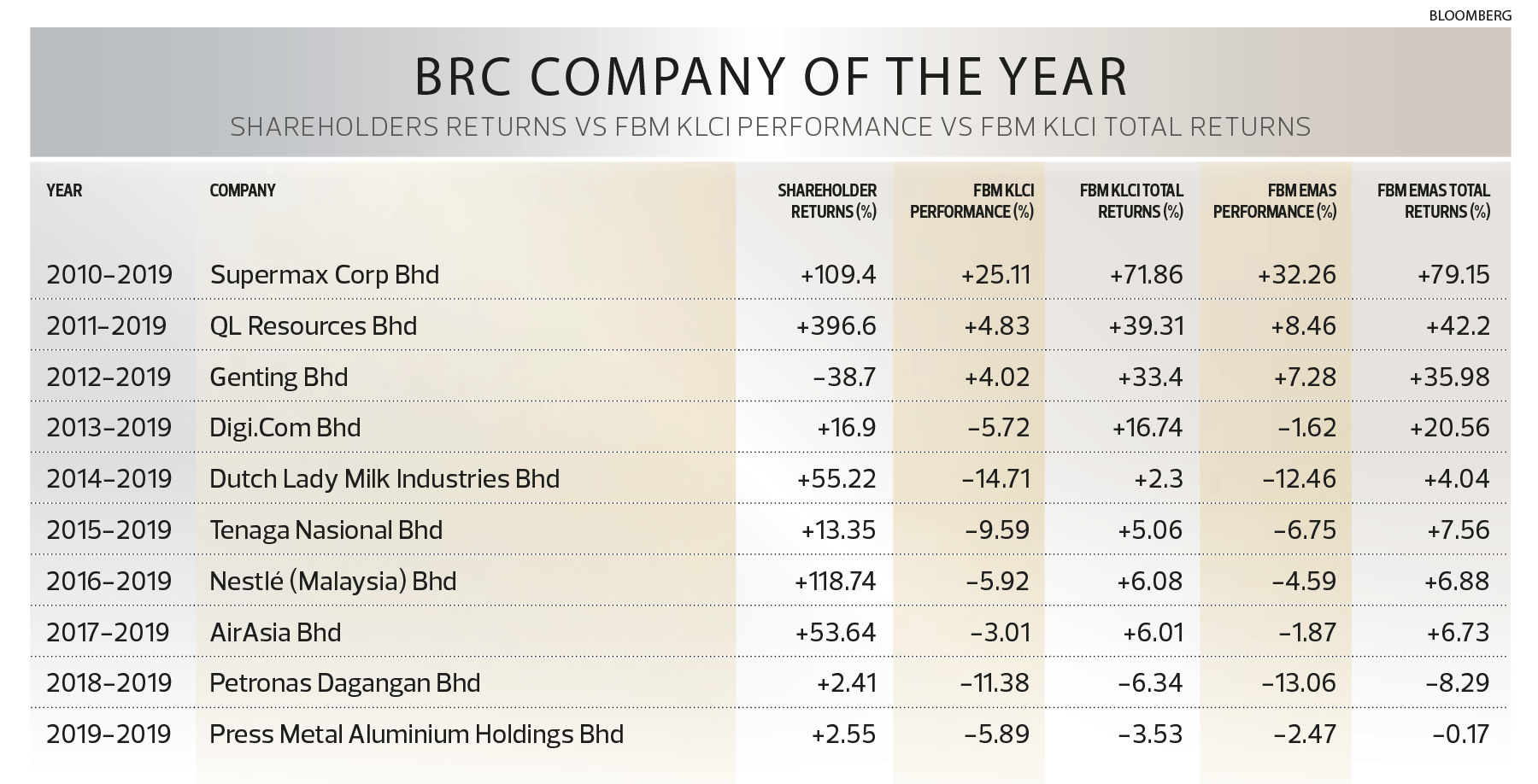 Note: based on adjusted share price at the start of each year and the last close as at Sept 24, 2019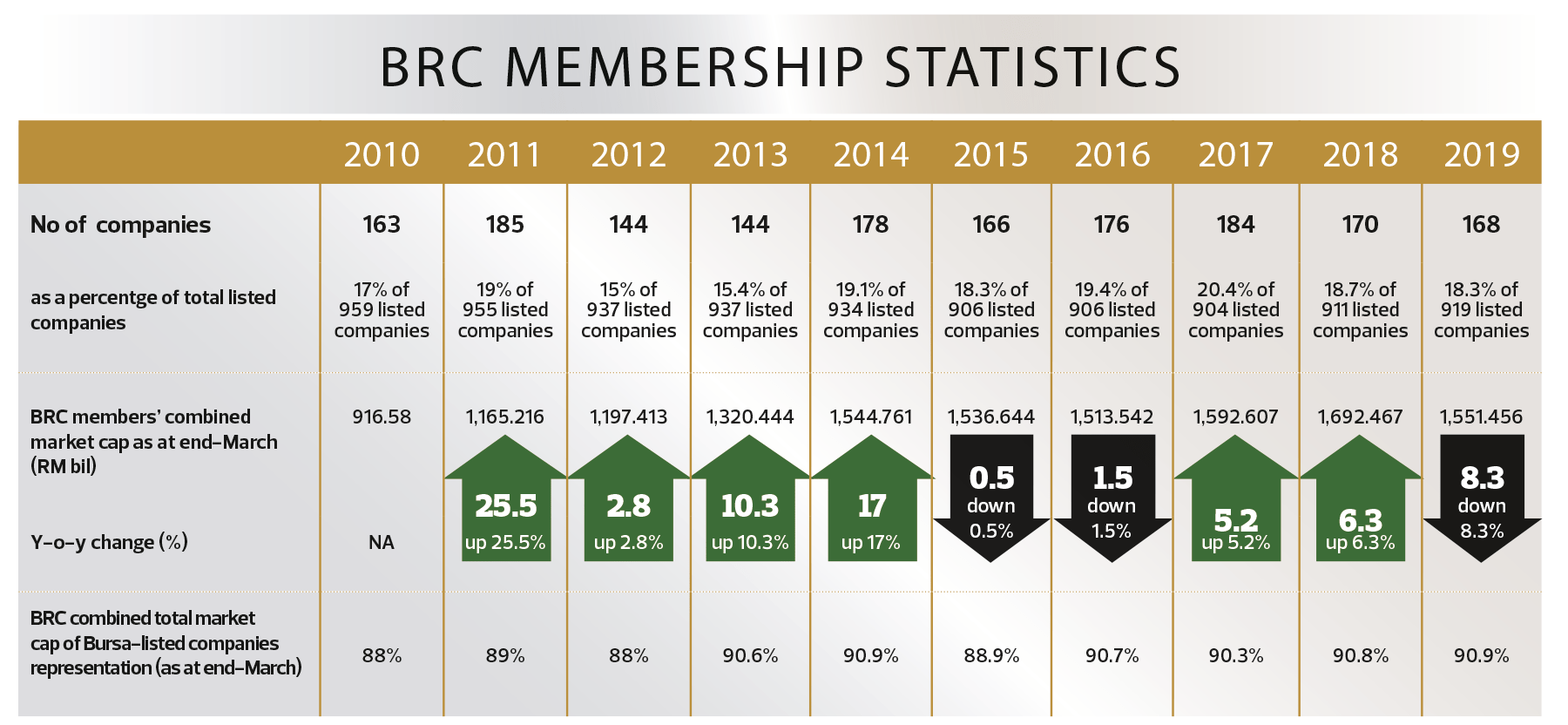 Tougher times were showing as The Edge Media Group and partners celebrated Corporate Malaysia's best performing companies and top responsible organisations at The Edge Billion Ringgit Club gala dinner for the 10th straight year on Sept 19.
At 168, the number of The Edge Billion Ringgit Club members — companies listed on Bursa Malaysia with a market cap of
RM1 billion or more — is the lowest we have seen in four years, based on the March 31, 2019, membership cut-off date.
Not only is the number of billion-ringgit companies smaller, their combined market capitalisation of RM1.55 trillion as at end-March was 8.3% below the RM1.69 trillion at the same time last year. A year-on-year decline in collective market value was seen in 2015 and 2016 but this year's is the largest decline since the awards began in 2010. (See table above - BRC Membership Statistics.)
Yet, there is no denying the significance of this elite group of companies. The combined market capitalisation of this year's 168 BRC members constituted 90.9% of the total market cap of Bursa Malaysia as at end-March, a shade above last year's — which means the overall market valuation had come off.
Indications are that margins are under pressure, given that the BRC 2019 members' combined revenue was RM812.97 billion in FY2018, up from RM806.7 billion in FY2017 and RM744.1 billion in FY2016.
Collective pre-tax profit and net profit, however, were lower year on year at RM101.32 billion and RM73.37 billion respectively in FY2018.
BRC members continue to be major taxpayers, paying an estimated RM26.04 billion in taxes for FY2018, compared with RM32.5 billion by last year's 170 members for FY2017. This continues to be about half of the government's annual estimated corporate income tax collection.
It is also worth noting that eight of the nine companies chosen as Company of The Year since our inaugural awards in 2010 continue to outperform the bellwether FBM KLCI and the broader FBM EMAS Index in terms of total shareholders returns since they received the award.
This year's Company of the Year, Press Metal Aluminium Holdings Bhd, also outperformed both indices if measured from the start of this year until Sept 24, Bloomberg data show. (See table above - BRC Company Of The Year)
Two of this year's 168 BRC members were delisted post the membership cut-off date: Kian Joo Can Factory Bhd (delisted on May 16) and Selangor Properties Bhd (delisted on June 11).
Top performers in the past decade
Nestlé (M) Bhd — Company of the Year in 2016 — is the only company to have made it onto The Edge BRC Top 25 list every year since the inception of the awards in 2010.
Both Digi.Com Bhd — Company of the Year in 2013 — and Carlsberg Brewery Malaysia Bhd appeared on The Edge BRC Top 25 list in 9 out of the 10 years. The exception was this year for Digi while Calsberg did not make the cut in 2010.
Dialog Group Bhd has made it to the BRC top 25 list seven times, with the exceptions being 2015 to 2017.
Aeon Credit Service (M) Bhd, Dutch Lady Milk Industries (M) Bhd — Company of the Year in 2014 — and Public Bank Bhd made the cut six times while British American Tobacco (M) Bhd, Guinness Anchor Bhd, Hap Seng Consolidated Bhd, Hartalega Holdings Bhd, Syarikat Takaful Keluarga Malaysia Bhd, Top Glove Corp Bhd and United Plantations Bhd have made the list five out of 10 times.
Nine other companies made it onto the list four times. They are: AirAsia Bhd, CIMB Group Holdings Bhd, Fraser & Neave Holdings Bhd, KPJ Healthcare Bhd, Kuala Lumpur Kepong Bhd, Malayan Banking Bhd, QL Resources Bhd — Company of the Year in 2011 — Scientex Bhd and Tenaga Nasional Bhd.
Meanwhile, Press Metal and last year's Company of the Year, Petronas Dagangan Bhd, are among the 11 companies that made it to the top 25 list three times. The others are Astro Malaysia Holdings Bhd, Cahya Mata Sarawak Bhd, Heineken Malaysia Bhd, Inari Amertron Bhd, Kossan Rubber Industries Bhd, Malaysia Building Society Bhd, Mudajaya Group Bhd, Tradewinds (M) Bhd and UEM Edgenta Bhd.
If they continue to do well, one of them could be the next Company of the Year.
Need to invest for sustainability
Speaking to BRC members at the gala dinner,  guest of honour Prime Minister Tun Dr Mahathir Mohamad said the government "is prepared to review policies and regulations, make changes and introduce new ones if the private sector can convince [policymakers] that they will lead to more investments and economic activities and create new and better-paying jobs, especially for young Malaysians."
To borrow his words: "The equation is simple — the more money [big companies like BRC members] make, the more the increase in government funds and the more development funds will be available. Profit and prosperity is then shared.
"Big companies have the capacity to invest, to take risks and to connect with the global supply chain. And the success of each creates a multiplier effect, a ripple effect through the rest of the supply chain, creating opportunities for other smaller companies. Such opportunities will encourage innovations and further improvements, creating not just jobs but also profits to be reinvested," he said. (See speech on Page 26.)
in his welcoming address, The Edge Media Group chairman Datuk Tong Kooi Ong also spoke of the need for the private sector to invest in technology to raise efficiency and embrace new opportunities.
"It is a myth to think there is no cost to inaction. Rather than do nothing and wait to fail, would it not be better to do something, take the risk and the plunge, and have fun even if we fail in the end? In any case, it is often in adversity that human triumphs. And this is what tonight's event is about — to recognise companies which have done well so that they can inspire others to be daring," Tong said.  (See speech on Page 28]
The Edge BRC recognises excellence in companies with a market capitalisation of above RM1 billion. The billion-ringgit cut-off serves as an aspirational target for dynamic smaller companies. Companies are added to the annual list automatically at the cut-off date (March 31) and are evaluated on growth in profit, returns to shareholders and corporate responsibility (CR) commitments, among others.
"Uncertainty may well be the new normal but when the going gets tough, the tough get going, as many BRC members have consistently proved in the past decade," said Ho Kay Tat, The Edge Media Group publisher and group CEO.