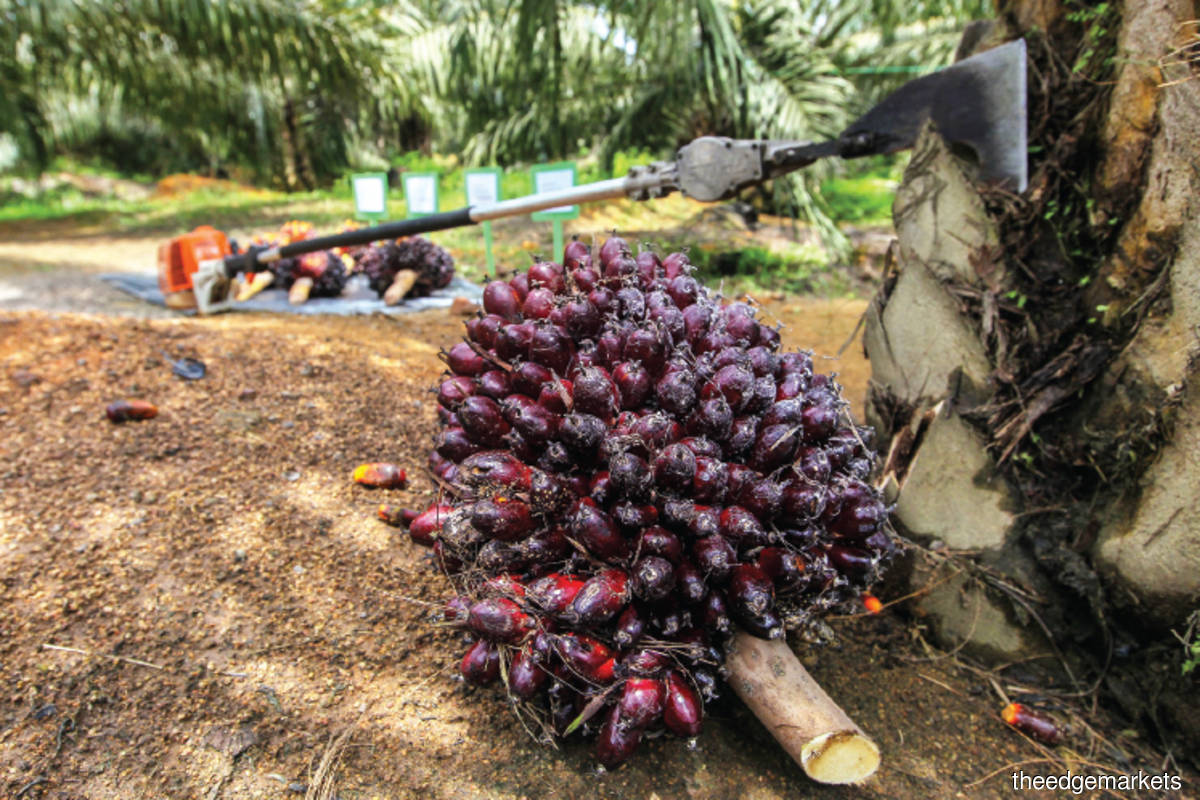 KUALA LUMPUR (Feb 11): CGS-CIMB Research has raised its average crude palm oil (CPO) price forecast for 2022 to RM4,100 per tonne from RM3,600 previously. 
This is to reflect a slower-than-expected resolution to the foreign worker shortage in Malaysia, the new export rule for palm oil in Indonesia as announced at end-January, and concerns over lower soybean supply due to the ongoing drought in South America. 
"In our revised price assumptions, we now expect CPO prices to remain firm in 1H22 (the first half of 2022) before trending lower when palm oil supply recovers and crushing activities of oilseeds improve. 
"We will be revising our earnings forecasts for planters to reflect the revised higher CPO prices and lower output expectations for the ongoing results season. 
"Overall, we expect some upside to earnings, though this will be partially offset by concerns over ESG (enviromental, social and governance) risks relating to forced labour issues, and rising fertiliser and labour costs in 2022," said CGS-CIMB analysts Ivy Ng Lee Fang and Nagulan Ravi in a note on Thursday (Feb 10). 
As such, the research firm kept its "neutral" sector rating. Its key picks in Malaysia are Kuala Lumpur Kepong Bhd (KLK), Genting Plantations Bhd and Hap Seng Plantations Holdings Bhd. 
At the time of writing on Friday, shares in KLK had risen 3.25% to RM23.48, with a market capitalisation of RM25.38 billion. 
Genting Plantations, meanwhile, slipped 0.73% to RM6.81, valuing it at RM6.11 billion, while Hap Seng Plantations inched up 0.93% to RM2.18, with a market value of RM1.74 billion. 
Regionally, the analysts said plantation companies listed in Indonesia trade at the lowest price-earnings valuations, followed by Singapore-listed planters. 
Meanwhile, CGS-CIMB projects palm oil stocks to decline by 5.3% month-on-month (m-o-m) to 1.47 million tonnes by end-February 2022, with output and exports falling 10% and 13% m-o-m respectively. 
It predicts CPO prices to remain firm at RM4,500 to RM5,500 per tonne in February amid tight near-term supplies and concerns over delayed palm oil export shipments from Indonesia due to the new export ruling. 
Malaysia's palm oil stocks fell 4% m-o-m but grew 17% year-on-year to 1.55 million tonnes at the end of January on lower output and imports. 
"The stock level was 1% below our forecast of 1.56 million tonnes (as per our stock preview note on Feb 7, 2022) and 2% below both the Bloomberg consensus and Reuters poll estimates of 1.58 million to 1.59 million tonnes due to higher-than-expected exports.
"The stock level remained tight at 25% below the historical 10-year average January stock level of 2.08 million tonnes," the analysts added.