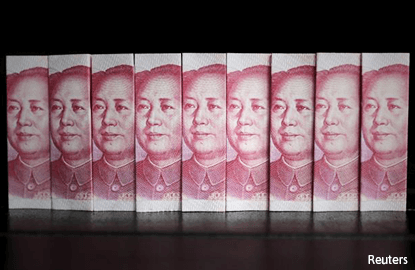 (Jan 20): The flood of domestic currency out of China became more of a trickle last month, signalling that policy makers' efforts to keep cash at home are taking effect.
An equivalent of a net US$900 million worth of yuan left China via payments in December, State Administration of Foreign Exchange data showed Thursday. That's less than 2% of the record amount in September, and compares with an average of US$25.8 billion a month last year.
While much of the focus on China's money outflows relates to residents' attempts to get US dollars and other foreign currency, attention on an exodus of funds in yuan rose in 2016 as it became clear that those numbers were accelerating. Officials introduced a number of measures to curtail the departure of multiple types of capital late last year.
"We expect policy makers to further tighten capital controls should the pace of capital outflows accelerate again," Hong Kong-based Morgan Stanley economists Jenny Zheng and Robin Xing wrote in a note. "Measures implemented so far can help mitigate the pace of capital outflows in the short term," though long-term pressures remain, they wrote.
Last year, the yuan slid by the most in more than two decades against the dollar and China's foreign reserves fell near the psychologically relevant US$3 trillion level, moves that prompted regulators to escalate their actions.
The central bank told lenders they should stop processing cross-border yuan payments until inflows and outflows are balanced, Bloomberg reported last week. Authorities also are requiring them to strictly examine use of the funds overseas. Among other steps, regulators have placed restrictions on mainland companies' purchases of offshore assets, and made it harder for residents to buy insurance in Hong Kong.
The push underscores the Communist leadership's concerns about the potential for outflows that trigger a cycle of currency declines and further departure of funds from the country. Probable by-products of the restrictions have been severe offshore yuan-funding squeezes, a continuing gap between the exchange rates for the yuan at home versus offshore, Goldman Sachs Group Inc. economists led by MK Tang wrote in a note. The overnight deposit rate for the currency rose to as high as a record 105% in Hong Kong in the first week of January, while the onshore-offshore yuan gap widened.
The equivalent of a net US$309.4 billion left China via yuan payments in 2016, the biggest annual amount in data going back to 2010, the SAFE data showed.
Capital outflows, defined widely, moderated to US$55 billion last month from US$69 billion in November, according to Goldman Sachs estimates.